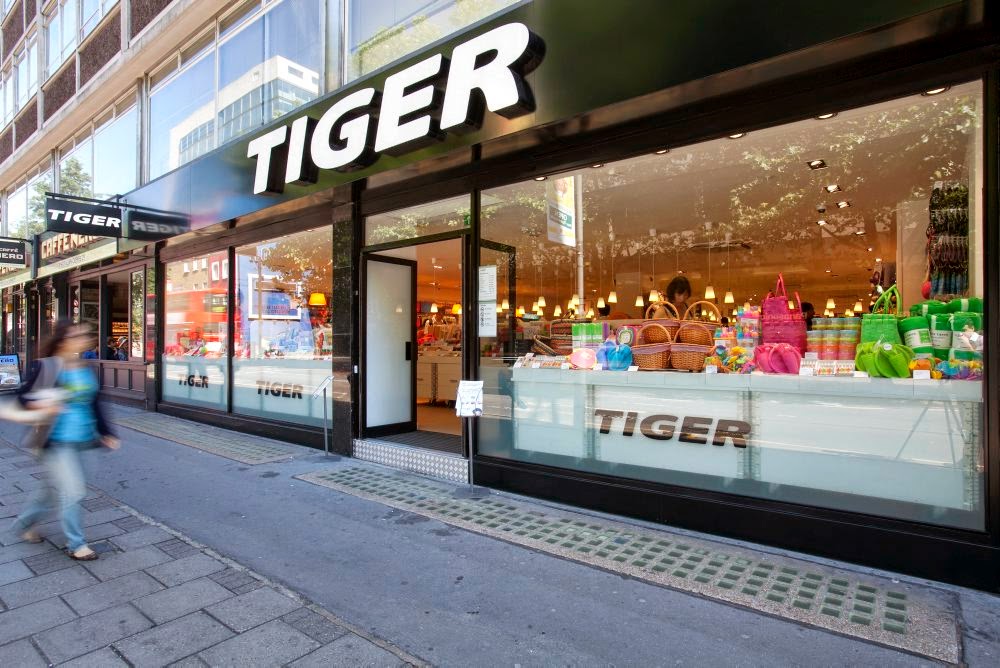 Tiger (Using their great prices to decorate kids parties!)
So I mentioned TIGER stores in my Washi post, I love this store so much I felt it deserved a blog entry of it's own….
 
Tonnenham Road in London.
Close your eyes and imagine if the coolest Euro store had a love child with IKEA….I'm pretty sure it would look like TIGER, in fact, I can't really compare it to IKEA because the products are completely different! It's got that crisp clean feeling about it, all the products are so brightly coloured that it's like being 10 again in your favourite sweetshop and your Grandma has just given you some pocket money… this place gives you the same sort of feeling!
I had never heard of it until my Mum met me for a coffee and she produced a box with a blue plastic thing inside, exclaiming that she found the lemon juicer I wanted but in blue instead of wood and for €2 in this "FANTASTIC SHOP IN THE GPO ARCADE" she told me about all the Easter stock they had, cookie cutters and flocked bunnies, Easter eggs and brightly coloured boxes, I hadn't seen her gasbag about a home accessories store in years! She was like a child herself!
Finally I was in Dublin again, meeting a Barkery client and decided to see what all the fuss was about, I'm usually quite cautious about Henry Street in Dublin as the Northside of Dublin is infamous for zombie junkies walking about and pickpockets but I am from Dublin and it's not that bad once you don't look vulnerable..
Well all I can say is that I was "gasbagging" myself all day after it, not only had they got the Easter decorations Mum was talking about but hundreds and thousands of different products, paint, craft supplies, canvases, brushes, beads, beading twine, sunglasses, jewellery, office supplies, cushions, storage boxes, toys (real Scandinavian sorts made from wood) frames, earphones, candles, napkins to match, eyelash curlers for €1,shower gels and soaps, wall stickers, party supplies, kitchenware (glasses, spice bottles, SPICES, sponges and scrubbing brushes) and even sweets and drinks!!
I think this Christmas I'm going to go in with gift boxes and make hampers for my friends!
Here are a few items I've collages from their website, but basically, there's very little that's priced over €3….candles and toys included.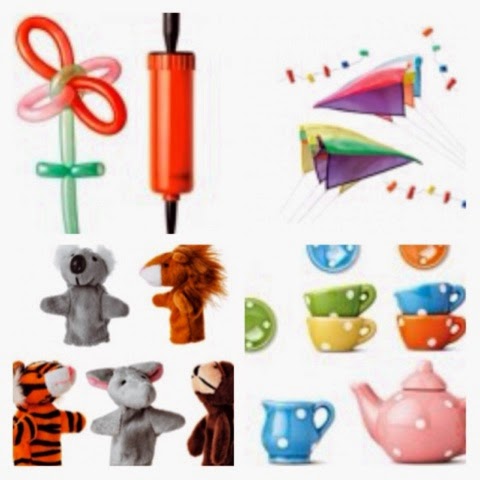 Clockwise from left:  Modelling Balloons & Pump €3, Kite in a Bag €3, Tea Set €4 & Finger Puppets €3
WOW Birthday Parties on a Budget at Tiger!
Save
Save