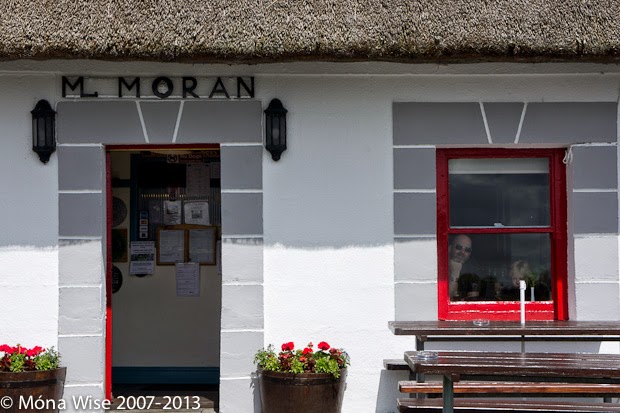 Galway: My top 5 restaurants!
I lived in Galway for several years and being a native Dubliner, my city was calling me home,  marrying another Dub' sealed my fate and now I'm home permanently. However, if I was asked to describe Galway in less than five words, I'd probably say "The place LOVES it's food!".
When we first moved to Galway in the mid 90's, it was still very much a country town, going out for dinner meant the usual seafood or a stodgy Supreme of chicken with lashings of mash and a kidney dish of root vegetables and that's as adventurous as it got, even the cocktails were stuck in the 80's. With the wave of the boom came cosmopolitan culture, micro cuisine, adventurism and even a Michelin star.
Galway has a lot to thank JP McMahon for, not everyone likes him, but everyone is entitled to their opinions. JP has opened several restaurants in Galway, not all surviving, Azur for example but it's location over a pub on the Docks, a not much visited place in Galway. Not many businesses who open on the docks survive, it's a bit of a stroll from the main shopping street and it's not such a desirable place at night, so you've got to hand it to JP, sadly Azur was one of those casualties. Cava and Anair are another pair of restaurants owned by the restauranteur and chef, Anair, a Michelin star winning restaurant (Galway's first and only star) is thriving and in addition to a dining experience, they even hold daytime cooking classes on a regular basis, when do the owners rest??
With Galway bay facing the wild Atlantic, it's known for it's seafood, along with Clare which has many fish smoking houses like the Burren Smokehouse near Lisdoonvarna. The Killary Fjord in the heart of Connemara has many fish farms, there are Oyster beds and  even the famous Salmon Wier Bridge on the Corrib river, flowing through the city. If you adore seafood, Galway is definitely the place to go. I personally can't eat seafood but love to see friends and family enjoy it.
There's a little place called Moran's Cottage in Kilcolgan, just beyond Clarinbridge, it's stuck in old Ireland with a thatched roof, an open turf fire, original wooden bar and everything traditional that you'd imagine, local farmers coming in for a creamy pint of Guinness after ploughing the fields and little snugs for private parties, their seafood menu is extensive and they're known widely for their oysters, bowls of mussels and Guinness. The cottage overlooks the Kilcolgan river, home to enormous flocks of swans. it's gorgeous to sit out in the sun and have your lunch and take in the refreshingly clean air and views. When family from the States come over, this is always the first stop.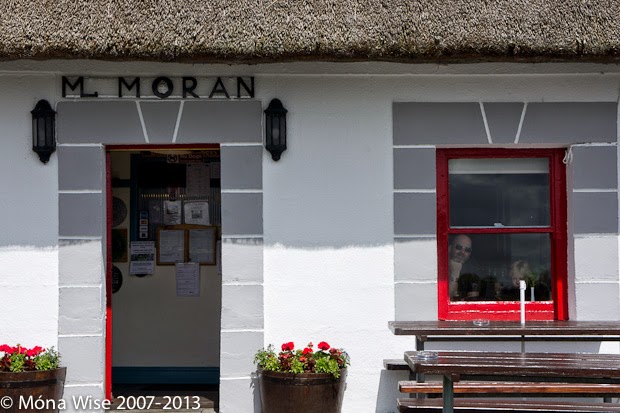 Photo:Wisewords
Coming back to Galway town itself another well established family business, McCambridges!! Ahh McCambridges, how you stole my heart. I always remember the little  cream and maroon vintage van that drove around Galway with their old logo on it, delivering goods throughout the town. McCambriges always stocked the best of everything, a sort of Fallon and Byrne of the west. If you wanted vintage wine or cheese, you went to McCambridges. At lunchtime the queue's have always gone out the door for their deli, salad bar and soup which just lasted an hour before being sold out. They've always had a great name in Galway and the enticing smell always drew you in. In the last few years, the store has grown, they've removed the offices upstairs and opened a fantastic restaurant with the loveliest staff you could imagine. The coffee dock is still downstairs and on a warm day the seats are jammed all day like the sun loungers hogged by German sun worshipers on a European beach resort, if you manage to get a seat under the maroon canopy you are very lucky, in all my years there, I've never managed to get one! The restaurant is open all day whether you want a coffee and a slice of their incredible pecan pie or Macaron's, a cup of the best coffee in Galway or even lunch, it's always there but be warned, make a reservation if you can because the line often goes down the stairs, it's that popular!  My personal favourite savoury dish is the French onion soup, perfection in every way, comforting, naughty and so flavoursome. If you're a meat lover, you're in for a treat, 21 day matured steaks with horseradish butter and panchetta,  stuffed pork bellies, not to mention fresh seafood, like prawns and chowders-it's Galway, there has to be seafood.
If you're not one to sit and people watch out the large windows, there's always the grocery department, not just any grocery department, I think they were stocking Arborio rice before anyone knew what a risotto was!! Fresh baked pies, focaccia's, sourdough boules, cheese and tomato bread, fresh organic vegetables, exotic pastes and sauces and even a speciality off license with a stunning wine collection and artisan chocolates.
In addition, McCambridges are wonderful for supporting local Irish small businesses and suppliers, you'll often have showcase stands with the business owners there meet customers and provide all the information you want, you might even get to taste some goodies.   They're definitely not greedy that way, happy to share their success with local businesses and it's wonderful to see. I am a true believer in Karma.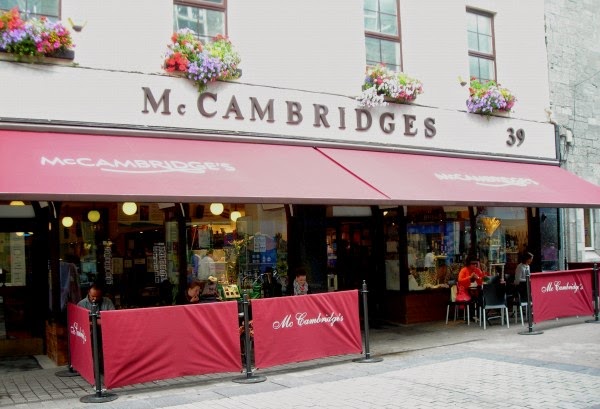 Photo Credit: McCambridges Website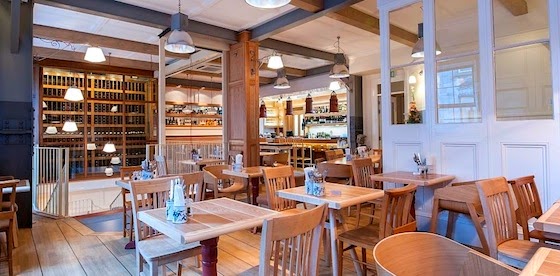 Photo Credit: McCambridges Website
My absolute favourite thing to do on a balmy summers afternoon is to take a trip to Quay Street, pull up a seat at  a tiny wine bar like Martines or Gemelles order a nice glass of wine or Champagne and a crostini and just relax, the smell from the surrounding restaurants and the atmosphere is definitely one to relish. Watch out for one of the many local characters like Nora, a local bag lady, she's unmistakable, a cigarette behind one ear and her tongue out, she likes to come, share your glass of wine and pocket your tips that you leave for the staff, but what is an old medieval town without it's characters. It definitely adds charm.
There's not much to do in Galway during the Winter though, it pretty much closes up and succumbs to the foul weather, but in the Summer, it's wonderful, it blossoms like a flower! I loved to fill a picnic basket and drive out to Connemara for a beach picnic in my little red Fiat Cinquecento (I miss her, my first car).
Even in the winter their restaurants are still there to enjoy,  a welcoming distraction from the howling wind and driving torrential rain.


My Top 5 Restaurants: Galway
5. Tamarind.
I'm not generally a lover of Asian food, I love a good Indian restaurant but Tamarind completely changed that! Owned by a charming lady, Christine Coakelin, she originally opened at the Spanish Arch in Galway, it was definitely the place to go, delicious cocktails, kitchen on view to see your food being cooked by the team of Thai chef's and incredibly clean food, fresh crunchy vegetables, noodle dishes, soups and a great atmosphere.  With the unreasonably high rents, common during the boom, Christine relocated the business to Salthill, it's still the same, unbeatable food, a gorgeous heated balcony which you can dine outdoors on and even finishing touches like blankets and cushions for comfort. My favourite is the spring rolls or the stir fry's with delicious noodles.
Their new location is opposite the church in Salthill, Galway
4. Creole
I've known the owner or this place since 2001 when he managed one of my favourite cafe's (which I frequented on my lunch break), before he went to work in the States and came back to open his own restaurant. When you come to Creole, you might as well be in New Orleans, every detail has been paid attention, masquerade masks with beads on the walls, brass instruments, jazz sessions, net curtains and chandeliers, out back is an open air dining experience, barbeques, it's heated and is now sheltered (unpredictable weather of the west).
Their menu is extensive from Jambalaya to baby back ribs and almost everything is served with corn on the cob, sour cream and delicious sides. one thing I cannot recommend highly enough is their cherry pie! Oh my god! I've tried to replicate it but I just can't do it! I often wish  I still lived in Galway to go back and get a piece!
I loved little touches like a complimentary drink on arrival, it made it really special. Their wine pairing is incredible and a lot of thought has gone into it, we ordered a wine with a tobacco note which complemented our smoked food to perfection. Creole, I miss you
3. The White Gables
It's definitely worth the 30 minute drive out to Moycullen to visit this place! If you just want coffee and lunch, they've opened up a bakery cafe with a little gift shop next door, where they make a mean hot chocolate. But the restaurant is wonderful, we went for our wedding anniversary and they treated us like royalty. You arrive to smiling faces, like coming to a relatives house, blazing fire and your coats are taken and put in this beautiful Chinese cabinet (which I want) Enjoy a glass of wine if you're early and then taken to your table in the richly decorated dining room, the food is divine, home comforts and delicious wines.
We were given a sharing platter with Happy Anniversary piped onto the dish for dessert with delicious desserts!
They've started a loyalty scheme now too so make sure you collect your stamps!
2. McCambridges
As I discussed above, this is definitely a hotspot, for reunions, dates or girly/lads nights out, it's perfect for any occasion!
1.  Rouge
Of course my favourite restaurant would have to be French!!! This place has been going for about 5 years now and it's booked full every night! All the staff, including the owners are French and it's decorated like a quaint little Parisian wine bar. In my opinion, their success is down to a very successful pricing plan, in a recession stricken country, a way to enjoy a meal out with friends at a low cost is always a great idea! but to have two courses for €16.50 (to my memory, I'm out of Galway a while now) is even better!!!
Basically you have a starter, a sharing platter, everyone gets the same thing, there's one of everything for everyone at the table and there's usually 5 things, be it a crostini, pate on a cracker, a miniature soup, quiche or fish it's gorgeous, then for mains the menu is perfectly simple, three choices, a vegetarian option, a seafood option or striploin steak with a choice of sauces, blue cheese, garlic, or peppercorn and a side of potato in several forms, gratin, baby potatoes etc, I always choose well done steak with blue cheese and gratin potatoes or ratatouille.
Ahhhh and then there's dessert, should you choose to have it, you can choose from the list, a cheese platter or get a sharing dessert platter for a few euros extra, I always go with this and you get the same idea as the starter, a selection of miniatures for each person, creme caramel,  warm profiterole stiffed with ice cream and chocolate sauce, chocolate mousse  etc