Being somewhat close to my mid-30's, I'm finding my skin's needs have changed, the texture is not what it used to be in my 20's. My kin demands more moisture and blemishes take longer to heal, elasticity is starting to diminish a little. I think I may have found a foundation that feels tailor made for my age group, Lancôme's Teint Idole.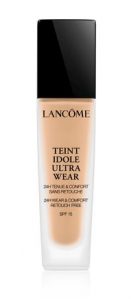 It started last year, I attended a Lancôme event in a pharmacy, the Teint Idole Ultra Cushion was just released, a foundation compact  with a refillable compartment, just pops out and you pop the new one in, new applicator puff and all for about €25. I love how it's really concentrated, a little goes a very long way. I was feeling a little dubious about my first one, "a month's foundation…in that little thing?!? really" yes really! It spreads beautifully on the skin, gently dab on imperfections and it even covers them, no streaks, no uneven marks, it's just beautiful!
I had run out, just before a weekend away and my shade, 01 wasn't in stock, so Carmel gave me a sample of the Teint Idole bottle foundation and pulled out the cushion from the compact and filled it up. worked a treat to tide me over.
I have to say the bottle is divine, I have just been using it straight out if the tube with the Ultra Cushion applicator/puff and the coverage is actually better that the Ultra cushion. I find it to have a beautiful silky finish, doesn't wipe off, leaving you with streaks and it lasts…..ALL DAY! I would definitely suggest an oil free moisturiser under it though, especially if you have a fringe, sticking with an oil free moisturiser will ensure it stays beautiful all day. The only thing I need to top up is my bronzer.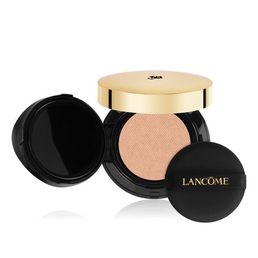 Highly recommend this, it now comes in 40 shades so you'll pretty much definitely find the perfect shade for you! Do ask the Lancome assistant to help you pick the right shade though, I asked and found out I was wearing three shades darker than I needed. If you tint your lashes in the summer, you could wear this on it's own too with nothing else but a lip stain.
The bottle is priced at €38, the cushion complete with compact is €39 but refils are just €25
top marks, 9/10
Save