Leaves Pure Food: HEALTHY PASTA! AT LAST!
There's a huge amount of people with wheat issues, in some way or another and personally, my opinion, is that it's down to two reasons. The first reason is that I believe we eat way too much of it today, we have cereal for breakfast, lunchtime comes in work and what do we have? A sandwich…. if we have a cookie then, with our coffee, more wheat and depending on what your dinner is, more wheat, in the form of pasta, bread, pastry… and we've built some sort of intolerance to it. The second, is something I discovered through a friend a couple of years ago, when wheat is harvested, the wheat is sprayed with weedkiller so it releases more seeds, creating an abundant crop the following year, the weedkiller goes into the wheat and from there, into our bodies, we are eating weedkiller chemicals every day..

I have never had a problem with wheat until recently, one of my best friends found out about six years ago that she was allergic, suffering intense cramps and migraines. I just get horrid cramps and suffer bloating which is also part of another hormonal issue I suffer with. I've tried to cut down on my intake of wheat where possible and when I have to eat it, I buy organic or eat as little as possible, which is hard, I LOVE, LOVE, LOVE pasta!
I think I have tried all of these protein, konjak, gluten free and wheat free pastas over the years, all promising big things but they are all a disappointment to be honest. I was in a supermarket in Greystones last week, getting a few bits and pieces and I noticed these three little coloured boxes,  High Protein Pasta -portions for one (which is great when you never make the right amount) in three flavours, sage, onion and classic. I had to have a closer look, seeing if there was konjak in there but no, these Fusilli and Penne pastas are made from buckwheat and chickpeas, no they fill you up, you don't overdose on portion size (PORTION CONTROL!!) and you don't have all those refined carbs and they count as one of your five a day! I was converted on that information alone!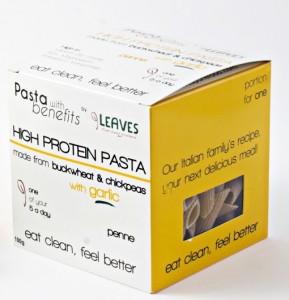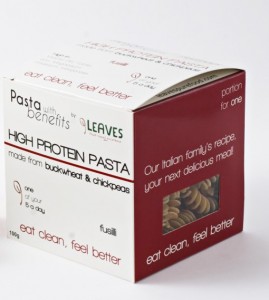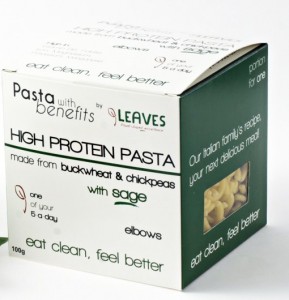 Pasta with Benefis by Leaves are made in Ireland by a lovely couple called Nico and Sabine, Nico is Italian so he knows about Italian food and Sabine is a Nutritionist, I believe, the perfect combination!
I bought the garlic flavour penne and took it home for a try, I cooked it, added a little pesto, roasted pine nuts and cherry tomatoes and fell in love. This pasta doesn't dissolve in your mouth like that horrid wheat free pasta or taste like brown rice, it's got a gorgeous wholesome texture, fills you up quickly and has a wonderful garlic taste, you feel you're eating something healthy but yummy-which is rare! I'd love to try it with a bolognese, imagine if they made lasagne sheets, I do make a great vegetarian lasagne.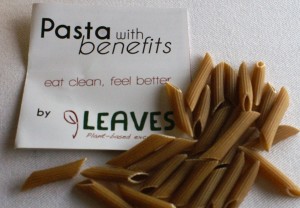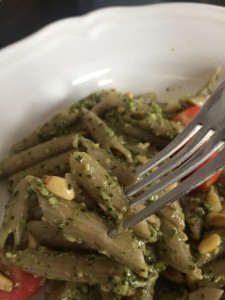 Pasta with Benefits retails at about €1.99 a box and you can buy it online too, slightly on the expensive side, but when you think,  standard pasta is full of cheap high GI ingredients with no nutritional value, this has chickpeas and garlic already in it, a premium product, simply pricing it with 98c pasta from the supermarkets would be a sin, regardless of size.
Absolute thumbs up!!