Mount Usher House & Gardens
The other day Myself and Mr Creative Yoke decided to take advantage of our day off together and take a trip to Mount Usher House & Gardens in Ashford, Co. Wicklow. You know yourself, you don't want to spend your day off at home with nothing to show for it. So, off we went, a gorgeous dewy March morning.. I hadn't been to Mount Usher since I was about five years old, I remember things like the rope bridge and the house, you know how particular things stick out in your head.. Ten minutes from our house, we'd nothing to lose but take a trip for the day.
Before you enter the gardens, there is a little square, surrounded by quaint little shops, Avoca being the anchor tennant, there's a food market which is an epicureans paradise, a restaurant, clothing shops and even Strawbridge furniture store. Within the square, there are quaint little Edwardian cast iron chairs, if Avoca's restaurant is full, order a sandwich or a bowl of soup from the deli counter in the food market and take a seat in the glorious sunshine.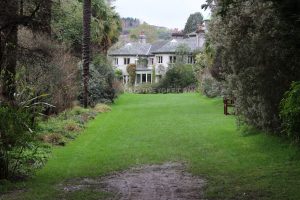 Mount Usher is like being in the set of The Secret Garden, high red brick walls, giant urns, a typical Victorian ornamental garden. If you visit, be sure to take a good camera, the photo opportunities are endless.
Price for entry is €7.50, it all goes towards the maintenance and upkeep of one of Ireland's top garden attractions. I can't imagine what the upkeep costs are but it's a little piece of heaven. Trees from all over the world from Gums to Cypress and the flowers… the walkways were lined with Crocuses, Bluebells, Daffodils and Snowdrops, Magnolias and Rhododendron, a carpet of Spring beauty. I can only imagine what Summer will be like. It's the most serene place to visit. It takes an hour to complete the walk of the garden and you'll need a pot of tea after it, really breathtaking..
I couldn't resist nipping into the foodshop, the epicurean in me wouldn't allow me pass it, we had delicious chicken wraps to go, with delicious latte's and for later? Delicious deep filled apple and berry pie and rose bubbly, a delicious drink made from muscat grapes and roses. It's very easy to get over excited and fill up a basket, so beware. 🙂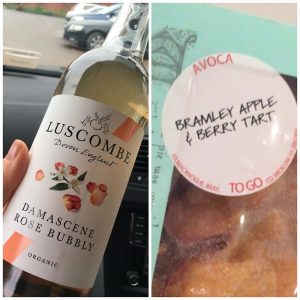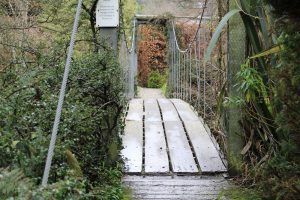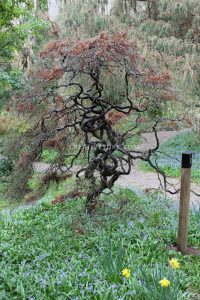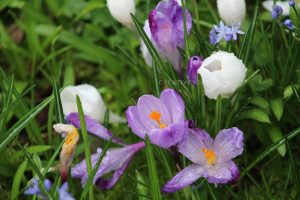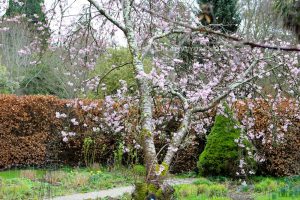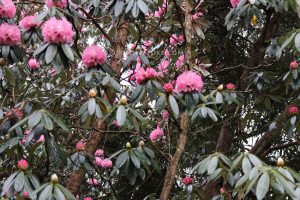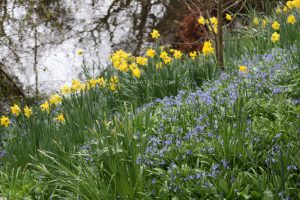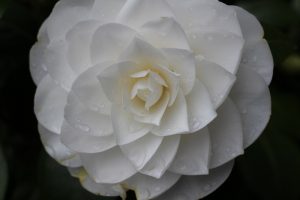 ---
Save
Getting There
Mount Usher is situated in Ashford Co. Wicklow, off the main Dublin to Rosslare road (M11/N11). The Gardens can be reached from Dublin (50 km) in under an hour (rather less from Dun Laoghaire) and in roughly two hours from Rosslare (115km). Buses from Dublin – Wicklow and Dublin – Rosslare stop in Ashford village (Bus Eirean No.133).
Mount Usher Gardens GPS Coords:
N5300.528 W606.466
For more information, visit Mount Usher Gardens online here
Save
Save
Save