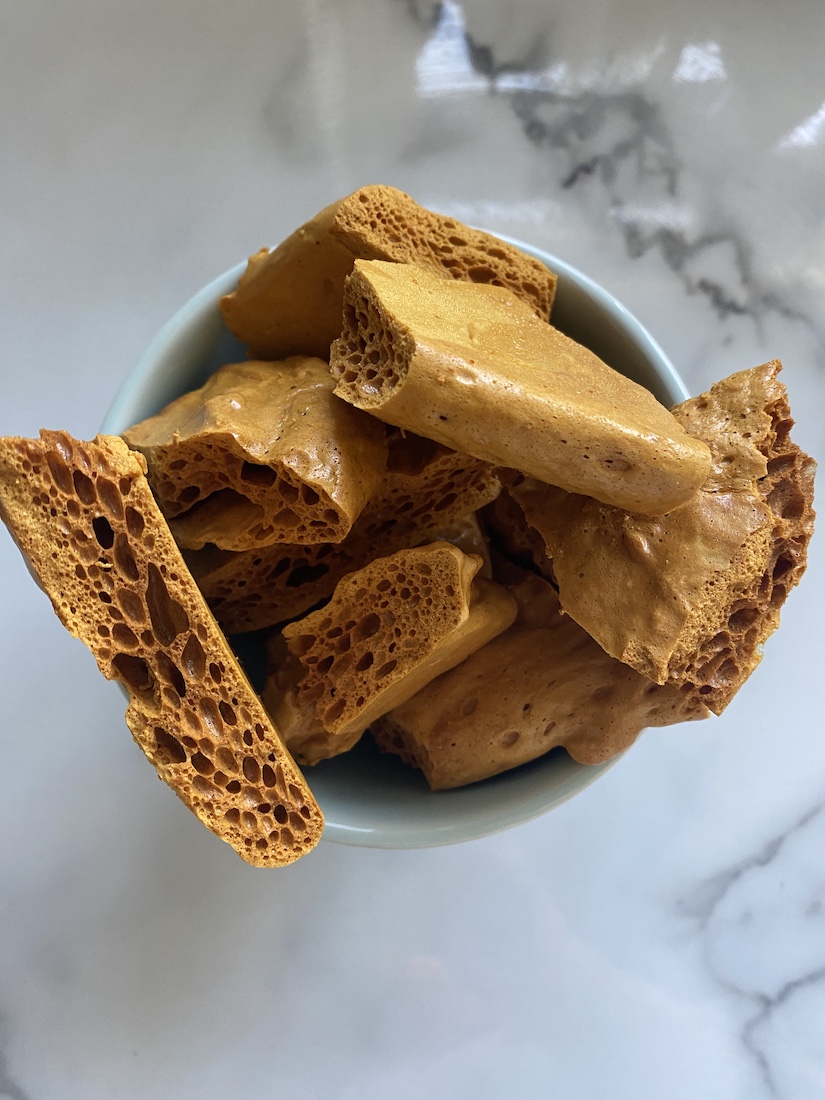 Now that we're in the middle of this Coronavirus outbreak, all confined to our homes to prevent the spread of this horrid virus. More and more people are getting into and rediscovering baking-which is great! Baking is one of my favourite things to do and always has been.
I decided to do a live bake-along on my Instagram account last Thursday and got a great response! I made two of my quickest easiest treats and I've been inundated with requests to post them on the blog. Apologies for only doing it now, I've been cursed with morning sickness that lasts all day and had a bad day yesterday. So here goes, my recipes for Cinder Toffee and to follow in my next post, a classic coffee slice. Hope you enjoy them:
What You'll Need:
100g caster sugar (granulated is fine)
4 good tablespoons of golden syrup
1 & 1/2 level teaspoons bicarbonate of soda
Balloon whisk
A nice deep saucepan
A baking sheet lined with parchment
Silicone spatula
Add sugar and syrup to saucepan and on medium-high heat, and mix well, swish the saucepan around instead of stirring it until it becomes a beautiful warm golden colour.
Remove from heat and add bicarbonate and whisk briskly for a minute, it will swell up, this is why you need a deeper saucepan.
Quickly switch to a rubber spatula and scrape it all onto the baking sheet. It'll be like molten lava. Don't stir it once it's on the baking sheet as it will begin to harden straight away. it's really important to work fast when doing this and take care not to burn your fingers, hot sugar burns are not pleasant.
Leave to cool for about 30-40 minutes and break apart, the most stress relieving part 😉.
If the cinder toffee comes out with a bitter taste, you've used too much bicarbonate of soda, level off your measurements and remember to not let the sugar spend too much time on the heat, you don't want it too dark or it'll taste burned. Just relax and it'll come out beautifully.
Any small crumbs left over go really well on vanilla ice cream so save those, coat the large chunks in a nice Belgian milk chocolate for extra indulgence.