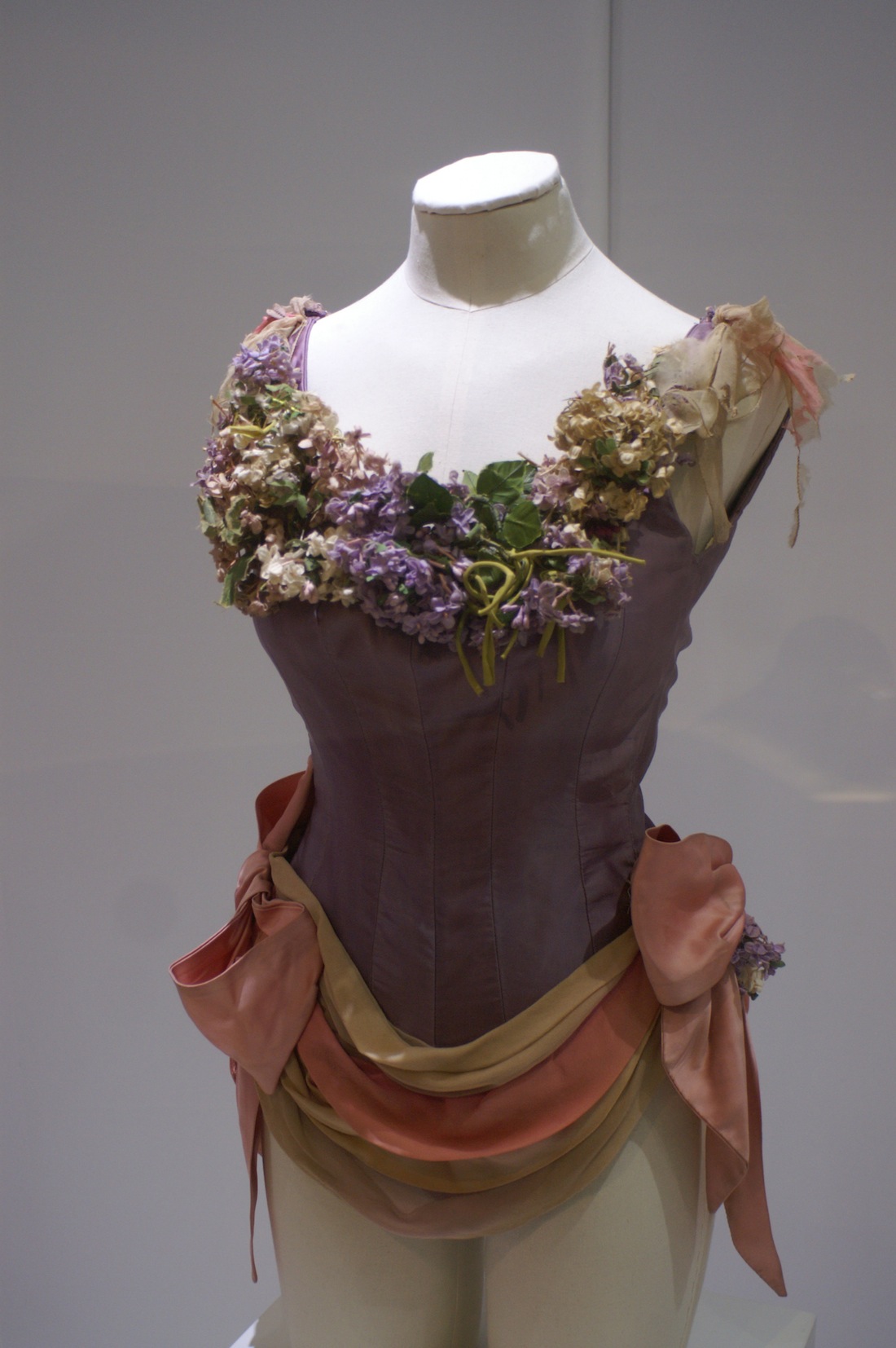 Marilyn Monroe: Newbridge 'Museum Of Style Icons'
I love Marilyn Monroe, I have done for as long as I can remember. I've even placed my hands in her handprints during a dream-come-true holiday in Hollywood, when I was 20 years old. One of the most memorable exhibitions I had ever seen was in the Max Factor Museum in LA, movie props from different movies and even Marilyn's own costumes… I thought it was the best thing I had ever seen, until I visited the Newbridge Museum of Style Icons, last week!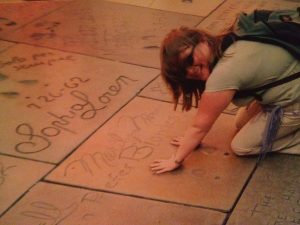 Newbridge has a special place in the hearts of Irish people,  from magnificent cutlery jewellery collections, glassware to Christmas decorations.. I used to work for a family run jewellery & gift centre in Galway about 15 years ago that sold mainly Newbridge and I got to know the company inside out and developed a sentimental love for the brand. Now, the Museum of Style Icons is one of their main attractions, which opened its doors several years ago. Among the collection, are pieces worn by Audrey Hepburn, Grace Kelly, Michael Jackson, Elizabeth Taylor and even Princess Diana.
But there is a very special reason to make your way to Newbridge. The Marilyn Monroe exhibition is running, until July 25th as part of the European tour, from there it will continue it's tour around the United States until it goes into auction at Julien's Auctions in Beverly Hill's. Your very last chance to see personal items, such as personal letters, diaries, jewellery, costumes and shoes worn by the legend herself.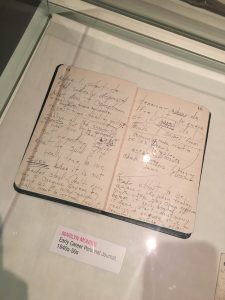 I shed a tear the minute I saw the collection, her diary is what set me off, her most personal thoughts, there for everyone to read, she was so troubled by her own thoughts and fears and there it was, written down for all to see. Also, among the handwritten items, are letters to her Husband Joe DiMaggio and cheques made out to her Mother.
Moving on to her items of clothing, the red dress from 'Gentlemen Prefer Blondes', the black jet beaded (quite revealing) dress from 'Some Like it Hot' and even her shoes… There is a rumour, that Marilyn's heels had one longer than the other, giving her that signature "wiggle" that she was known for, "It's like Jello on springs" (Some Like It Hot).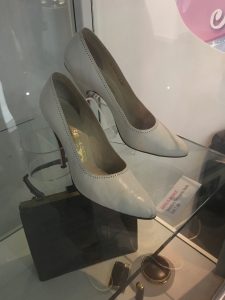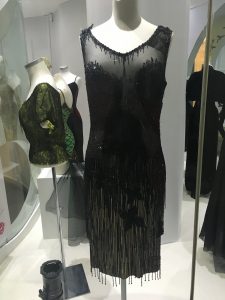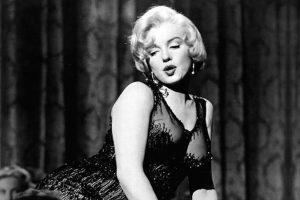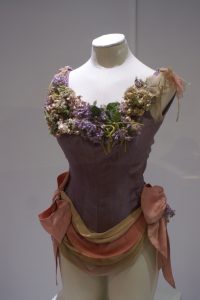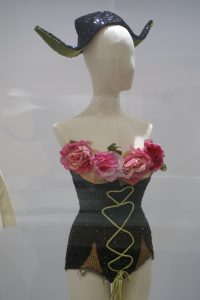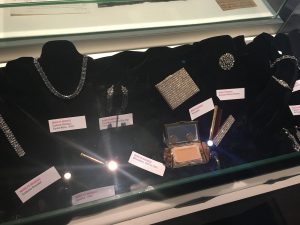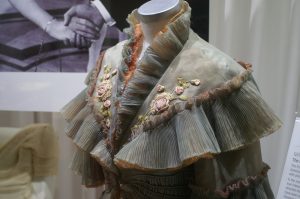 Don't miss out on this wonderful collection of items, it's only there until July 25th
---
If you missed out on Marilyn, worry not, there is a stunning collection from Tippi Hedren's apple green outfit from Hitchcock's 'The Birds' Numerous pieces worn by Audrey Hepburn and personal letters too..If you are an Audrey Fan or have seen 'Breakfast at Tiffany's', you'll remember the pink silk Givinchy dress Holly wore when she was dating Brazilian Jose da Silva, with the pink rhinestone Tiara, jest before she gets the news that her brother Fred has been killed in action. How could you forget it?
It's still in wonderful condition, though missing a few tassels here and there, you can almost imagine her in it.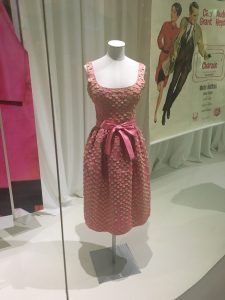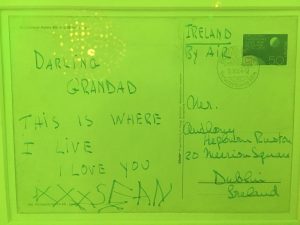 There's also the hat from 'Funny Face' (from the scene in the Embryo Concepts Bookshop, after the models have left.)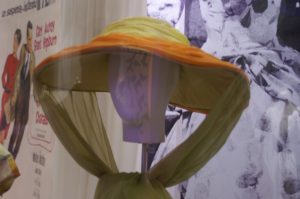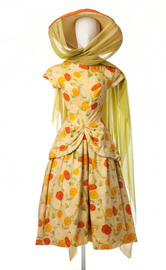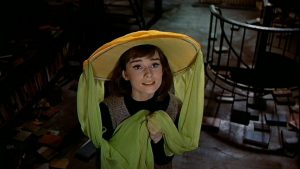 I'm also a huge Michael Jackson fan, in fact, that trip to LA was actually to go and see Michael Jackson appear at a birthday celebration in Downtown LA, I have been a Michael Jackson fan since I was 5 years old when 'BAD' was my first ever music tape that I owned… I shed a little tear in front of this one too..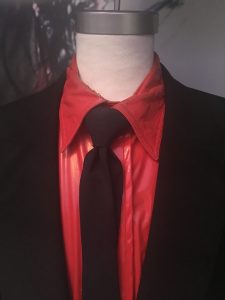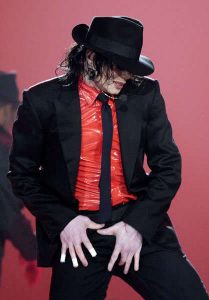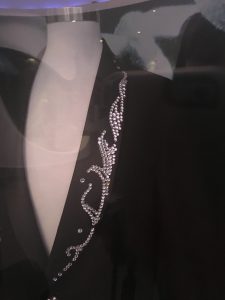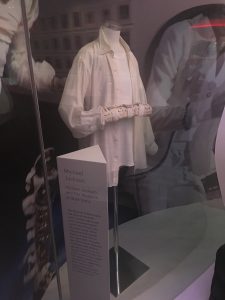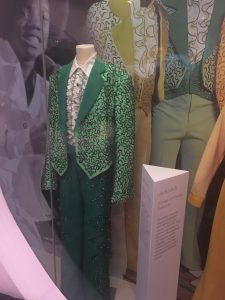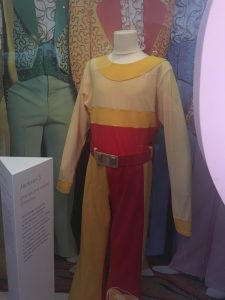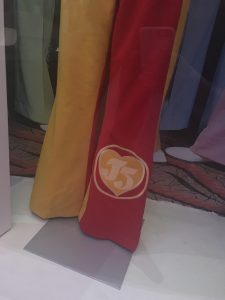 Other exhibits include:
Liz Taylor
Princess Diana
The Beatles
Grace Kelly
Jayne Mansfield
Tippi Hedren
Naomi Campbell & The Kardashians

The Museum of Style Icons at Newbridge Silverware is open seven days a week
Monday-Saturday: 9:00-18:00
Sunday's & Public Holiday's: 11:00-18:00
---
After visiting the Museum of Style Icons, be sure to check out the Showroom.  My husband disappeared when I went to check out the cutlery and tableware (my secret obsession), I found him perusing the Princess Grace jewellery collection, taking model numbers down on a piece of paper to buy for me…lucky me!! There are other INCREDIBLE pieces like the Art Deco inspired Greta Garbo collection.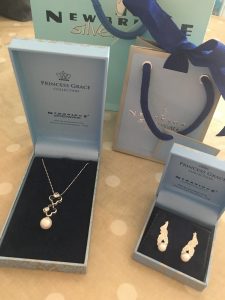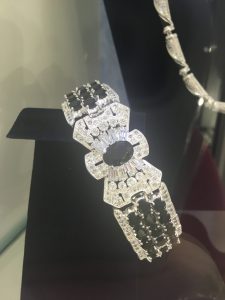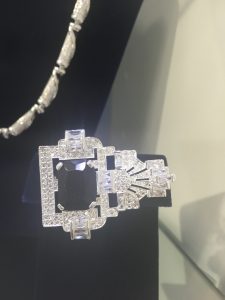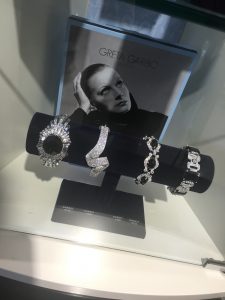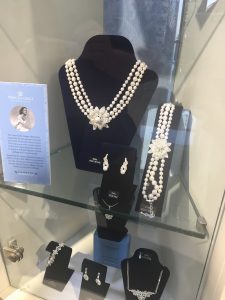 ---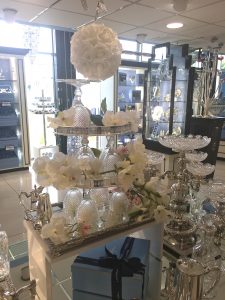 If you are  a born hostess, like me, you'll probably be well familiar with their cutlery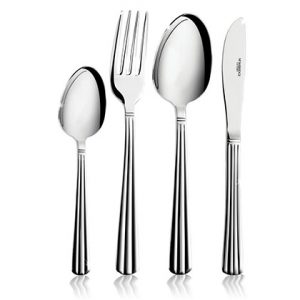 collection. My mum has Kings Pattern EPNS that once belonged to my Grandmother, I have the extended Nova Stainless Steel collection that comes out for special occasions, soup spoons, steak knives, pastry and fish forks, latte spoons and cake slices, it's elegant, timeless and well affordable. I love how you can buy single pieces of cutlery to add to your collection at the showroom too, I didn't have the pastry forks but I do now, after my last visit. If you are contemplating getting someone a wedding gift and they like to entertain, NOVA cutlery is the gift to get, it really is, the basic 24 piece set is €59 but if you want to get a more special one, the 44 piece is €99 and it has the serving spoons, soup spoons, dessert forks, knives and spoons and an opportunity to expand the collection should they wish. I've recommended this to lots of people who've come back to say they were really glad with the choice as the couples loved it.
I have to say I am lusting, deeply lusting over the 'Royal Collection' cup and saucer collection but I can't find them on their website, you have to check them out! Like something you'd see in one of the stately homes in War & Peace, they're INCREDIBLE!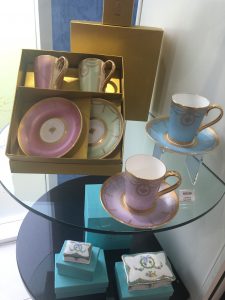 The whole place is definitely worth a visit, there's even a lovely restaurant to the rear of the showroom with lovely meals and pastries.
The Newbridge Whitewater shopping centre is just across the road too so why not make a day of it?
Athgarvan Road, Newbridge, Co. Kildare, Ireland
Tel:+353(0)45 431301
Getting There:
By Car:
Only 30 minutes drive from Dublin. Take the M7 from Dublin (main road to Limerick, Killarney and Cork). Leave M7 at Junction 10 signed NEWBRIDGE and follow the sign into town.
By Bus:
Multiple bus operators and services through Newbridge with buses stopping in Newbridge main street approx 10mins walk. See www.buseireann.ie, dublincoach.ie for timetable, fares and online bookings.
By Train:
Irish Rail train service available at Newbridge Train Station, station road, Newbridge, approx 20mins walk to Newbridge Silverware. Taxis at station. Normal Service between 7am and 7pm daily (@ 30mins from Dublin). See www.irishrail.ie for up to date timetable, fares and online bookings.
Save
Save
Save
Save
Save
Save
Save
Save