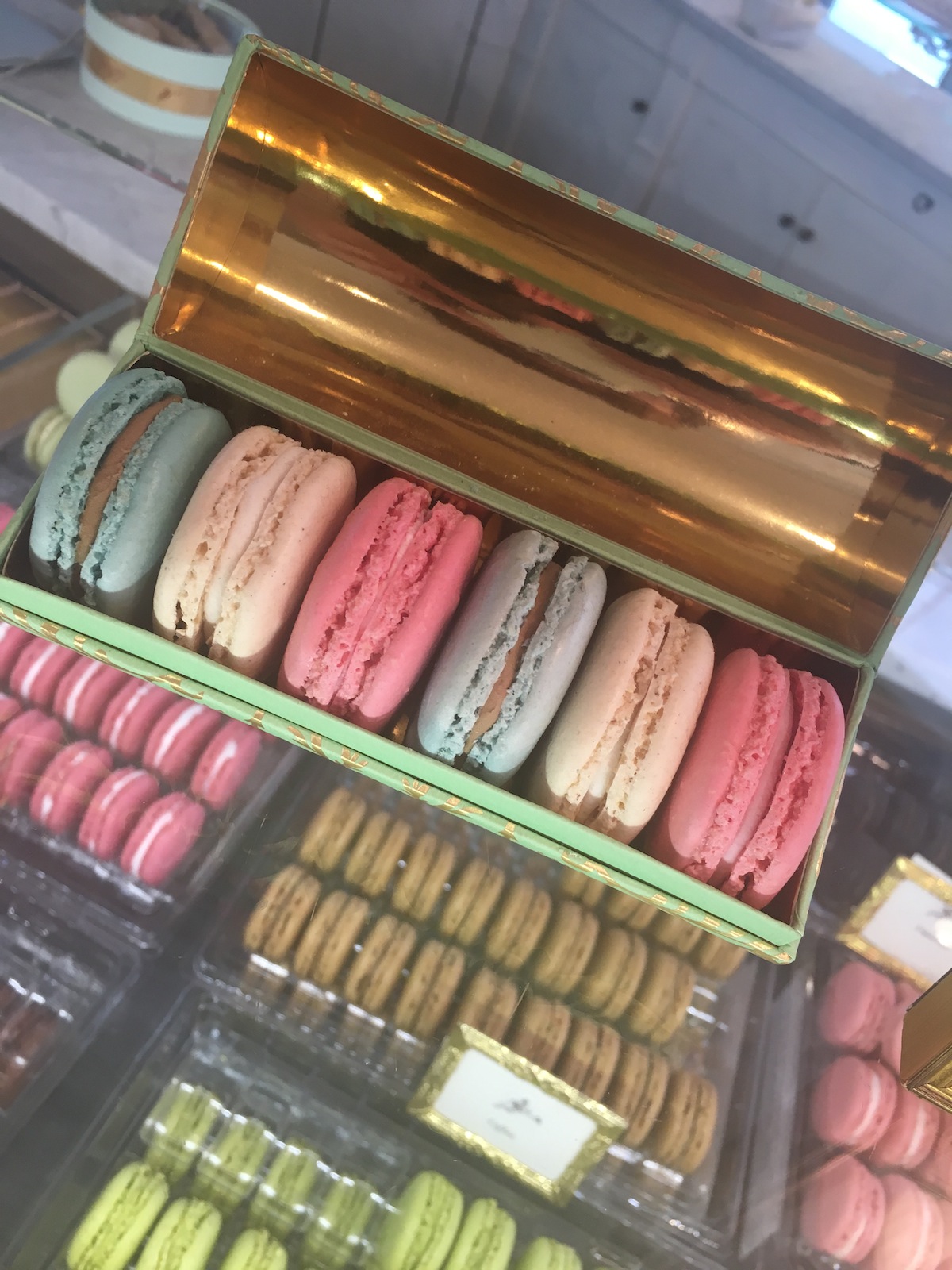 Laduree Dublin: Birthday Celebrations
I've mentioned Laduree several times on the blog, it's my guilty pleasure. When they first opened in Brown Thomas' 'luxury hall', right inside the front door, I thought all my Christmases had come at once. Back then I worked as a Visual Merchandiser for Laura Ashley and lived in Galway then, so going back to Dublin, doing hard time, installing a new window scheme and dealing with a chaotic store layout, it was always SUCH a pleasure to nip in to Laduree for some treats for the train journey home, whether it be their sumptuous hot chocolate or their macarons, I felt like a princess on a packed train home on a Friday night..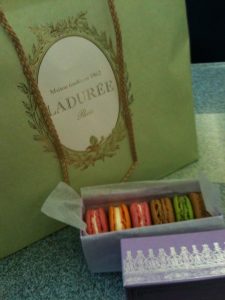 In the early weeks of 2016, Laduree opened it's first proper tearoom doors, out on it's own in Dublin, in the French Quarter on the corner of South William St and Wicklow St. I couldn't wait to get in there! I had visited several times for my usual  but it"s not until recently that they officially launched their tearoom menu. Laduree don't just hire any old pastry chef's, they hadpp to pick the right one for their Dublin premises and have them trained to Laduree standards, hence the slight delay on the menu's arrival. It was SO worth the wait!
I booked a table for two on my birthday, my husband was working so another blogger friend of mine, Carol, from Jolly Caucus Race, joined me.
It's definitely recommended to reserve a table at Laduree, to avoid disappointment, you don't want to turn up at their stunning premises, to be tempted by their stunning display, only to be turned away from the tearoom, only to have a paper cup to take away, definitely not the same experience, buy still delicious none the less.
The tearoom is on the small side, seats about fourteen, so there's a feeling of exclusivity, French lounge music plays in the background as you take in the decor, fresco like wall paintings and cornice, lush purple velvet drapes and purple velvet Louis XIV chairs at marble tables, it's beautiful! Looking out on South William St, you would be forgiven for thinking you were in Paris, busy shoppers, arty types, students, fashionista's and hipsters, hanging about in shop doors and cafe tables, smoking and talking over copious amount's of wine in the sunshine.
I arrived a little early, after having my hair done at Tony & Guy nearby, it was no problem, I had more time to decide on what to have, afternoon tea, sandwiches, croque monsieur or proper French toast, made with fresh Brioche, made the proper french way, with rose and raspberries… it took me almost half an hour to decide-thank goodness I was early and Carol was a little late. I am useless at making decisions. (yet it took me 20 minutes to choose my engagement ring). Firstly, I ordered a glass of Champagne, it was my birthday after all and it's a tradition. I also chose a cup of the Marie Antoinette tea and the Framboise French Toast. The Marie Antoinette tea is a rose and citrus tea, so lightly perfumed, it's beautiful, the longer you allow it to brew, the nicer it gets.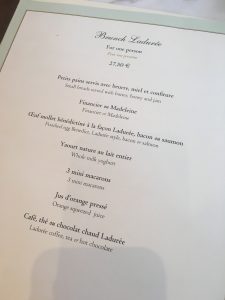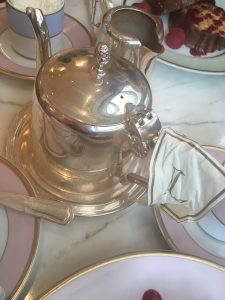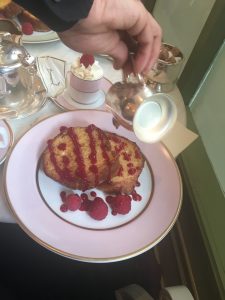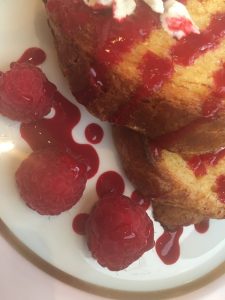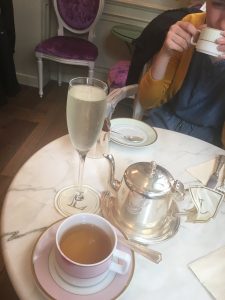 The service is wonderful, you're shown to your seat, chair's pulled out for you, even your framboise coulis is poured on your French Toast for you, from silver jugs, the height of luxury. Ladies, if you like proper Afternoon tea, this is the place to do it. it oozes chic.
My french toast was delightful, not at all like the American, greasy and over-sugared kind. It's light, fresh and served with fresh raspberries, the Champagne washed it down perfectly. Carol ordered the same but indulged in their hot chocolate, on which luscious molten chocolate was poured by the waiter into a cup filled with fresh Chantilly cream, I drooled a little.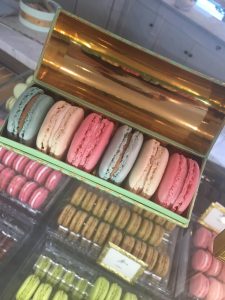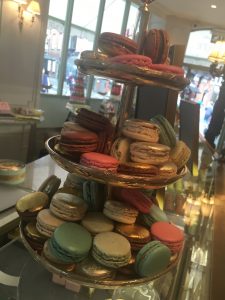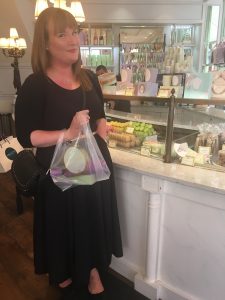 It was all so overwhelmingly beautiful, but I didn't stop there! I have a birthday tradition of going into the city every year and going to laduree, followed by buying myself a bunch of Peonies from the flower sellers on Grafton St, usually after going to the museum or doing some shopping, followed by champagne when I arrive home. So, sticking with tradition, I bought myself a box of Macaron's as I was leaving and went for those flowers, we then had some fun in vintage stores, followed by cocktails.
I guess you can say, it was a perfect day 🙂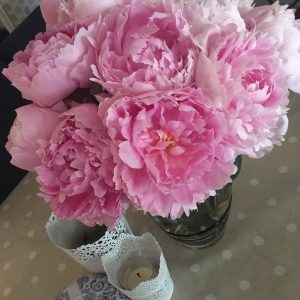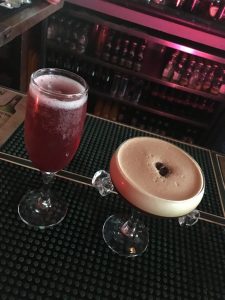 Save
Save
Save