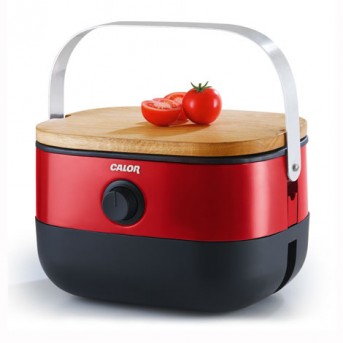 The Calor Mini BBQ Review: Best invention for foodies, EVER!
My hubby and I share the same birthday week  (this week) and we've bought ourselves a gift…We love to BBQ and we love entertaining and we've been suffering with a sorry excuse for a BBQ for the past two years. So we bought a Calor Mini-BBQ, I wasn't ready for how awesome this product is.
Before, we had a crappy little cheap tripod barbecue that burns charcoal, the grill spaces are too wide and your hot dogs fall down between, into the fire. Also, the charcoal cools down very quickly.. this infuriates me.. there's nothing worse than waiting around, fumbling about the BBQ for the initial fire to die down, smoke everywhere, rushing about to get things cooked and turning frequently so the food doesn't literally get charred all the way through. Oh no… I couldn't be having that.
We bought our new Calor Mini BBQ from a DIY store but the units don't come with gas,  it's really easy to get a hold of some, with petrol stations and most supermarkets now selling it, especially with BBQ season upon us. There is no assembly required, no screws, no butterfly bolts, no leg's to screw on…. it's essentially ready to go, you can even buy one on the way to the beach! All you have to do is pop in the drip tray, underneath (quite important) remove the wooden lid, remove the bottom compartment and plate the wooden lid on that, which makes it a nifty raised chopping board ('cause NOBODY wants sand on their burgers or onions). I love how the temperature is adjustable too for cooking things like spatchcock or thick cuts of meat which require longer cooking periods.
Features include a shoulder strap so you can carry it over your shoulder if your hands are full! Two gas hoses with fittings for a 400g gas canister or a patio gas canister and a 354mm x 269 mm cast Aluminum Grill that cools down really quickly and heats up just as fast. It's such a beautiful design and has won heaps of awards from an 'iF' product design award in 2014 to a Good Design Award & an IDI Design award in 2013.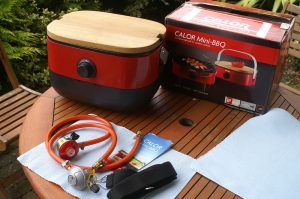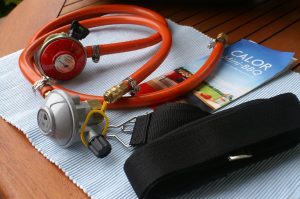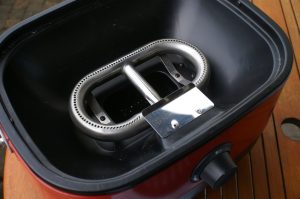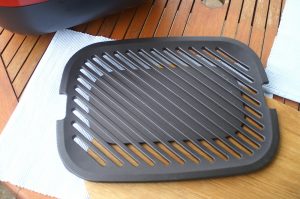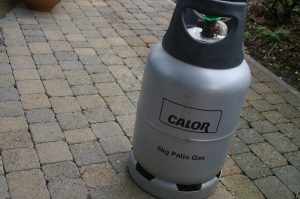 If you live in a small apartment, this is your best friend, if you spend a lot of time on a boat…this is your best friend, the same of you're a camping fiend, enjoy trips with the boys or taking a trip to one of the big music festivals and it's not even heavy. I personally love how you can use it on the table, still be with everyone and not off in a corner of the garden, normally the barbecuee is the loner but not with this.
I'm thinking to myself that the Calor Mini BBQ would even be ideal as a backup to make tea or cook dinner if we ever have a power cut…..
Grab your own for about €179 from usual retailers.
Top Tips for Barbecuing
Tools:
Use proper equipment when barbecuing, a BBQ tongs gives the best control over the food, especially when it comes to slippery sausages and marinated meat. Have a trusty oven glove on hand too.
Use a large steel domed saucepan lid or an upturned steel saucepan to help melt cheese onto a burger patty or help cook a rather thick piece of meat by steaming it on the other side.
Silicone Basting pastry brush, brush cooking meats with leftover marinade as they cook.
The 20 Minute Rule:
Allow meat to rest for 20 minutes at room temperature, otherwise it'll be as tough as old boots, it also adds to a better flavour.
Marinate:
I cannot stress how amazing the results are, the other day I popped some ketchup, Tabasco, honey, Dijon mustard crushed chillies and chilli in a bowl and smothered it over some chicken breast fillets, left them for three hours and the flavour was incredible, the chicken was juicy and the outside was caramelised… gorgeous.
Safety First!
Always wait until the juices run clear. Press on a burger and clear juices flow out, if you're not sure, an extra few minutes won't to any harm. Chicken is the big culprit with BBQ sickness, check the middle for any pinkness, especially with spatchcocked poultry which will char on the outside but still under cooked inside. Again, if you're unsure, give it a few more minutes.
Don't use the same platters for cooked meat that you've used for raw meat and don't allow raw meat to sit around in the sun for long periods before cooking.
Don't store your propane gas canisters indoors.
Save
Save