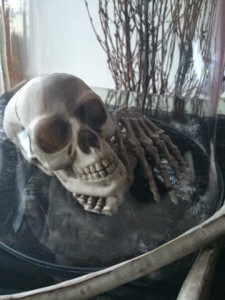 Haunted House Halloween Party
Halloween is my absolute favourite time of year, well all of Autumn is, really! The colours in the trees are stunning at this time of year, rusts, russet's, browns and greens, there's a lovely smell in the air and you get to take out your favourite cozy outfits, snug cashmere's and scarves and just be generally cozy!
Halloween in 1980's Dublin was really tame, not half as fun as the Americanised Halloween we have today, and I'm so grateful to the Americans for that. Costumes are better, people go all out with decorations like this 'Hallowindow' that one of my friends is working on doing at his house(video may not appear on tablets and phones):
You were even lucky if you had a pumpkin when I was a kid as I said….it really WAS that tame, and you'd hear (much) older people again saying "in my day, we didn't even have pumpkin's, we used turnip's"… Turnips or Beet's were used from about the 19th century, originally to ward off evil spirits.
This year, now we're living back on the East coast of Ireland, my Husband and I are hosting a Halloween Party and for our little Nephews too, we all have our holidays every year that each couple hosts in their house!! I am going to go all out for this, I JUST LOVE IT!
Here, I'll go through buying budget decorations and getting the max out of them, setting an atmosphere, planning your menu and some recipes.
So let's get started…
After missing out on Halloween last year due to being on holidays in Orlando, I am sure to make up for it this year and bought Martha Stewart's Halloween special magazine last year and visiting Halloween Horror nights in Universal Studio's gave me loads of food for thought! I also used to work as a Visual Merchandiser and window dresser, so this is right up my street.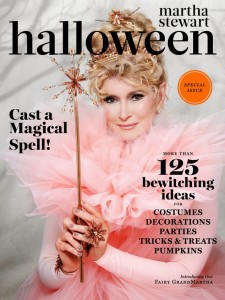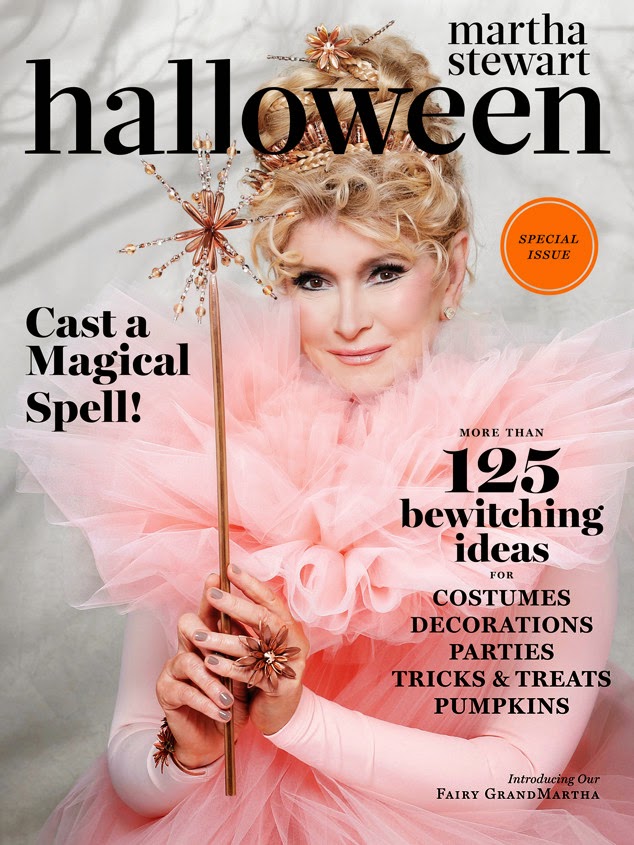 Decorations have started to appear in shops since August, my first stop was in the €2 store, you'd be surprised what you could get for your money in a euro store..
'€uro 2' Store
I love lanterns,  €1.50 for a pair in the €2 Store. The Pumpkin ones I got don't have a little stand for tealights or even LED ones inside but I will be using these in my buffet table backdrop.  I also bought  Spooky Window Netting for €1.50 you get about two long pieces, One shall be used as a buffet table runner, and the second, hung from the ceiling as the backdrop, attached to removable damage free clear plastic hooks by COMMAND 3M hooks which you get for €5.29 in Woodies DIY, stick them to your paint work or ceiling and they won't damage it, however….I still wouldn't put these on wallpaper, no matter what they say, I just wont risk it.. Because the window netting is a sort of very sheer and woven and will sit on your hooks, easy-peasy, just put your finger through it and pull! Aside from also using this as a table runner too, another thing you could use this for is making ghosts, all you need is small balloons, inflated to make a mould, a can of Robin Spray Starch which you can get in the laundry section at the supermarket (it's a red aerosol with a picture of a lady in a 1920's dress), Just cut a square of it and drape over the balloon, and spray loads and loads of starch on it and allow to dry, when you remove it from the balloon, you should have a curvy ghost that keeps it's shape, either apply felt eyes or googly eyes and you have ghosts, ready to hang from your ceiling, hide a fan behind a sofa -and they'll move, terrifying kids!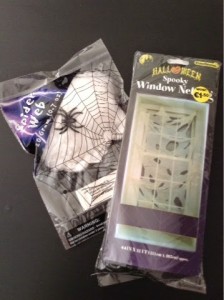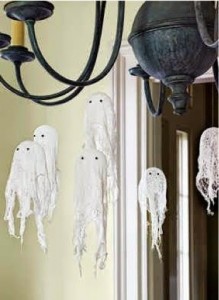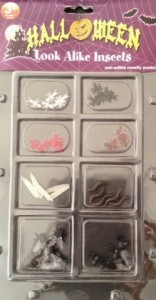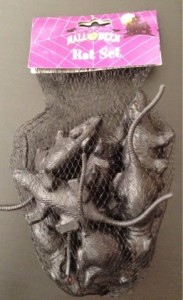 There are so many things you can do with these rats and critters, from peeking out of holes in Pumpkins,  to laying down a sheet of black tulle, the length of the stairs (it also sort of deters guests from wandering upstairs, kids etc)  and get as many rats as you can and pile them on the stairs to look like they're running down. You could also hide them at the bottom of bowls of popcorn so people get a nasty fright when one appears.. I wouldn't put them in drinks containers etc as a lot of them have harmful chemicals that could bleed out if put in wet food. You never know what the paint is made from. If you're putting them in the popcorn, it would be a good idea to sterilise them first with an anti bacterial spray and wipe down with a cloth.  If people are going to be walking up and down your stairs, forget the rat idea because you don't want someone falling and breaking their necks after slipping on a toy rat. it would sort of dampen the fun.
Aldi
Ahhh you've got to love Aldi, keeping the Irish nation fed and watered in modern Austere times. They just get better and better, I swear by their baking equipment specials and last week was Halloween! There was lots to choose from and I didn't want to go crazy, so I bought a skeleton in a bag to decorate the table with and an amazing silicone mould to use with modelling sugarpaste to make cupcake toppers, it was only €2, the Skeleton was €5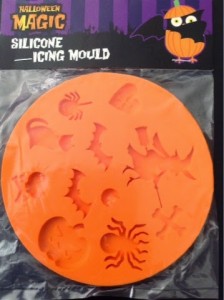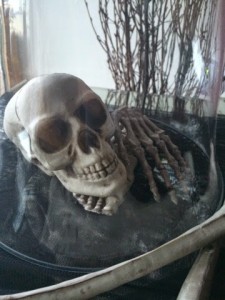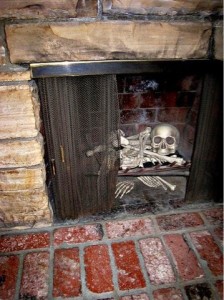 With these bones, you could just scatter them in the table, I have a bell jar (pictured), which I bought when I worked for Laura Ashley but I think Meadows & Byrne also sell them cheaper and boxed too. I have a tulle belt from a skirt I recently bought at Folkster, I'll bundle it up and use it to rest the bones on, under the bell jar, tie a ribbon and tag  on it with something like "SPECIMEN" on it.
I'm toying with the idea of filling the spiders on the mould with black Isomalt and putting them in drinks and my Green Lemonade which will be served in a glass decanter, labelling it ' Witches Brew'.
Visiting TK Maxx one day I came across a packet of these cupcake toppers and cases for €2.50, absolutely delighted, black treacle cupcakes will be perfect in these!
Getting the Atmosphere Right
 You can buy black lightbulbs in hardware shops, which are really popular as well as mist machines, and strobes, but you can't beat candles, I started by visiting Floral Art in Greystones, which is my absolute favourite shop in Greystones now, having florist experience, it's my new go to, they're hosting mini pumpkin decorating classes for kids and pride themselves on their friendly prices- which is alright by me!  I bought two large church candles for €5 each which is great (I'm going to put them in glass votives, surrounded by popcorn kernels and twine bows) secondly there's the bundles of Birch branches, for €5, they're pretty much everlasting… I'm using these as the centrepiece on my buffet table with some Chinese lanterns and fronted by my cake.  Use the birches then at Christmas to strew some mini light bulbs/fairy lights on the branches (Dunnes have Battery operated lights every Christmas for €5 a string).
I just love this place, my favourite thing in store is the mannequin with the foliage dress, which is for a local fashion show fundraiser, stunning! Be sure to check out the Autumnal wreaths too!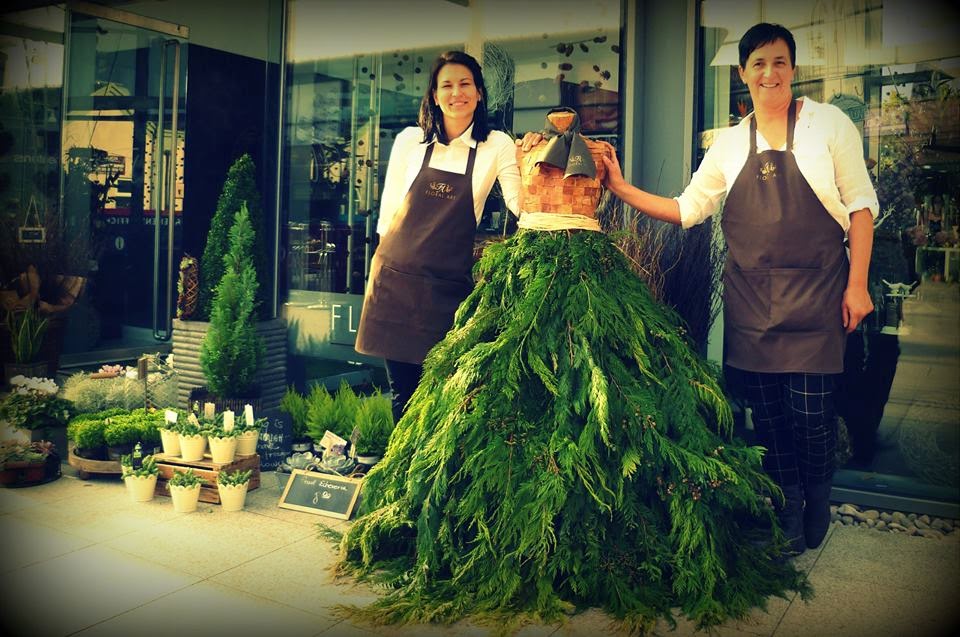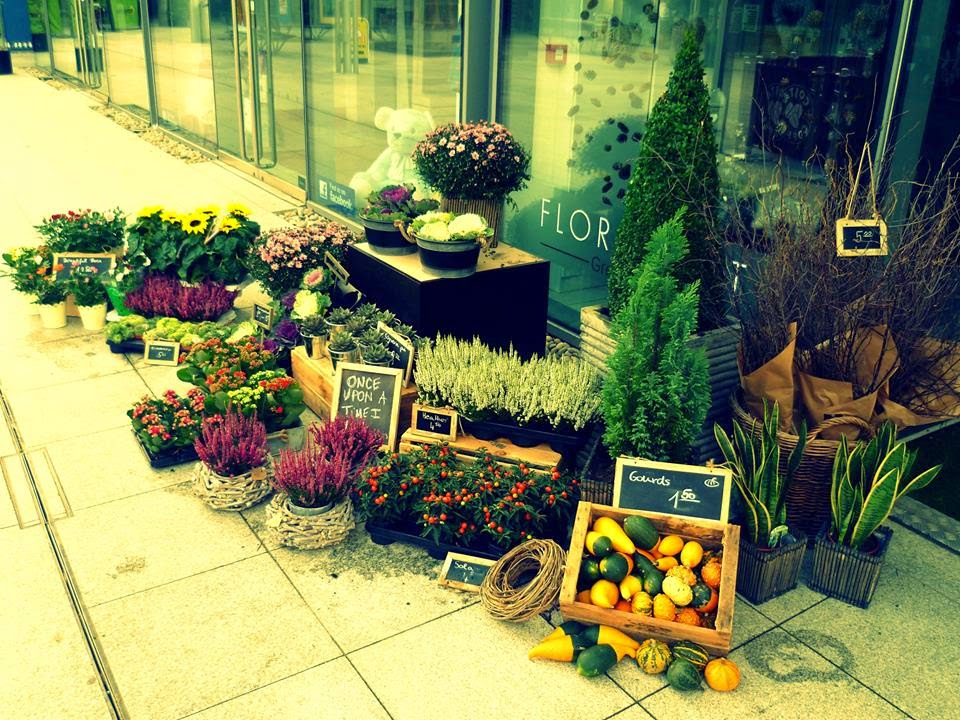 Chinese Lanterns
€5 each at Floral Art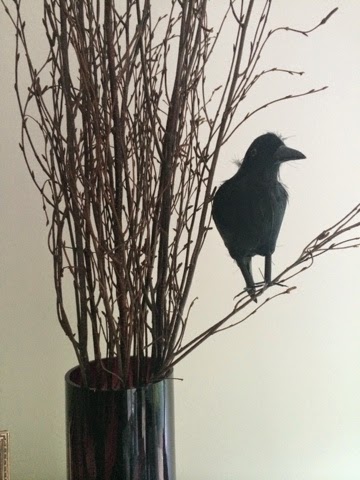 €5 Birches from Floral Art
In the same centre as Floral Art is a small Heaton's Department store, I found some amazing Autumnal candles in there and at €6 each, they beat Yankee Candles down at about €28? The frangrances I bought were Pumpkin Splendor and Butternut Pumpkin, you can buy them on the Heatons website too. They're sweet and spicy and for anyone who's familiar with Michael's craft stores in the USA, its the sweet spicy smell you get in Michael's at this time of year, gorgeous, reminiscent of toasted marshmallows and treacle tart! The €2 have a very small Pumpkin candle which I also bought, not as good as these though.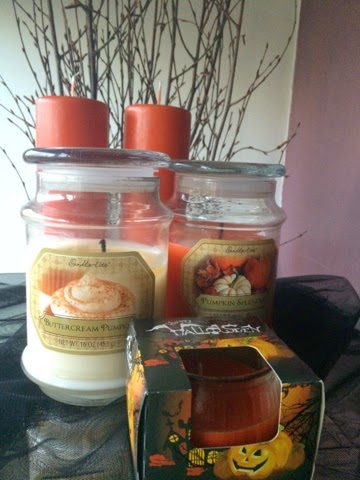 If like me, you don't have a projector and are handy with the pencil and Stanley knife, you could try out these window decorations, put them in the window, cover the windows with white sheets and leave the lights on, you can get stencils all over the internet like on the Makezine website!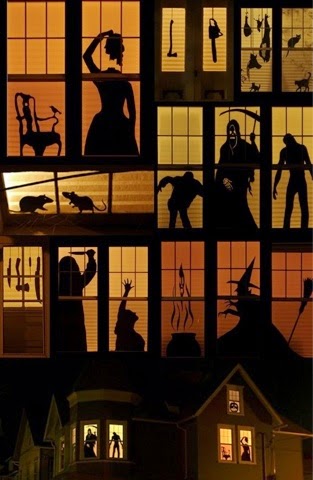 Image via Pinterest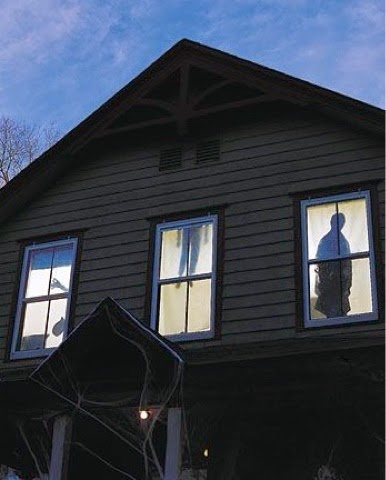 Image from Pinterest
Food & Drink
This year there'll be green lemonade for the kids and warm Cinnamon Apple Punch, simmering away in a slow cooker, gorgeous cinnamon Mexican Churro's, teacups of my Curried Butternut Squash, Pecan Pie, ghost cookies, cupcakes, toffee apples and for the kids who probably won't like the soup, I'm making mini pumpkins from Orange Peppers, filled with Blood and Guts (Spaghetti Bolognese) they'll be amused b the look of it and eat something other than sugar for a little while. Followed by Green jelly/jello in cups with grapes which you can label 'snake eyes' or 'eye of newt'.Make your buffet table the viewpoint in the room, the first thing people see, take these three examples, which I found on Pinterest: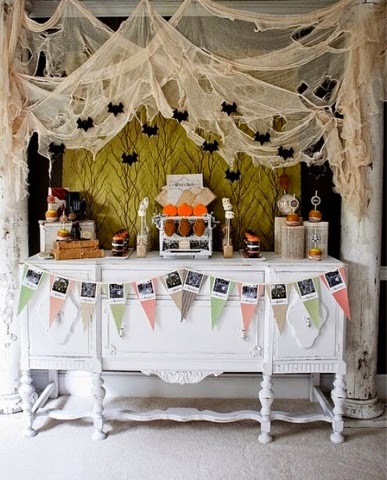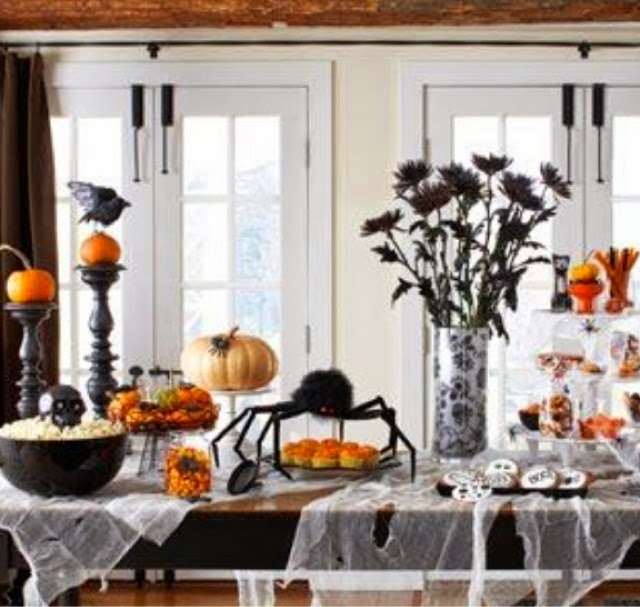 In the one above, you can see the window netting that I am using as my runner, start with high items against your backdrop like birch branches, Autumn flowers or leaves… Many supermarkets have  disposable aluminum platters which look like silver or steel ones, they can be really effective on a black tablecloth, stales can look great too as you can use chalk to write what's on them, think old world opulence in blacks, creams and greys, stick to a three colour palette for your theme -and use those printables!
,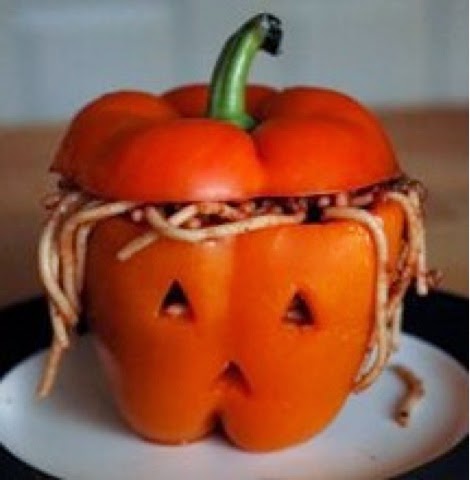 'Blood & Guts filled Pepper Pumpkins' (Image via Pinterest)
Toffee Apples with black Gel colour
 Poison Toffee Apples
by Simply Delicious
Ingredients
2 cups granulated sugar
¾ cups water
½ cup liquid glucose/light corn syrup
few drops black gel food colouring/Sugarflair Gel Colour 'Extra Black'
6 Granny Smith apples (or 12 small apples)
Instructions
Grease a piece of baking paper and place on a tray/baking sheet.
Insert bamboo skewers in all the apples and set aside.
In a medium pot, combine the sugar, water, glucose/corn syrup and food
colouring and stir over medium heat until the sugar has dissolved and
the mixture feels smooth when you rub it between your fingers.
When the sugar has dissolved, turn the heat up and wash the sides of the pot
down with a pastry brush dipped into clean water to prevent crystals
from forming.
Allow the caramel to boil until it reaches the hard crack stage (150°c/310°F).
Carefully dip the apples into the hot candy mixture and place on the baking paper
to set and cool for approximately an hour before serving.
I personally love to use black or green paper straws as handles on these..
---
Harry Potter Butterbeer-HIGHLY RECOMMENDED!
 If you're a Harry Potter fan, why not make Butterbeer? I had this at the Wizarding World at Universal studio's and it-is-gorgeous!!!! it's sort of like an Ice cream Float
Ingredients:
2 Pints of Vanilla Ice Cream
1/4 Cup Monin Butterscotch Syrup
2 Litres Cream Soda, the traditional ones on the brown bottles that are an amber colour, you can use the clear ones that come in Irish Supermarkets but might want to add a little orange or brown food colouring to give it a beery appearance).
Directions:
1. Place 4 (16-ounce) glasses in freezer and chill for at least 20 minutes
2. Mix ice cream and cream soda in a blender until combined
3. Divide between the frosted glasses
4. Top each glass with whipped cream and syrup, definitely recommended!
5. Serve with spoons and straws
The flavour of this brought us right back to Orlando, drinking it in the cool afternoon rain shower on a hot summers day… It was great!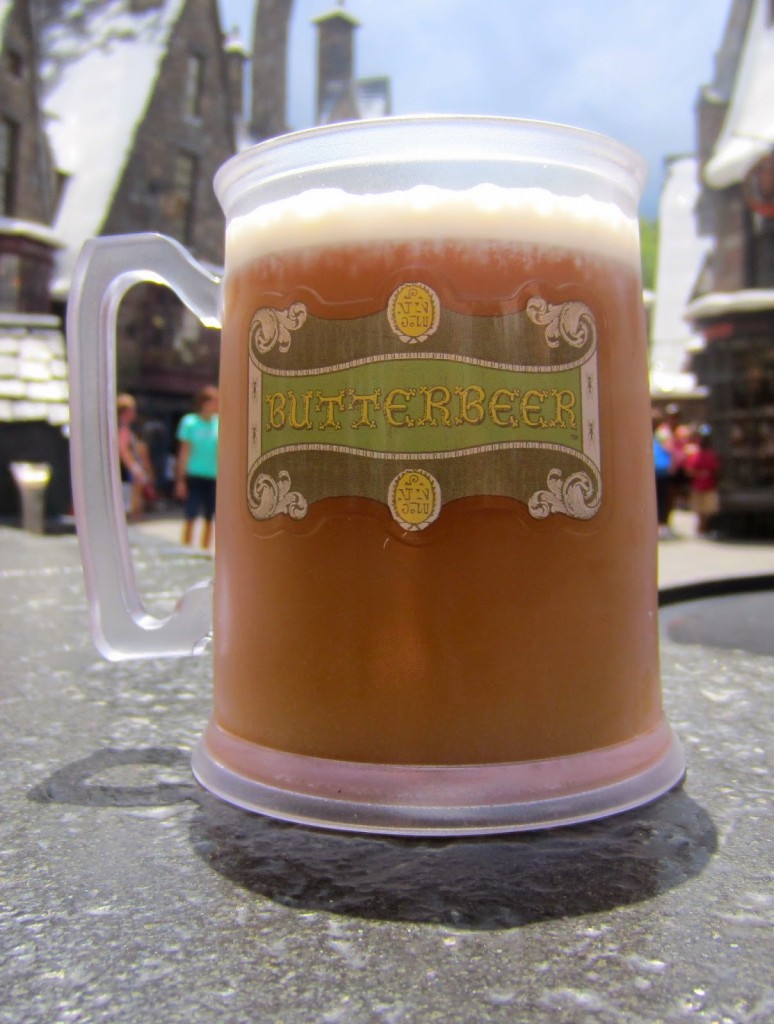 ---
Mulled Apple Punch
4 Pints of Apple Juice
1/4 cup of Brown Sugar
1/4 tsp Ginger
Slices of Orange (unpeeled)
2 sticks of Cinnamon
1 tsp Whole Cloves
 Muslin or Cheesecloth Bag
Stew Saucepan or Slow Cooker
Place Cinnamon and cloves in the muslin bag.
Place all other ingredients into the slow cooker /saucepan
Simmer for up to three hours
I love to add Smirnoff Cinnamon Vodka to this, as as much as you want until it tastes right to you, it's also got gold leaf in it so it'll sparkle in your drink. Or else offer guests a shot of a cheeky wee nip in their punch as you serve, so drivers have a choice of non alcoholic too- it's nice to be thought of and I know most at my party will be driving.
Please Check back for more recipes, I'll be adding more on the run up to Halloween.
For Paper Straws to match your theme, I love Layercake Shop, you can get paper straws in every theme, colour and pattern, they're in the States but so worth it!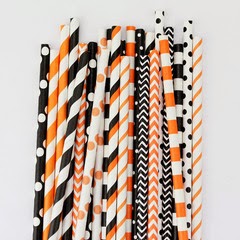 Festivals
 Two festivals I love are the Galway ABOOO! Festival, hosted by the Galway Latin Quarter and permed by MACNAS street performance group (you might have seen them if you're a U2 fan as their work was in 'The Sweetest Thing' music video)
The parade at Halloween is something to be seen, giant rabbits, fire breathers, stilt walkers and there's even a zombie walk, finishing with a Michael Jackson 'Thriller' tribute at the Spanish Parade.
Mexican Day of The Dead
Celebrations happen in graveyards across Mexico as they remember and honour their dead with festivities, music and dancing, you might be familiar with the painted skulls which are becoming so popular around the world.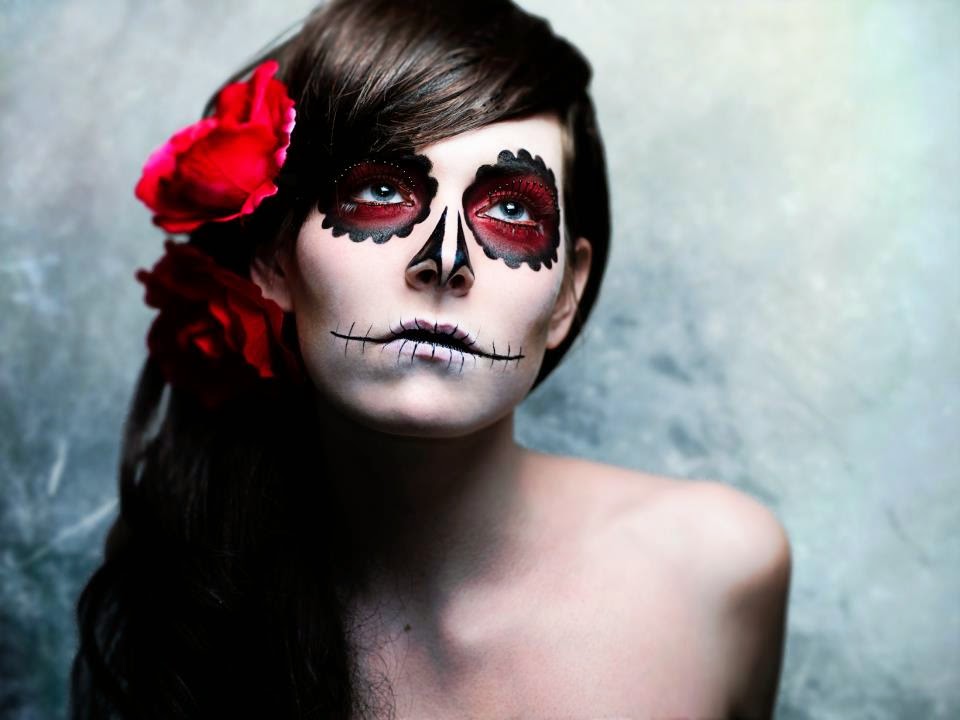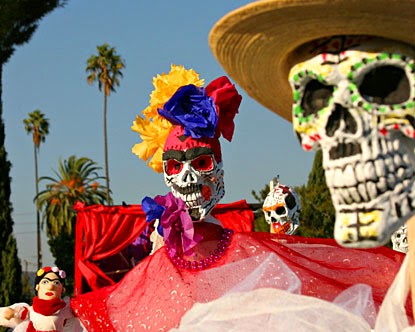 My Top 10 Spooky Movies
 When the trick-or-treating is done, everything is gone quiet and you want to enjoy what's left of the night….. there's always time for a movie and to munch the leftover candy from the celebrations
10. Carnival of Souls
9.A Haunting in Connecticut
8. Nightmare on Elm St
7. Cabin in the Woods
6.  Dracula
5. Phycho
4. The Exorcist
3.The Woman in Black
2. Insidious 2
1.Insidious
---
Music
 Music is pretty crucial for a good party, there are lots of radio stations on iTunes radio with Halloween sound effects, but Spotify is best of all, if you have an account or not, you can get hold of playlists for free with brilliant tracks, I've chosen the free 'HALLOWEEN' playlist by 'KandeeEscobar' it's got everything from Nightmare Before Christmas, Rocky Horror, Hocus Pocus, Monster Mash, Nick Cave & The Bad Seeds, Michael Jackson…even music from Hitchcock movies and stuff from the 1950's! Brilliant!
But just in case….here's my Halloween playlist on Spotify:
 On a Final Note:
 Please be safe this Halloween, be sensible if using fireworks and keep a close eye on your pets, there are horrible people who think it's hilarious to traumatize animals in different ways, also keep them indoors where they can't be afraid of fireworks and bangers, if you're having a party, perhaps keep them in an upstairs room with the radio on with some classic music to soothe them and a bone or toy to keep them busy!
Save
Save
Save
Save