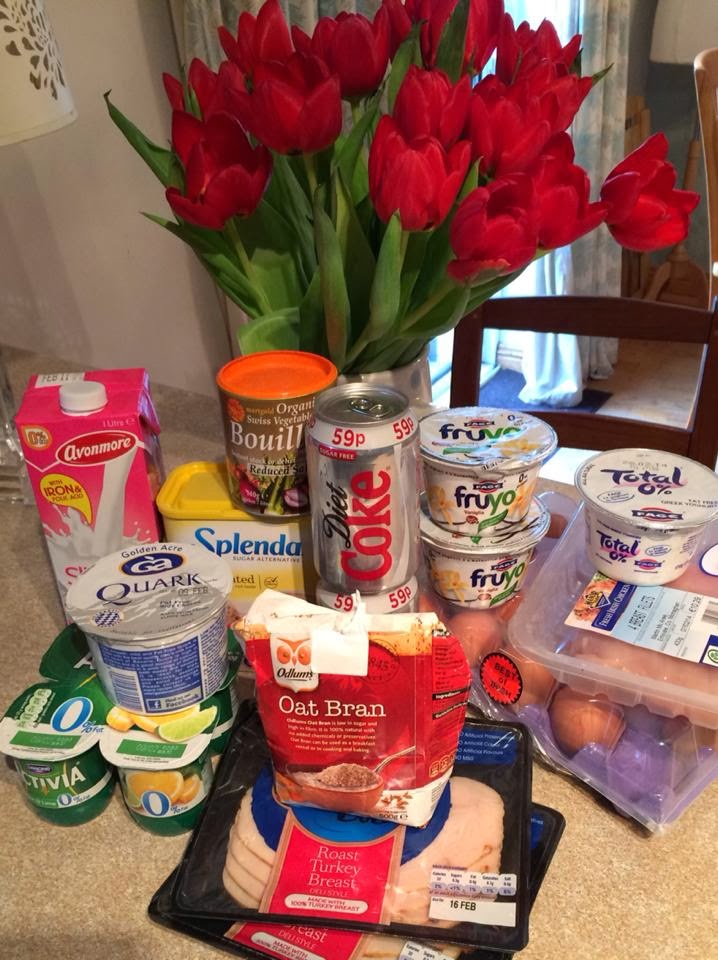 Dieting: Not Quite Campbell's…
I know I said I was starting the Dukan on Sunday but with too many yummy leftovers from the weekend like roast beef with roast Charlotte/Salad potatoes it was too much temptation to begin a ketosis based diet. So on Monday I got it out of my system! Aldi do the yummiest 'Mediterranean Wraps', they're like a hybrid between a pita and a fajita, I usually chop them up into little wedges and dip them in Tzatziki in the summer with a cool lemonade…but on a slice of one of these, I put some some grated, cheddar, ham, tomatoes and mustard mayo…toppled some rocket (Arugula for my American friends) on top and sliced the remaining potatoes then covered with another one, like a quesadilla. I popped them in the oven for about 8 minutes, delicious and crisp but gooey in the middle.
If I was going to spend the week eating nothing but protein, oat bran and coffee, I wanted to send myself off in style, a truly calorific day! For dinner then, I stuffed chicken breasts with cream cheese, pepper and chives and wrapped with Prosciutto and baked them in a 180°C oven.. I know it makes me an absolute and utter porker but what the hell!
Some supplies for the 'Attack'
So I began yesterday and now I am sharing some of the recipes with photos, as requested by a couple of my followers/friends.
I started the day with the oat bran porridge, skim milk and Splenda. I am usually against Aspartame products but I found last time I did Attack using Stevia, I didn't lose the weight as fast,  so I just reintroduced Aspartame, despite my inner self screaming at me, telling me it was the wrong thing..
For lunch, I had a yummy  parsley omelette, which was dry fried.
I have a trick when it comes to Omelette's, because when you're dry frying them, they tend to stick to the pan easier and make it hard for you to lift it onto your plate, I pop the beaten eggs into a medium heat, let it settle a bit and then push it about so it wrinkles, you don't want scrambled eggs…and then put it  under the grill/broiler for a little while until it swells and sets…..then just fold it in half and serve. It looks a lot more appetising.
The headache did kick in at the end of the day, the 'sugar cold turkey' and I began to experience slight symptom's of a cold, shivering cold but my face was boiling and I was irritable.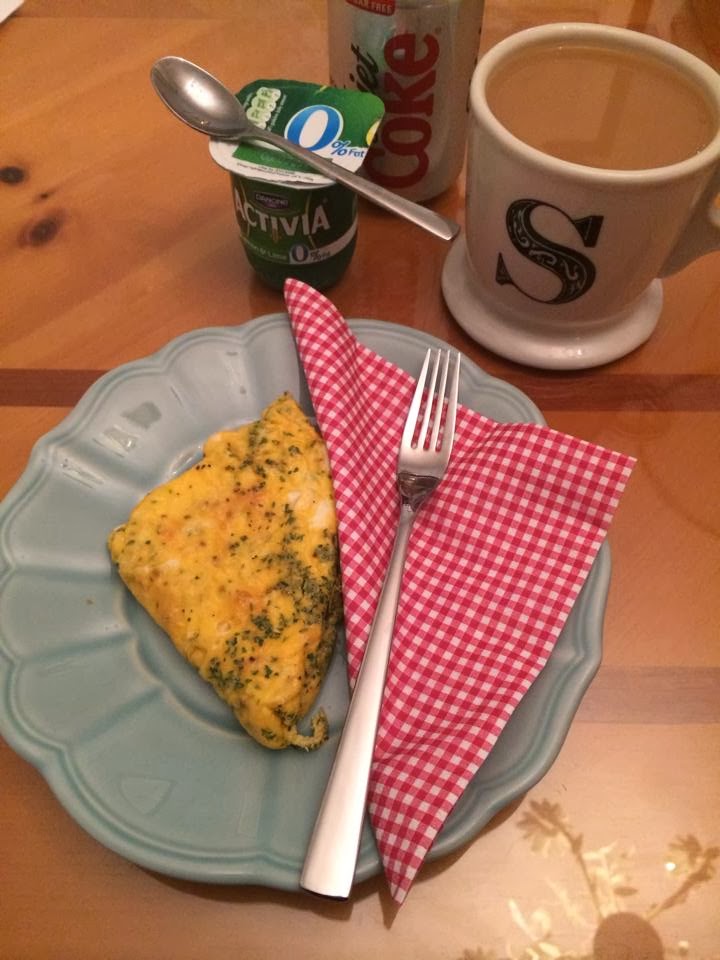 After lunch, it was time to start thinking of what to make for dinner so, having some chicken breasts and marigold, low salt stock, I made a soup. I will warn you, it's not Campbell's creamy chicken soup, diet food was never amazing. I will share the recipe but no matter how much you blend it, it will have a slightly lumpy texture, but it tastes good! Considering it was stormy last night, this warmed me to the core
Dukan 'Attack Phase' Chicken Soup
Ingredients:
4 Chicken Breast Fillet's Diced
1/4 of a medium sized onion or a Shallot, chopped
2 Cloves of Garlic
1/2 Cup Skimmed Milk
1 Egg, beaten
1 & 1/2 Pint's Reduced Salt Chicken Stock
Seasoning of your choice, I went with Thyme, Sage and Black Pepper, you could put a tablespoon of curry powder, a pinch of cumin and a pinch of chilli and make a yummy chicken curry soup
Cook your chicken whichever way suits you, roast (with no oil) George Foreman grill it or fry in a non-stick frying pan, do as the book says and spray with cooking oil, wiping the excess off with a paper towel and cook on medium heat until browned.
In a deep saucepan, dry fry your onions, cover half way through and allow to simmer and sweat. After about 5 minutes, add your garlic, milk and seasoning and add the egg, stirring constantly so it blends in without clumping, add chicken and turn down the heat, it will bubble up so don't let it boil too much.
Cover and simmer for about 30 minutes, pop in a blender until smooth and serve!
 You could serve this with a galette made with herbs.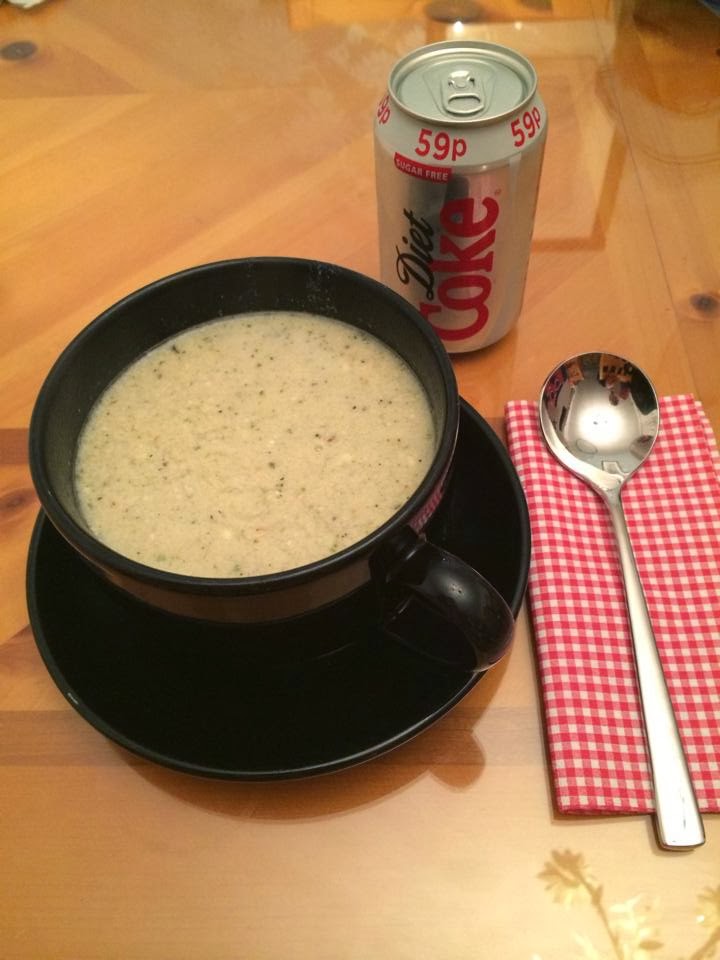 Dukan Attack Phase Chicken Soup
Today, I am feeling a little better, Keotsis has kicked in so I have treated myself to some Rose Meringues, make them and keep them in a tin for when you have a sugar craving and enjoy with a cup of coffee.  I'll share that recipe with you too!
Rose Meringue's
Rose Meringue Kiss Recipe
4 Egg Whites
1/4 Tsp Cream or Tartar
2/3 Cups of Sugar substitute (I used Splenda Granulated for this one)
1 drop of Rose Extract Flavouring, you could use almond, mint, vanilla, rum…whatever you like!
Gel food Colouring (optional) I used 'Pink'
Preheat the oven to 75°Celcius and line two baking tray's with parchment.
Beat the egg whites and tartar until stiff, add the Rose extract and
slowly add the Splenda as you continue whisking until all has gone in. You only need the tiniest drop of the flavouring as it's quite potent in the meringue.
Prepare a piping bag if you have one (otherwise spoon it into little dollops on the tray) and choose your tip, I used a large one, 12mm 49-7. Be careful not to extract the air from the meringue so use a metal spoon to fill the bag, pipe into little domes.
Bake in the preheated oven for 1 hour.
Serving tip, if you make lemon ones, crumble them into lemon yoghurt! Delicious