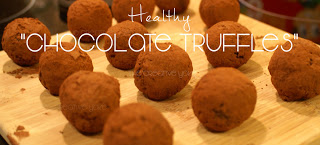 Recipe: Healthy 'Chocolate' Balls
I've been eating a little healthier of late and I'm a little addicted to a new treat bar called Nakd Cocoa Delight, which is a wheat free, dairy free & gluten free. If you're unfamiliar, I will admit, it's not everyone's cup of tea, it's a compressed fruit bar that's been mixed with cocoa and formed to look like a chocolate or fudge bar. Nakd bars are generally kind of expensive, so I looked at the ingredients and set about trying to make my own. I was delighted with the result and I have been taking them to work every day as a sweet treat to enjoy after my salad and keep sugar cravings at bay, I find they give me energy too. So I'm going to share
I will warn you that without a food processor, this might be a little more cumbersome but a sharp knife and a steady chopping board can get the same effect, even a wand/handheld blender will work to a degree.  I also got my ingredients from Tesco and my recipe yields about 18-20 little treats.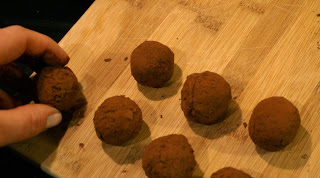 I just got a bag of dried dates, figs, organic cocoa and a handfull of cashews. Throw the cashews into the food processor and ground them into powder, add your fruit and blitz until a thick paste forms and then add 3 tablespoons of cocoa, scoop all the paste into a bowl and roll teaspoonfulls into little balls, rolling them in cocoa powder and tapping off and excess.
If you don't like excess cocoa, roughly chop some nuts and toast them on a baking sheet in the oven, when they cool, you can roll the truffles in the nuts, you can do this with coconut too!  You can make these from cranberries too and add seeds or whatever you like!  I personally LOVE these and I think you will too!! Give them a try, it'll help you get over that sugar craving!