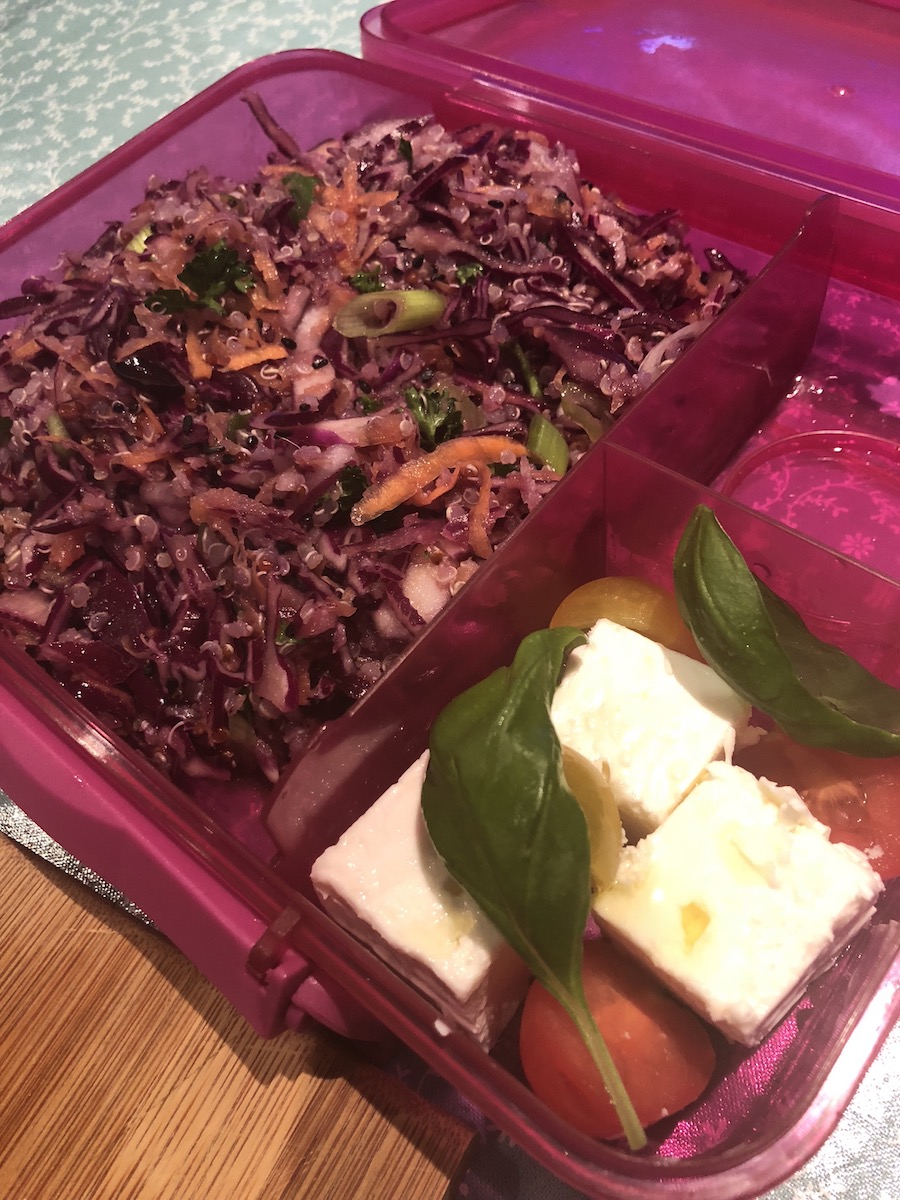 Shaping Up To Ship Out: Asian Style Red cabbage salad
In my mission to make more salads for lunches, eat more whole grain, natural plant proteins and fruit, I wanted to try my hand at getting more adventurous, I literally went shopping and bought all the fresh ingredients with the aim of using larder foods up before the move.
The first night was a red cabbage Asian salad, normally I HATE cabbage, I can tolerate coleslaw so I was planning on making something similar. I sat with a mandoline, watching a movie as I planed the cabbage away into nothing, my hands turning regal purple from the cabbage, not sure if it was the hard work planing or just the juices. It took a good hour of dish washing and cleaning to rinse that stuff out of my hands, I might add!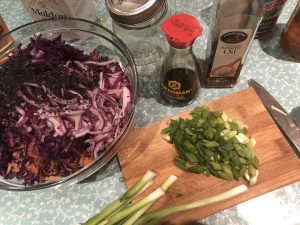 So anyway, here it is, you don't have to add the nuts of you're not a fan but they do give a gorgeous crunch.
Creative Asian Slaw Salad
3 minced cloves of garlic
1/2 cup sesame oil
1/4 cup white wine vinegar
1/4 cup honey
2 Heaped tablespoons black sesame seeds
1/2tsp salt
1/2 tsp dried chilli flakes
Tsp ginger powder
Shake in a jar
1/2 red cabbage
2 grated carrots
5 spring onions
1 red onion
l  food handful of freshly chopped coriander
Toasted cashews
Tricolour quinoa made with a little chicken stock
Grab a clean jam jar or Kilner jar, whatever you have and whack the wet ingredients into that, the oil, honey, vinegar, chilli flakes, screw the lid on and give it a good shake, leaving aside to let the chilli flakes mingle and flavour the dressing.
Using a mandoline or a good sharp kitchen knife, shred the cabbage into fine strands, the same with the carrot and red onion.
Boil your quinoa until it becomes translucent, add a little chicken stock for flavour, strain in a seive when cooked and add to the bowl.
Strew everything else into the bowl and add the dressing after giving it a good shake.
Mix well and serve.
Serving suggestion: This goes really well with a roasted darn of salmon, cooked in a parcel of foil or parchment. You can make a nice dressing for it by popping a handful of fresh coriander into a blender with the juice of half a lemon, a clove of garlic, pinch of salt and a little olive oil. Blitz in the blender and spoon onto the salmon darn before you package it up to steam in the oven. I don't eat seafood so I enjoy it with a 'Strong Roots' quinoa and kale burger and a little feta cheese..