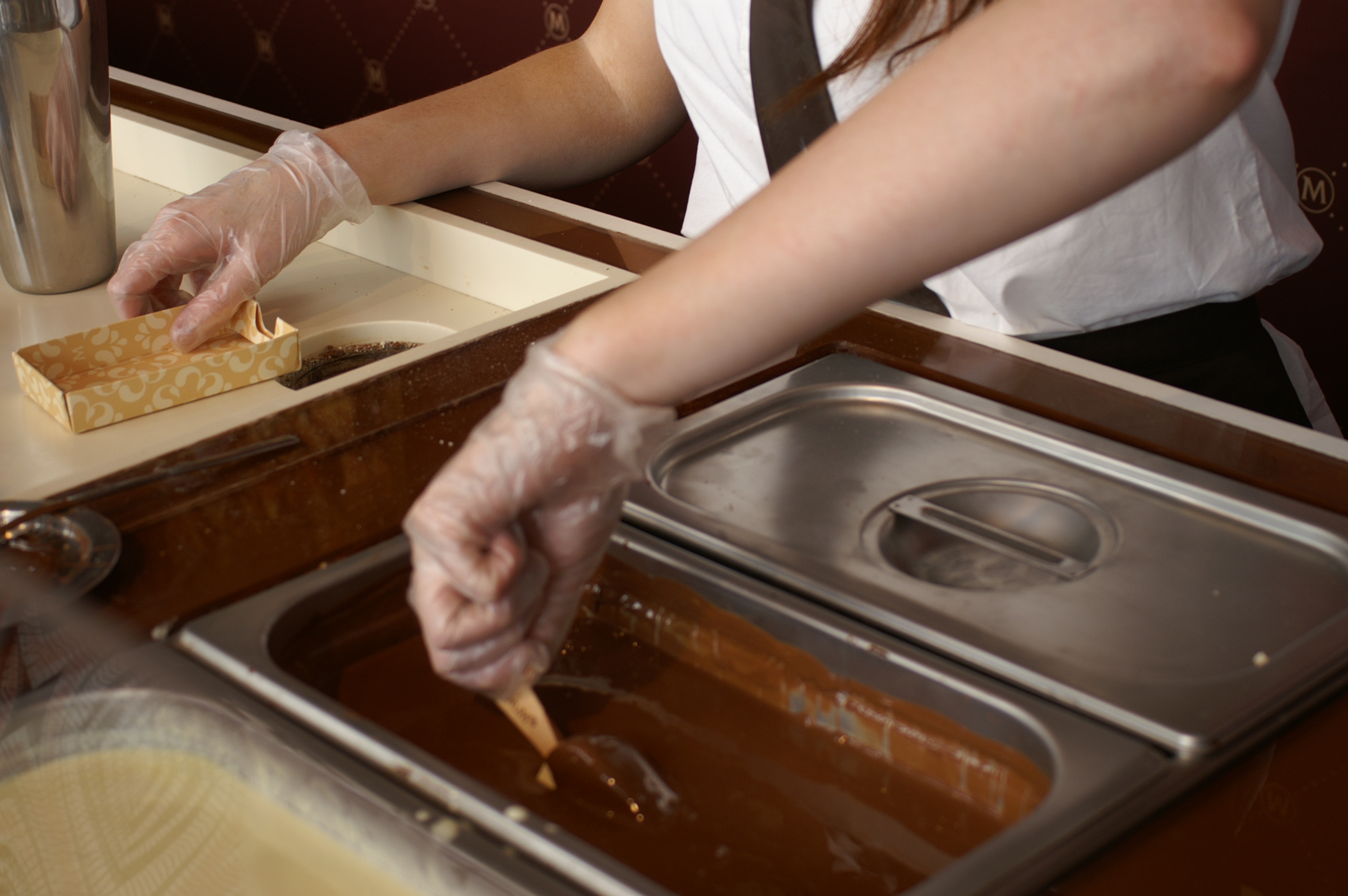 We All Scream For Ice Cream!
So there's this huge campaign that Magnum are doing at the moment, 'The  Make My Magnum Experience', it's been in Amsterdam, New York, Paris, Sydney and now DUBLIN!!!
I love a good ice cream, my favourite is lemon Gelato, with the little bits of zest in it? I had my first one in Naples when I was a teenager and fell in love!  But technically, a Gelato is not an ice cream! However, NOTHING beats Magnum Ice cream, divine Belgian Chocolate, vanilla ice cream that you know is quality as you can see the Vanilla seeds in throughout the ice cream and don't get me started on that satin smooth chocolate… The best bit is when you just take it out of the wrapper, this delicious brick of chocolate awaits you. Almond is my favourite, but I love that first crack of the chocolate as you sink your teeth into the delicious vanilla cream, I need to be alone when I eat a magnum, not for the pleasure, but mostly as I make a pig of myself!
They upped it a notch last year by bringing out a Marc de Champagne flavour and most recently a Pistachio- which is divine, I might add! Neither of these, however, come close to the divinity of the Magnum Experience!
I was spending the day with my Mum, in the city, I hadn't seen her since early May, so we had a lovely catch up over lunch at Dunne & Crescenzi and dessert, courtesy of Magnum!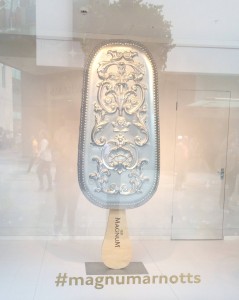 You arrive at the Arnotts Henry St entrance, and in the window is the Magnum Bar, it's a show in it's self! A naked bar of Madagascan vanilla ice cream awaits you, you're then asked if you'd prefer white or milk chocolate and the bar is seductively dipped and swished about the bath of molten chocolate, I swear, I blushed! It was like watching pornography, FOOD PORNOGRAPHY! You choose your three toppings which are collectively contained in a cocktail shaker and once your freshly dressed ice cream is lain on a cardboard container, awaiting the caress of your chosen toppings! I'm sorry, I'm making you blush now too, aren't I?
I chose Popping candy, Meringue and White Buttons, not a great combination but I had already chosen my toppings from images I had seen online that weren't available on the day…so I sort of rushed my order.. I would have chosen Milk chocolate with Ginger, Cranberries and Nuts. My Mum had marshmallows and goji berries.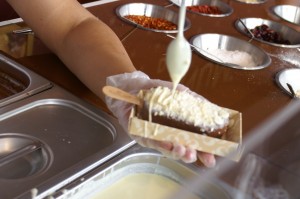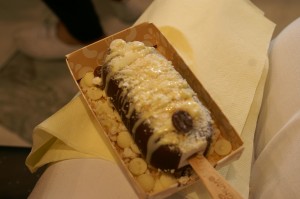 Your creation is then tickled with a drizzle of molten chocolate and kissed with a chocolate 'M' to seal the deal… just to take it round the back  for a cuddle 😉
---
You can choose from (these are just a few):
Crushed Meringue,
White Chocolate Buttons
Crushed Nuts
Flaked Almonds
Marshmallows
Goji Berries
Cranberries
Popping Candy
Crystallized Ginger
Popcorn
And many more..
---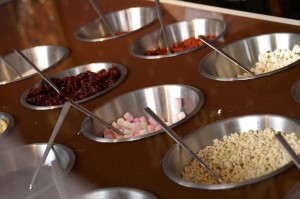 There's a little bench behind the bar, facing a wall to sit and intimately devour  and ravish your Magnum intimately away from prying eyes-they think of everything!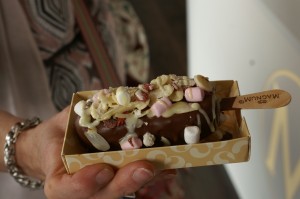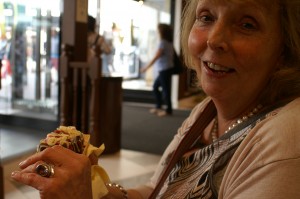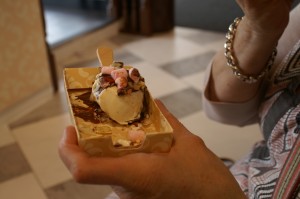 I'm hoping this will come around again, I will have to make my own and considering right now, to go across to Supervalu and buy myself a box of three so I can do it…but Ladies day at the Dublin Horse Show is coming up so I must try and lose a few more pounds!
Notice how I didn't take a picture of myself eating one??? Haha!!! You don't want to see that mess! TRUST ME!
---
For your own Magnum experience, The bar is there until August 15, 2015, priced at €5, it is definitely something you have to try as it's definitely "Pleasure You Can't Measure!"
For more information, visit http://www.arnotts.ie