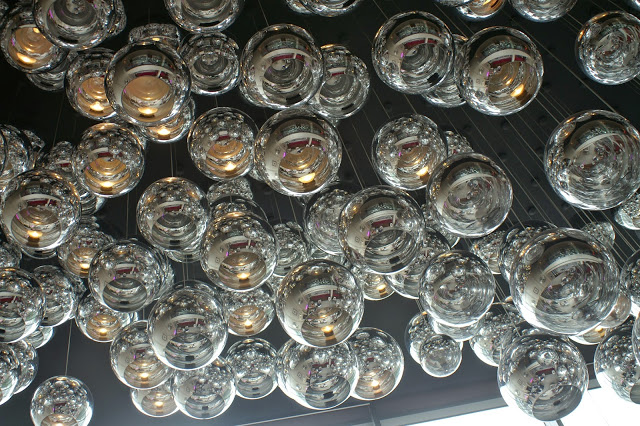 I can't believe it's all over!!!I'm sitting on the train to Dublin, shaking my head in disbelief that the ITWBN party has come and gone, faster than a Grand National racehorse!
I did wear my Manolo's and my God was the weather not appropriate! My bouncy hair that had been wrapped around Sleep-In rollers all night and as soon as I stepped out-YIKES! From big and bouncy to flat and unkempt in 5 seconds FLAT!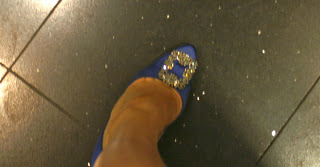 On arrival, I was a little shy…nervous even, I was flushed and didn't know a single person, so I sat on my own, awkwardly in one of the silver chairs in the G Hotel lounge and within five minutes, I was approached by two lovely bloggers, we chatted over coffee and before we knew it, it was time to go to the ballroom, the event was about to commence…..eeek!
Making our way into the ballroom, we were presented with a Prosecco cocktail and given our seats, on which sat hetfy goodie bag's, packed to capacity with everything from CC Creams to moisturisers, lip glosses and 'titty-tape', okay, Hollywood tape as it's not so crudely known, for holding in your modesty in revealing tops. Joking aside, our tables were a credit to the girls! sweeties and inspirational quote postcards, delicious afternoon tea style treats and finger food! I shared a table with several bloggers that I found I already knew, like The Galway Player and Mags Style. No matter how shy or uncomfortable you feel, you're not going to network if you don't start talking to people, so I bit the bullet and think I made some pretty cool connections as a result!  I tried to engage with everyone at the table, half of us clicked and some didn't want to engage at all and kept to themselves-fair enough!  But everyone is different and we all have our own quirks and personalities, once I get comfortable and have had a glass of wine, I'd talk to the wall if it would listen, I guess not everyone is alike.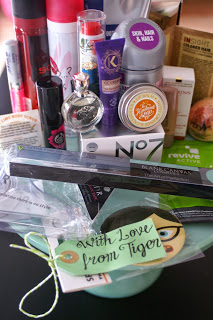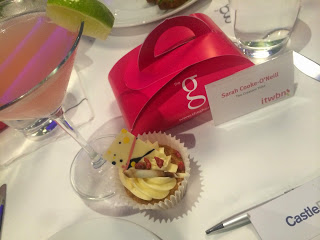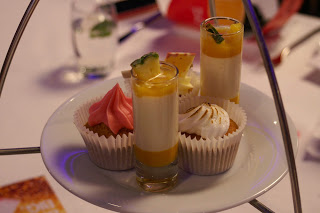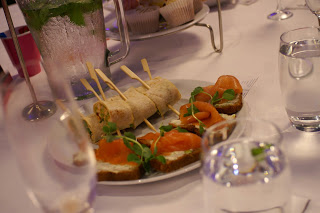 There were a host of inspirational speakers from Sinead Burke aka Minnie Melange who spoke about gaining motivation for your blogging and how it's a slow process, not letting the haters bring you down to Wayne Denner an online reputation expert and the founder of Karora Tan products!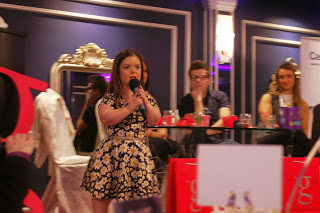 Sinead Burke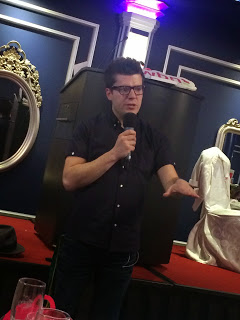 Wayne Denner
The break came and more goodie bags were given out, I felt like a vulture, pecking at a carcass, waiting in line for my share… but it was all good, there was a purpose to these freebies, more to write about 🙂
I was however a little disheartened by the fact that it was all aimed at Fashion & Beauty bloggers, there were stalls with jewellery, cosmetics and fashion. I dabble in this and that but don't get me wrong, my cosmetics are all MAC, Chanel, & Jo Malone, and I have a shoe horn as big as Carrie Bradshaw's but…I felt it would have been awesome if there was something for foodies and travel writers or crafty people. For this part I felt a little left out, as did a couple of other girls. In fairness, the area was tiny and there wasn't room for a whole lot of diversity. I totally accept that!
When all was over, a few of us gathered together to sit in the lounge, some of us were waiting for lifts, others, wanting to meet other bloggers for a possible night out on the town. I met these incredible women and we exchanged details..one of which is an extremely talented girl from
CCTRENDZ
,
she made her outfit and makes these amazing tulle skirts! I learned that the other girls were in the same position as myself, some saving for houses, some saving for weddings…working full time and blogging.. it really did feel like a family.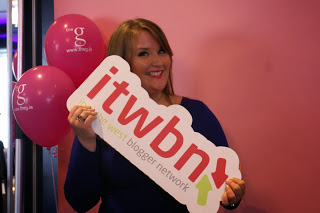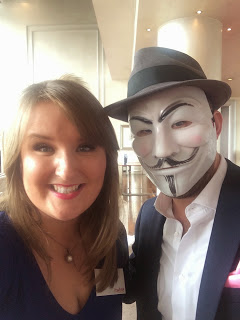 Me & 'The Galway Player', pssst..I know who he is!!?

I think I am going to try and get a few people based on the East Coast for a meet up and enjoy a few cocktails!
 In the meantime, I shall eat my cupcake  and begin testing the products and reporting as I do! 😉
Goodnight! x
Sarah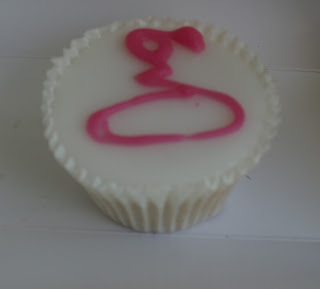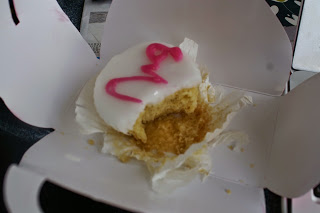 Definitely having my cake and eating it!