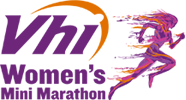 VHI Women's Mini Marathon 2015
It's been another interesting week! Amongst many things going on….., I completed the VHI Women's Mini Marathon, absolutely surprising myself by running, jogging and wast walking and have qualified to sign up as a jogger next year! (Go me!! lol).
Last year I walked a lot, the weather was fabulous and every second evening, I would walk 6k down to the Greystones Pier and home again, each time, a little faster…and faster still until I was practically race walking so I was so ready for last years Mini Marathon! This year, when I get home from work, I do be zonked and good for nothing, getting up at 5am every morning.. so 'training' wasn't much in the equasion. I have been following my Dukan, high protein diet and I am convinced it helped me develop some muscle tissue to be able to deal with running and jogging this year without training! Not to mention recession of cellulite 😉
I signed up a little late this year but thankfully, my Sister-in Law, Stefanie said she's come with me, rather than going it alone, Stef used to be semi pro at running and she really knows her stuff, so she coached me through the whole thing! My charity of choice was The Friends of St. Luke's Radiation & Oncology Network. My Father-in law was diagnosed with Oesophageal cancer last Autumn and over Christmas, up until a couple of weeks ago, has been going through treatment and he spent many weeks at St.Lukes, he spoke about how well they treat their patients, empathise with family and even accommodate them in a special residence on the grounds where they can stay if they've travelled long distances with their family member, he also spoke about being able to see up to the paediatric oncology ward's window's from his bedrooom where he could see bald children waving at him from the windows above…. upon hearing about that…I immediately made my decision to sign up to St.Lukes as my chosen beneficiary for my Mini Marathon. I do like to choose a different charity each time I do something and this just fell in my lap, meant to be!
Time's flown by, it's all over but I can remember the excitement escalating on Sunday morning, en route to the RDS exhibition centre for the Women's World show and to collect my race number and goodie bag before heading to a barbeque at the in laws where I had a carb rich day and scoffed burgers and chocolate cake, I deserved it after losing 14lb!! We all then sat around the garden, around a pot belly stove, exchanging stories and laughs… the perfect evening!
In my goodie bag, I got VitaCoco Pineapple coconut water, Aveeno moisturiser, Listerine Mouthwash, Hellman's Olive Oil Mayonnaise, Velvet Crunch Cassava crisps, Popcorn, Brennans bread bap's, a packet of Punch Colour Catcher (so I don't ruin my lovely new running trousers) Activia Blueberry & Acai yogurt and Sally Hansen tan… phew, that was a mouthfull!
Awaking Monday morning, I felt like a rock star, they were describing us all as champions, on the television, each and everyone of us…for taking part. I put on my new running shorts, proudly wearing my pink St.Lukes T-shirt and stupidly applied full make-up (despite a forecast of torrential rain and gale force winds) I was a "champion" I didn't care!! I then inhaled a bowl of oatmeal and set off on the DART to meet my Sister-in law.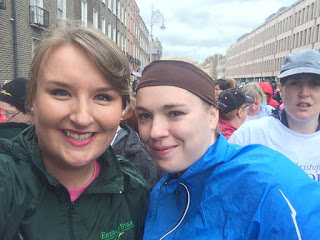 The excitement kicking in and still semi dry!
The atmosphere was electric, in Merrion Square, there were hot dog and cake stands, live music, people dancing and a choreographed warm up, with just 5 out of the 40,000 women, in their 60's following the routine, much to everyone's entertainment because they were loving it and having barrel's of laughs at the same time 🙂
We just about got a place near the front of the crowd,about 8 people in depth in front of us and boy did it fill up fast!!!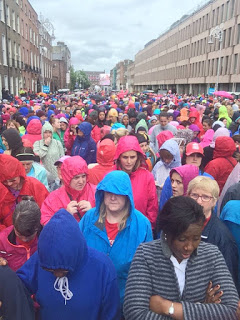 Despite rubbish weather, everyone still showed up…and got rained on!
Ruth Scott from RTE's 2fm entertained the crowds, directing Mexican waves and making us laugh, while we stood in the downpour, already soaked to the skin, being hit in the face with umbrellas and who cared, we were having way too much fun 🙂 I still have a pair of eyes..
I do recommend a Charades app if you know you'll be in a crowd, waiting for ages, we begin to play and before we knew it, it was 10 minutes from start time!
I have to say I surprised myself, pegged it for the first 1k then alternated between fast walking and jogging…. the rain drive down and the winds lifted us but we did finish, the image of Daniel Craig in his James Bond suit, waiting for me with a bottle of bubbly actually got me through…..sorry I mean, Ryan, my Husband 😉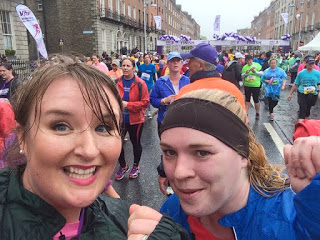 Not looking so good….. my face washed clean off, exhausted and amazed at finishing!
Although I sat shivering in the car on the way home (state of me!!)…. I was warmed by the satisfaction of that medal!
After finishing on 89 minutes, we collected our medals and headed straight for Counter Burger on Suffolk St for a gourmet custom built burger and sweet potato fries, which was filled with other mini marathon participants, contently chomping down on burgers after their hard work… Sadly, I didn't take a photo of it's gorgeousness because at that stage, I would have eaten my fist, I was so hungry and the thought of a photo never crossed my mind! 🙂 it was delicious and never did we eat anything faster, brioche buns, chicken, guacamole, roasted peppers, onion strips, amazing!!!This isn't my photo and it's from their Facebook page, but it'll give you an idea of what they're like.
Yeahh, sort of insanely good!
I woke up on Tuesday morning in sheer agony, every muscle was screaming at me, but I managed to hobble over to the shop, to buy the Herald to see my name and finishing time & a thank you from St.Lukes printed in the souvenir pull out! YAY!
Having done it two years in a row, I'm really keep to 'up my game' now, start running and as I have qualified for joggers in next years race. I urge anyone who feels they could never do it to just do it, you'll surprise yourself and it's just 10km/6.2 miles, it's really nothing and when you have someone with you, it makes it so much easier. Raising money for charity makes me feel really good and it drives me to finish it!!! Ok, well, Stefanie had a huge part to play in that, coaching me along the way as I jogged, like the hippo in a tutu from Fantasia….:) I shall be signing up in the new year for the next one 🙂
To sign up for next year and for nutrition and exercise advice, keep your eyes peeled on this page registration usually opens in January! Good luck! 🙂