Brooke & Shoals: Stunning Irish Hhttp://www.creativeyoke.com/wp-admin/post-new.phpome & Personal Fragrances Worth Checking Out.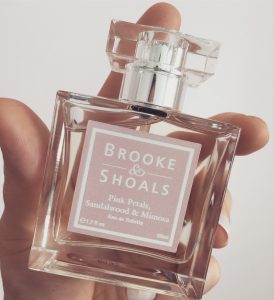 If you like your candles you will LOVE this brand! Brooke & Shoals, based here in Greystones have the most beautiful collection of home scents, all lovingly created by owner, Alison Banton. Their candles come in two sizes, a 45 hour candle and a 20 hour travel size. My personal favourite is Rhubarb, Elderflower & Rose, which smells like a beautiful Summers day.
I'm particularly excited about their new range of  3 Eau de Toilette fragrances that have just dropped! Lemon Leaves, Grapefruit & Green Tea, citrus & refreshing,  Pink Petals, Sandalwood & Momosa, my personal favourite, it's elegant, clean smells expensive, finally Orange Flower Amber & Vetiver, a musky oriental fragrance, lovely for the older lady, it's really beautiful.
I bought my Mum a bottle of Pink Petals EDT  for her birthday and she is in love with it, she literally jumped up and down with excitement when she sprayed herself. Mum thought all her Christmases came at once when she noticed she got a large two wick candle of Lavender, Cyclamen & Sea Salt too!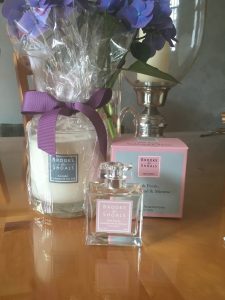 It's a really great time to try these fragrances out as with every bottle of EDT purchased, you get a large, two wick candle. beautifully wrapped with their signature grosgrain ribbon, two presents for the price of one! Now's the time to think of Christmas presents…
Call out to the store and check out their beautiful selection of handbags, scarves and jewellery, including Pilgrim and Absolute or check out their list of ever growing stockists here.
Save
Save
Save
Save
Save