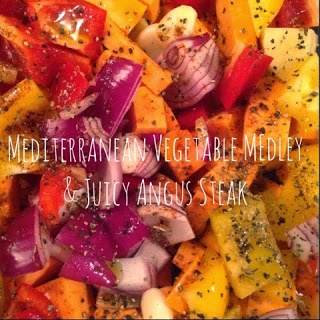 Juicy Steak and Baked Vegetable Medley
Okay, since it's Friday, we'll start with thee easiest and one of the yummiest recipes, this doesn't require any skill whatsoever, just some preparation.
You always feel so healthy after a plate full of vegetables, and with sweet potatoes becoming so popular, this is one to satisfy everyone at the table. I love a good selection of colour and you can bake it on a tray or in a dish, it's completely up to you!
What you'll need:
 1 Red Pepper
1 Yellow Pepper
2 White Potatoes
1 Large Sweet Potato
2 Red Onions
4 Garlic Cloves
4 Carrots
1 Tbsp Olive Oil
Salt & Pepper
Feta Cheese
Chilli Powder
Angus Steak Fillets- or any meat of your choice
1 Tsp of Butter per Steak.
1.Preheat the oven to 170°C
2. Wash and peel your vegetables and then chop into medium sized cubes, drizzle a little olive oil over and mix it about, peel your garlic cloves and push under the vegetables, sprinkle your seasoning  on top and bake for 40 minutes.
3. Revove from the oven and top with cubes of feta cheese and bake for another 10 minutes, then remove, cover with foil and set aside.
4. Coat your steaks with pepper, sea salt and  cook in a searing hot frying pan, cook for as long as you feel you prefer your steak, then place 1 tablespoon of butter on each steak and cover with a large pot lid or place in an oven proof dish, covered in foil for 10 minutes in a 170°C oven…a little tip I learned from reading Ina Garten's Barefoot Contessa books, it always seems to make the steaks seriously juicy and tender.
Serve and enjoy!