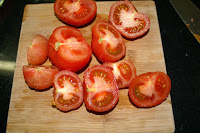 Perfect Bruschetta, an Italian Classic for any occasion!
If you're looking for a nice comforting versatile Summer snack, you can't go wrong with a Bruschetta! I can't get enough of them! I love to make a big bowl of the tomato mix and take the leftovers to work the next day to eat on it's own or with a wholemeal pasta thrown into it.
PLANT MURDERER!
Shopping in the supermarkets, I'm assaulted- quite happily, by the scent of mint and basil on the shelves in plant or bagged form and I can mostly never resist it! Unfortunately, I am a plant murderer, I cannot grow a plant to save my life!  I've managed to grow mint in a garden of a house we rented in Galway but I am arachophobic and every time I'd trot down to collect some, it was riddled with spiders…. I just can't have that, I'd sooner set fire to something than cope with the spider's existence.
I also tried to keep Orchids and basil but they die! I've tried putting moss in the bark of the orchid for nutrients, spraying it with water, everything it says on the tin…plants-hate-me! So now I opt for the bagged version of herbs.
Every Summer when the fruits are all in season, I love to take advantage and tomato's always take me back to Italian holidays where you can smell olive oil in the air, garlic frying in soffrito's in restaurants all around, after siesta when the little towns come alive and people vacate their sleepy homes with a ravenous appetite. When I make Brushcetta's, it takes me back to the night we got engaged in Sicily, we were feasting on them in this little lit up- terrifically romantic garden at night.
They're perfect with a glass of Prosecco or as an appetiser at get together's or just lounging in the garden alone to devour each one, where nobody can see the nuggets of tomato falling down your dress and making a Gannet of yourself.
Important Tips..
My top tip for Bruschetta is that you should only use the highest quality ingredients you can get hold of, ripe tomatoes, Parmesan not Grana Padana, they just don't taste the same.. next, fresh basil, and good quality olive oil, not forgetting the bread, I use sourdough, I love love love Coolfin Bakery, I got to know Layla from the bakery when I did Farmers Markets with my cupcakes and doggie stuff, I believe she now attends the Galway Saturday market.  They make the best Sourdough Boule in Ireland, in my humble opinion. Layla would be sold out by 3pm, the baguettes and boules were always first! If you go in search of their stand in the Galway market, Look out for a girl that looks like Sue Perkins from The Great British Bake Off and you'll have found Layla.
You don't have to follow my recipe, you can add whatever you like, avocado, chopped olives, pine nuts, goats cheese..but I'm a purist when it comes to a Bruschetta, if I want a Crostini, I'll add other ingredients but you can't touch my Bruschetta.
But What's The Difference Between Bruschetta & Crostini?
Crostini are little pieces of toast with lots of toppings from goats cheese, antipasti, etc while Bruschetta is bread toasted and rubbed with garlic then purely tomato and basil on top.
Making Bruschetta..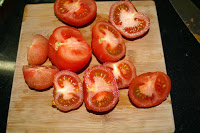 Firstly, boil some water in a saucepan with a pinch of salt and have a large bowl of water with ice on the side. Cut a little X on the top of about 6 large tomatoes and carefully drop them into the boiling water and leave for 1 minute then lift them out with a slotted spoon and into the ice water to stop them cooking and shock them so the skin comes off easily.  Peel tomatoes and cut in half, scooping all the seeds out, then chop the flesh into little cubes, discarding the seeds.
Grate a handfull of Parmesan  into the chopped tomatoes, a little glug of olive oil, black pepper, a handfull of chopped basil and about 3 fat cloves of minced garlic, set aside.
I do like a LOT of garlic!
Slice sourdough bread into whatever thickness you want, I usually go 1cm and place on a frying pan with literally 2 drops of olive oil, toast on medium heat intil golden and crispy then cut a fat garlic clove in half and rub in all over the toasts, front and back.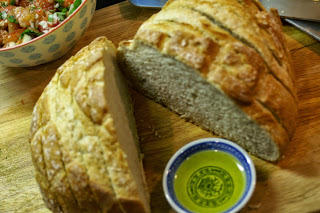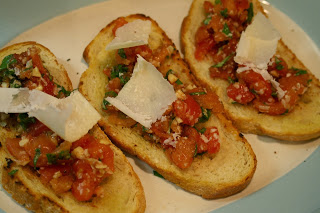 Or you can load them up as much as you want, like I've done with this one, I've made with crumbled goats cheese.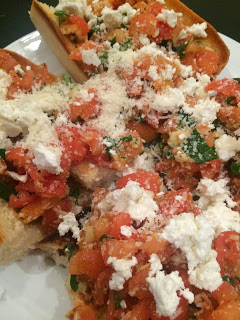 Then I like to lay all my toasts on a platter and spoon my tomato mix onto the toast while it's still lovely and warm, sprinkle more parmesan on top and garnish with a few whole basil leaves, strewn about the platter.
Pour your Prosecco into flutes and serve.
Flavours that pair nicely:
Goats Cheese & Roasted Peppers
Roasted Cherry Tomato, Blue Cheese & Honey
Avocado & Tomato
Strawberry & Mascarpone (yep)
Roasted Vegetable bake of Red Onion, Aubergine, Garlic, Peppers & Goats Cheese