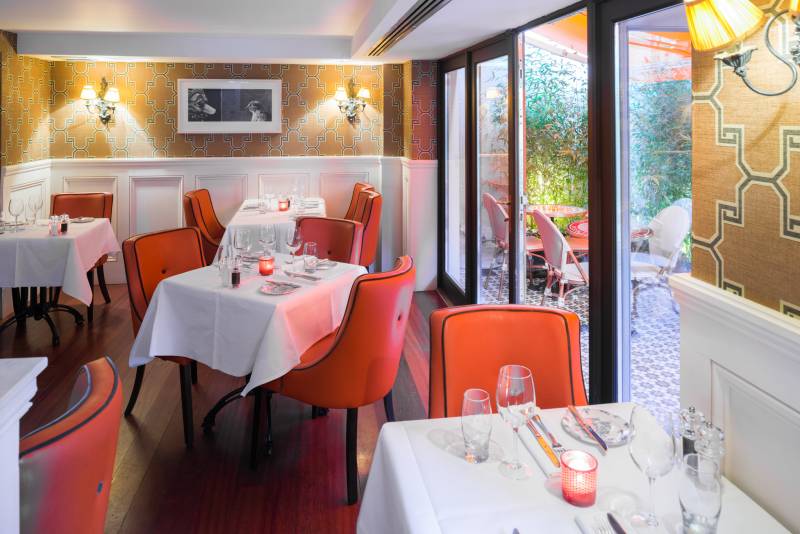 Review: Marcel's Of Merrion Row, Dublin
I booked Marcel's as a Valentine's treat for himself,  it's no secret that I'm a Frencophile, I simply adore anything with a French theme.. Marcel's a French inspired restaurant, on Merrion Row in Dublin and is part of the Merchantile group, sister businesses include Pichet, Opium, The Green Hen, Le Petit Parisien and others. Next door, you will also find an old style trad bar to enjoy a creamy pint or Ricard /Pernod after your meal or simply enjoy a pub lunch on a Sunday.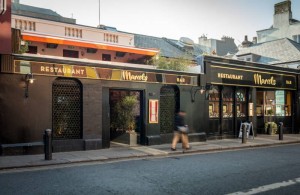 You arrive under the archway into a sort of Middle Eastern Garden, among the bustling Metropolis that is, Dublin City. A sense of quiet and serenity overcomes you, beautiful floor tiles, trees everywhere, tealights and lanterns scattered about the Parisian style cafe chairs, you'd be forgiven for thinking you were at the wrong place, it's so still and quiet. Open the heavy wooden door and you have arrived at one of Dublin's swankiest restaurants.
We were shown to our seats, at the back, overlooking a small terrace, continuing that Middle Eastern meets Cafe Parisienne feel. Comfortable orange leather chairs, Orient inspired wallpaper and charming table dressings, including beautiful French country style Delft blue sideplate's with painted country scenes, rather charming.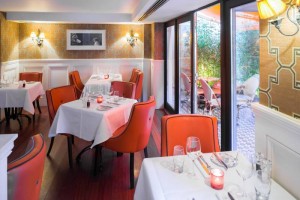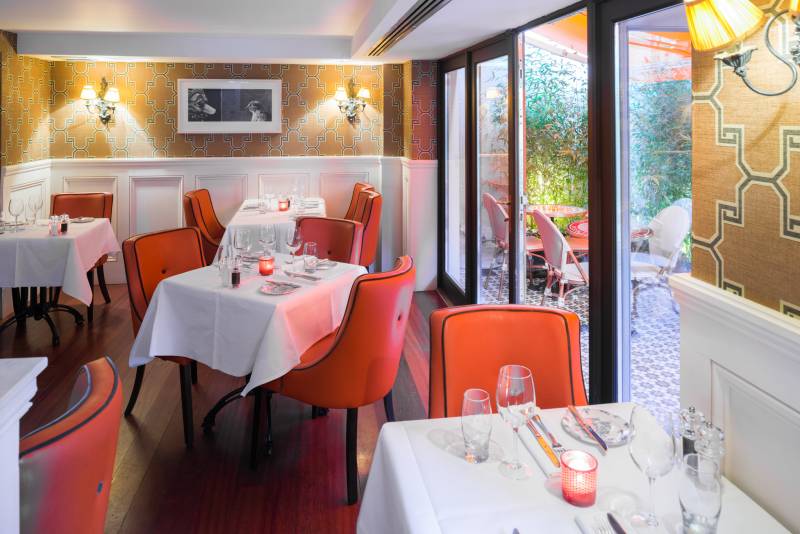 The waiting staff are very young at Marcel's, our waitress read out the specials and asked us about four times, which wine we wanted before we even looked at the menu, your wine has to compliment your meal, the hastiness was a little much so I ordered a cocktail to try and relax the pressure..I understand that restaurants make their money from the drinks but this was making me uncomfortable.
I chose a French country style Terrine with a Celeriac remoulade and caramelised apple sauce and Ryan ordered Hot Smoked Salmon with beetroot, horseradish and crispy egg. Absolutely delicious, my terrine was served with a large piece of crispy bread and was quite refreshing, a rather large portion of terrine but Ryan got so little salmon on his plate, he enjoyed some of my terrine with is dish.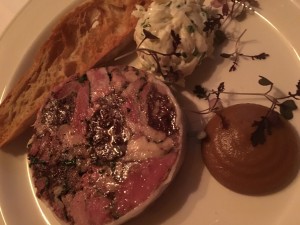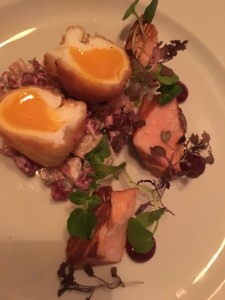 For mains, I had a stunning white onion Risotto with pickled mushrooms and Five Mile Town goats cheese. Ryan had Roast Duck Breast with Jerusalem artichoke, lentils, quince & crispy kale. The risotto was exquisite, meaty mushrooms, perfectly al dente and when I finally got my glass of Chardonnay, after asking for it several times over 30 minutes, it was perfectly paired…I could live on Risotto, not always done right but this was incredible. Ryan loved his Duck and was raving about it all weekend, we enjoyed a portion of duck fat potatoes with garlic and Parmesan cheese.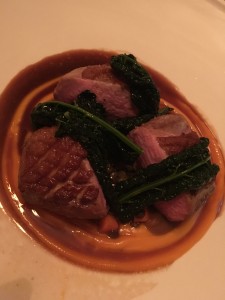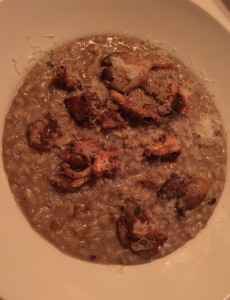 The restaurant was busy for a Saturday night but not overly busy, I was surprised by the lack of good wait service, the French are known for being the best and encouraging the best at their restaurants. The service fails Marcel's having read not so great reviews on their service, I chose to overlook them and experience it for myself. Staff are plentiful, under experienced and very young. Our waitress was scatty and forgetful.
We ordered baked cheesecakes for dessert, with blood orange jelly and sorbet with a couple of espresso's I had to ask four times for our espresso's after the Maitre D himself took out dessert order and asked if we wanted the coffee with or after dessert. Our sugar and milk arrived, was taken away before we got the coffee, along with the dessert cutlery before we even got dessert, whisked away without even being asked… it was all very strange, then reset when it arrived.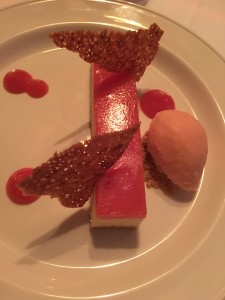 Dessert was so delicious though that all was forgotten for a moment, the finest cheesecake since having Vinero's in New York (which was never beaten until Marcel's).
The bill arrived and we were on our way.  We did leave a generous tip but grudgingly as the service just didn't warrant it.. If they improved the service, there would be nothing to fault this restaurant on. The menu and presentation is refreshing, imaginative and very creative, the flavour's are incredible.
However, I look forward to another visit in the future  to enjoy a Pernod on a balmy evening, it would be lovely if there was a service overhaul though.
---
01 6602 367
13 Merrion Row, Dublin 2
For more information on Marcel's and menu's, visit their website