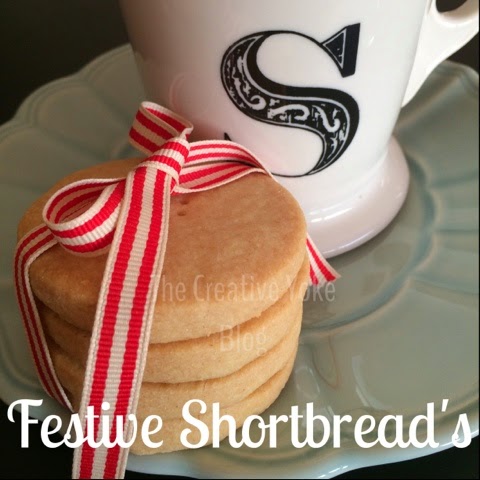 Edible Gifts: Seasonal Shortbread
I don't know if I'm getting carried away with the Christmas baking..it's just slightly past mid November and already I've made mince pies, I've always been a devil for premature Christmas though! I remember torturing my Mother one day after school, pleading and whining to get our Christmas tree in the last week of November, I was about
fifteen. Mum calmly tried to explain that the tree would have wilted by the time Christmas came, but I kept on at her…. she caved…..and I learned a valuable lesson when the bough's were sadly touching the floor and it had curled up….I felt like I had ruined Christmas and ever since, we have bought the tree only after December 10th.
Food is different though, Christmas cakes, home made mincemeat (mince pie filling) and pudding's are all made in November to 'mature' and  you can get all the practice runs out of the way… including those edible presents. You can never start that too early!
I am still drastically avoiding sugar like the plague but I made Fig & Amaretto mince pies…they were a gift to bring to my Mum's,because she loves a warm mince pie and glass of milk in the evenings….Ryan loves shortbread, I made that lastnight and only had one festive one to taste-purely for blog reasons…. of course!! There is also the fact that
the O'Neill Mince Pie bake-off is on New Years day and I am hell bent on perfecting the perfect pastry (store bought mincemeat only, it's about the pastry)… I need the trophy this year!
So anyway, everyone loves shortbread, you can change the recipe any way you want to suit any celebration, with
strawberries and ice cream for Valentine's, adding almond for Easter, Lavender in the Summer when it's in abundance (hang a bunch upside down in the hotpress/airing cupboard to dry it out)  or like I did yesterday, add mincemeat at Christmas. My recipe makes quite a lot, if you're only making it for you and there's only a couple of people in your house, just make half the recipe. I divided mine in half because I made plain AND festive shortbread's, if you don't like mincemeat but want to make it festive, grate some fresh nutmeg in and cinnamon to the flour before you make the cookies or add some chopped pecan's or dried cranberries. They're great for kids too because they can use lots of cookie cutters and make tree decorations with them.
If you want to give them as presents, I've seen people cover Pringles tubes in cute contact paper and stack shortbread discs inside, awesome idea and it acts as an airtight container too!
An example from Google on how to upcycle an old Pringles tin for cookies
So for my Festive Shortbread, it's the same as my previous recipe, apart from a few additions:
What you'll need:
450g butter
225g castor sugar
450g sifted plain flour
225g rice flour
2 heaped tablespoons of good quality mincemeat
1/2 teaspoon vanilla extract
Combine dry ingredients and sift three times to get as much air in and lumps out as possible, set aside.
Cream Butter and sugar on high speed in a food mixer and then add, mincemeat,  vanilla, thendry ingredients.
Form into a disc and refrigerate for 20 minutes or as long as possible
Roll out on a floured surface to about 1/4″ thick and cut desired shapes, placing on a parchment lined baking sheet.
Place the baking sheet in the fridge with the cookies placed on it for 10 minutes.
Bake at 160˚C for about 25 minutes until a light golden colour. They take a while to cook but let them harden on the baking sheet for about 5 minutes, they'll be really soft but harden as they cool, using a spatula, lift them on to a cooling rack to cool completely. 
Leave plain or dip in some chocolate or sprinkle some gold edible glitter on top for a festive feel.