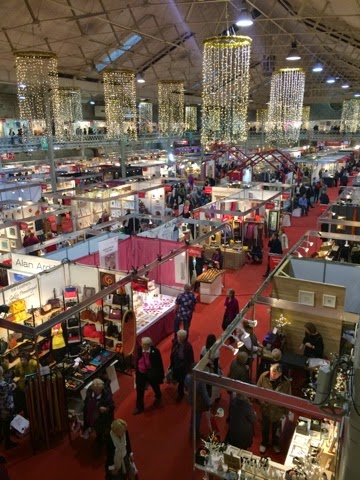 The National Craft & Design Fair at the RDS (Gifted)
THE OFFICIAL Christmas Craft Fair
So today I was offered a pass into the National Craft & Design Fair at the RDS in Dublin and it happened to be my day off. I had planned to make my Gingerbread house but I couldn't pass on a trip to see this! Loads of inspiration for Christmas!
We started with a spot of lunch and a mulled wine to get in the mood and in we went. As soon as you hit the main hall, you're blasted with the most gorgeous smells from scented lotions and oils, to the aroma's coming from the Food Emporium, cakes, chocolates and pastries….
I really wanted to see the food Emporium but out of sheer noseyness, I had to have a browse through the craft and all I can saw is "WOW", this country has some serious talent!! My favourite was 'Ewe Sir' by Molly Ellis in Co.Cork,  she does the most beautiful felt portraits of wild animals, chickens and cows…my favourite was a little Vole, curled up all cozy, she does prints of her work as well as notebooks and greeting cards. The depth in her work is incredible.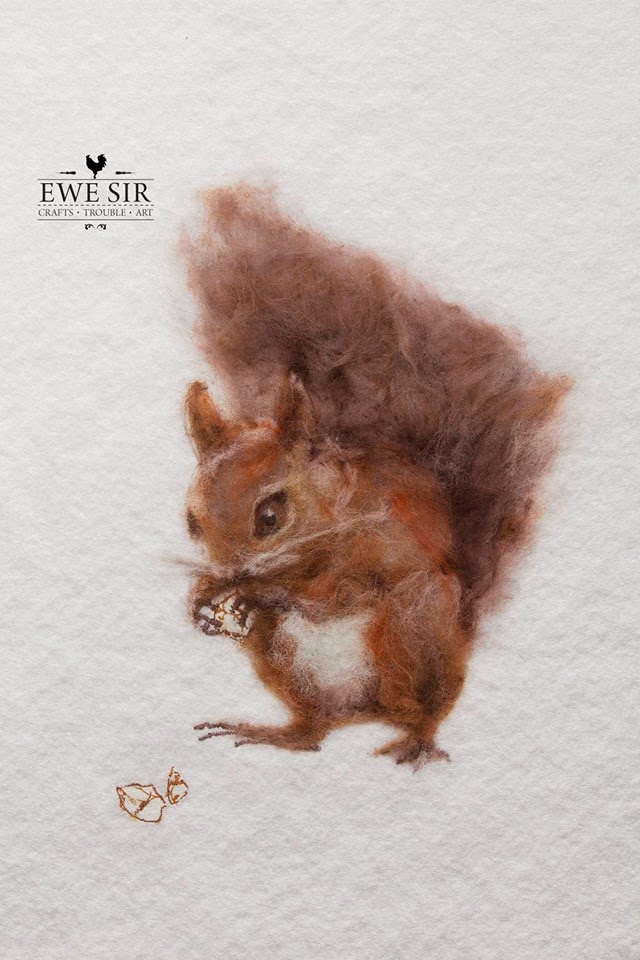 Red Squirrel by Molly Ellis 'Ewe Sir'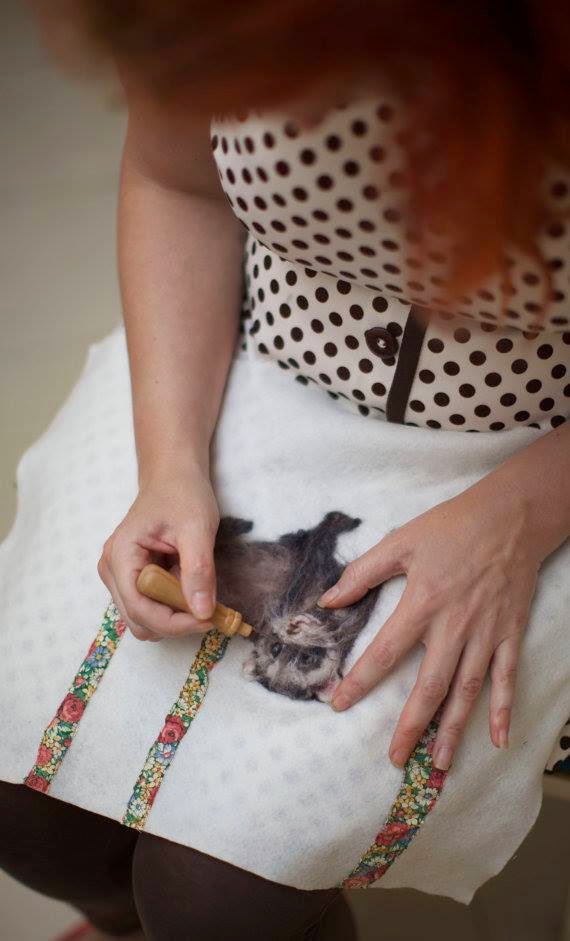 Molly at work.
I think I will be commissioning her for a portrait of Leonard when we get our house!
You can check out her Facebook page for more information and photos
here
Another stall had bunches and bunches of dried citrus fruits, strung with cinnamon and the smell was so incredible, I went back to get the oil they used, a deliciously festive cinnamon, orange and clove oil for oil burners, I normally let candles burn for a while, extinguish and then put a couple of drops of oil into the melted wax… then relight.  Sadly i didn't take a photo…*raging*
Moving swiftly to the Emporium, all I can say is that I am glad I ate before because there were so many yummies,  from cupcakes to gourmet marshmallows, macarons, apple cider's and breads….even cooking gadgets but nobody caught my eye like Skelligs Chocolate, such wonderful stall, really bubbly and everything at the exhibition had 10% off (for today only)…I got a little excited, I must say.. remember I mentioned Belcolade chocolate and how I loved it for baking, making modelling chocolate or even making hot chocolate with? Well I'm all for supporting Irish these days and this company comes from Co.Kerry, a stunning part of our country and boy do they do chocolate. they mould chocolate into champagne bottles, shoes and letters….and they even sell their chocolate in whatever size bag you like. I know we don't grow cacao here in Ireland but they process it here and sell it callets of plain, milk, caramel, strawberry, extra dark and even mixes…. not to mention the marshmallows, brittles and hot chocolate mixes they make…. yup, chocolate heaven and all from our own shores! Imagine caramel ganache or caramel chocolate biscuit cake?! it's €8 for 500g or €15 for a kilo. You're supporting small Irish businesses remember! Buy Irish! Oh! They gave me a delicious snowman chocolate lolly too, so yummy with my cup of tea!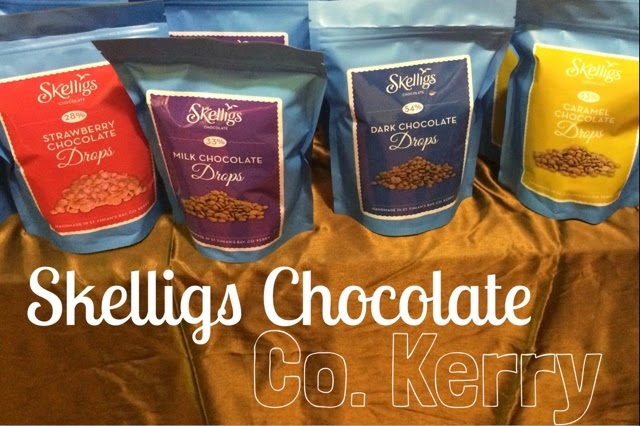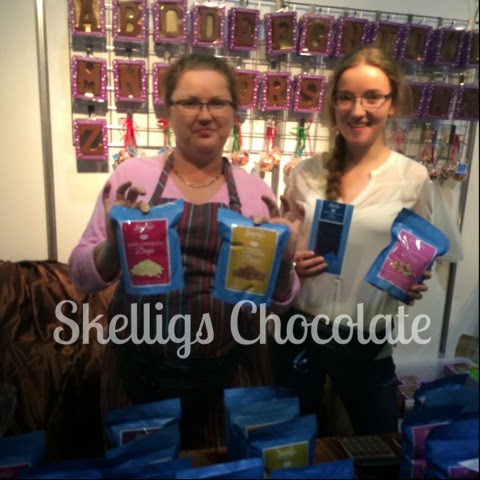 Such wonderful girls!!!! Sweet, witty and so very helpful!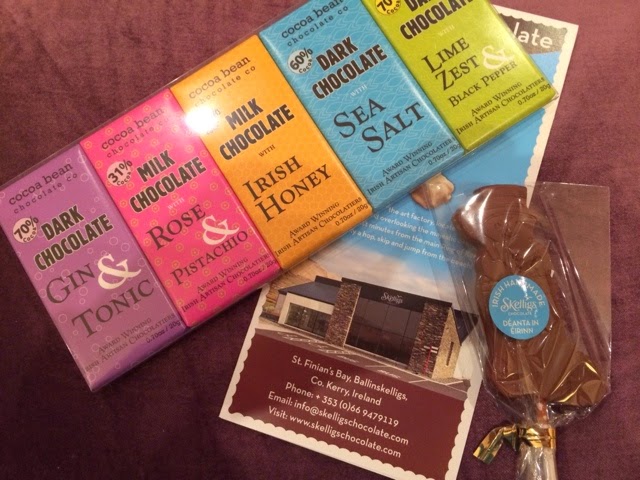 Why not plan a staycation, go see the ring of Kerry and drop in to this little diamond! I would definitely go 'missing' only to be found in the molten chocolate bath, swimming and drinking, swimming and drinking ….. inhaling it all.
Lastly, I visited Pandora Bell of Limerick, I was familiar with this brand from living in Galway, I'd seen it at McCambridges and at their Christmas food events, bought some lovely Nougat but it was so soft, sticky and incredibly filli.g one bar would do three people but I definitely recommend their fudge and vanilla chunky candy canes!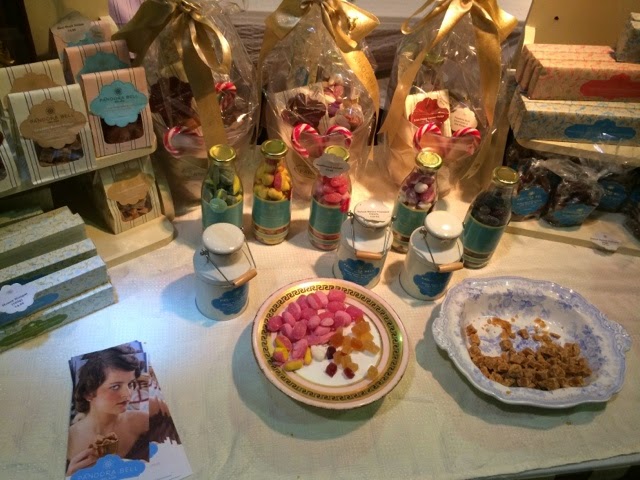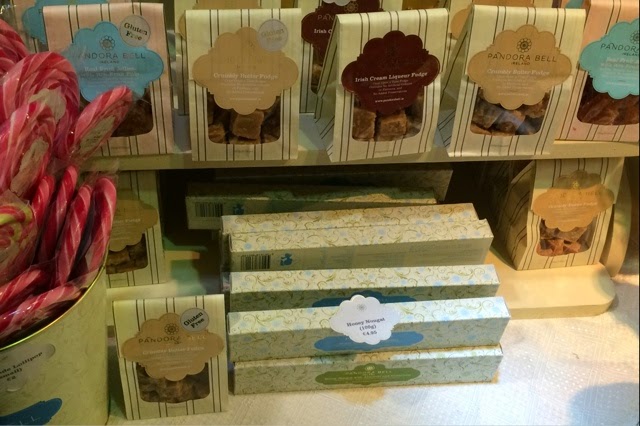 Old world presentation, I loved it!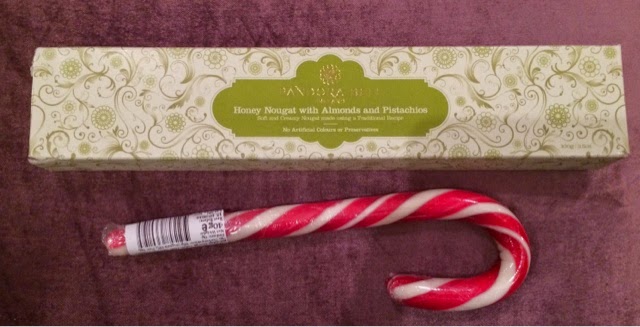 My Honey Nougat with Almonds and Pistachio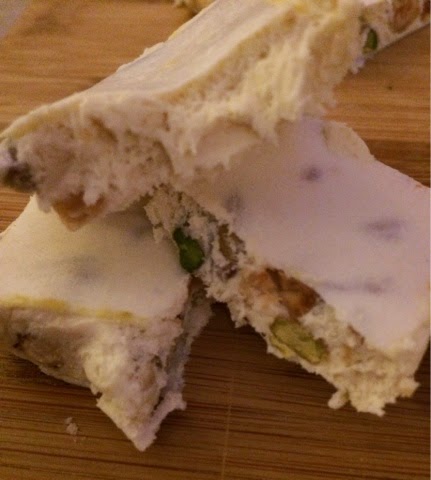 After cutting with a knife
Go check it out, makes a great girlie day out, in the RDS Dublin,  Main Hall, December 3-7th, 2014, admission €10, OAP's €8 and under 16's FREE.