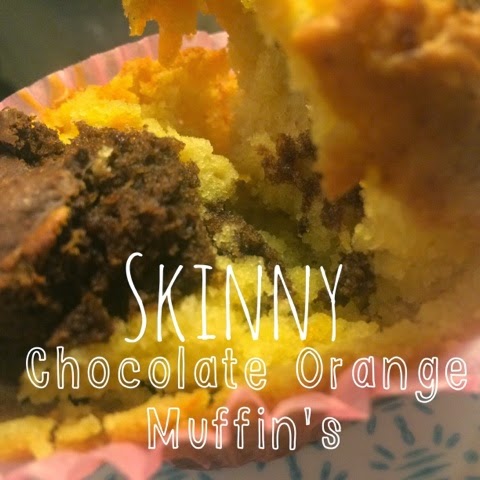 I love Muffin's, I do! Thanks to my curiosity of sweet things….. I also have a slight 'muffin top' ….but who cares?! I'm happy…. I personally love a good blueberry and vanilla one, made with fresh blueberries, where they were before baking, hollow in the cake mixture and in their place, a gorgeous, sweet jam….the kind that gives you purple fingers…. The cheap doughy Cuisine de France ones you get in newsagents are an insult to a good muffin…..consisting of mainly lard and can be in excess of 450 calories….yuk, they're almost wet in texture…..awful.. and then there are the breakfast muffin's raisin bran muffins, gorgeous served warm, sliced in halves and a teeny bit of butter melting down into it…and a mug of Colombian coffee to wash it down… amazeballs! These days, I don't eat much breakfast, I try to make a hard boiled egg as I get ready and have it in a toasted sesame & linseed 'slimbo' and eat on my way…. but we're talking once a month if I'm lucky…then I get hungry at lunch time and usually have crap….something naughty, overpriced and convenient…
So it's my aim..to be healthier this year, and get that house deposit saved… if you think of my 'latte factor'…. a black coffee, averaging €2.50, twice a day, five times a week, €25….four weeks in a month €100, twelve months in a year…a whopping €1200 and that's just black coffee's….the odd day I feel like a cappuccino or adding a scone or croissant and the gorgeous soup I get to go every day, which is €3….it adds up to a scary total.
I bake, I can make yummy soup, I have a Tassimo Coffee machine…why can't I bring it all in myself?! I've at least €30,000 to save in 24 months for our house deposit and I'm certainly not going to reach it, buying grande cappu's and cream of red pepper soup every day! My ever expanding waistline is not going to get any better either!
So now, the Christmas debt's are paid and we did a big grocery shop tonight, I sat down and wrote a very detailed menu for the next two weeks, dinners I can spread over two days and healthy treats I can pack away in my lunchbox to take with me to work every day and for lunch, using my Grunwerg lunch flask, making soups which will keep warm until lunch…
I've started with a yummy healthy chocolate orange muffin, it's not uber sweet, it's got a naturally sweet flavour and a bitter chocolate flavour, low in sugar and will get you over your coffee break sweet craving. The first bit of advice I will give you is to use the best quality orange you can get, a Valencia orange with a thick skin and a navel, not only will the flavour be amazing, but the orange in the skin bleeds out into the sponge colouring it beautifully and the juice will give you such a gorgeous muffin. I used Splenda to sweeten, low fat milk too and a little butter, don't use margarine, it's so unhealthy and it's a form of plastic that your body can't digest..
Alternatively, you can scrap the chocolate and throw in some raspberries if you like or peach… whatever you like, or replace the orange juice with extra milk and add chocolate chips and replace the splenda with sugar if you want, play around with it and find what work for you!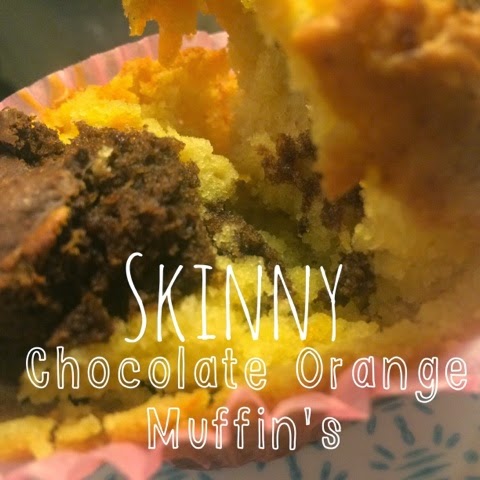 220ml low fat milk
1 beaten egg
1 tablespoon baking powder
1/2 teaspoon baking soda
3 heaped tablespoon's Sweetener
250g plain flour, sieved
60g melted butter
The zest of 1 large orange, the juice of half of it
2 tbsp cocoa powder
Preheat the oven to 210˚
Sieve the baking soda, baking powder and flour into a large bowl and set aside. In a food mixer, combine the egg, milk, butter, juice and zest, beat well and then fold in the dry ingredients.
Remove a little over a third of the batter and place in a seperate bowl and add cocoa,
Fill muffin cases with alternate spoons of both chocolate and orange batters to give a marbled effect. fill just about to the top of the cases, using a skewer, swirl the batters together but not too much, you want to marble it, not blend it.
Bake for about 15-20 minutes until a skewer comes out clean.
Makes about 7 muffin's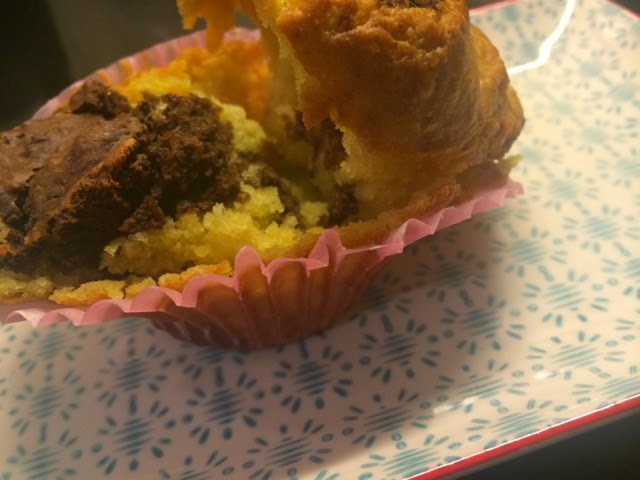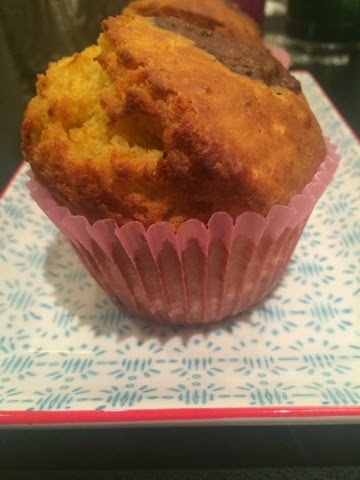 As always, tell me how you get on and what your variations are on the recipe!