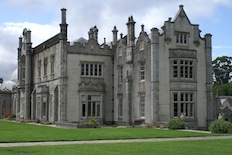 Killruddery House & Gardens
I have fallen in love, with one of the most beautiful places in Wicklow, Killruddery House & Gardens, situated just between Bray & Greystones, on the Southern Cross Road.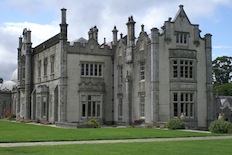 Okay, I knew this place existed, I was a huge fan of The Tudors tv series (I lost interest after the second series, in the show AND Jonathan Rhys Myers) which was filmed there, along with Far & Away, Becoming Jane, Lassie, My Left Foot and others. Killruddery offers the perfect backdrop for weddings and movies with it's picturesque views of the Wicklow mountains, stunning fountains and classic statues of goddesses and nymphs, brought from Italy over the years, you could in fact, have been transported back in time. The house is the most spectacular, it is not a hotel or a museum, the original family, the 16th generation Brazabon descendants still reside there and use it as a country house & farm, raising funds for it's upkeep through weddings and  full calendar of events for each season that's it's open to the Public. It's so important that these historical houses remain, reminding us of our country's History. They're so precious!
Moving on..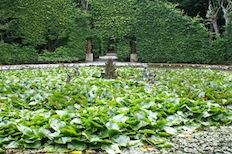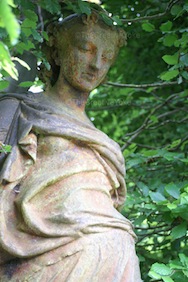 The first thing I saw at Killruddery was the circular pond, which I instantly remembered from a scene in the Tudors, as King Henry VIII (Jonathan Rhys Mayers ) and young Queen Catherine (Tamzin Merchant) walked around it in the snow, next was the rectangular parallel ponds that run the gardens to the rear of the house, which I remember from 'Becoming Jane' the exterior shots from Lady Gresham's house (inside being Charleville Castle in Tullamore, where I met my husband) I remember it being lined with candles for the shot …stunning!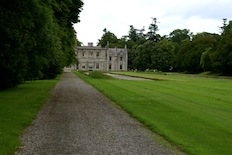 There's something captivating about Killruddery, it draws you in and the serenity is better than any meditation, as my Godmother said, "the Tree's sooth you with their energy" and she's so right! What's delightful about this place is that it's filled with the laughter of small children, rolling down the hills on the lawn and playing hide and seek behind the statues, not in an irritating way, it's delightfully refreshing actually, I'm normally the first to roll my eye's when kids are running about frantically, unsupervised but this seems so natural! ' The Orangerie'  domed conservatory is the focal point of the rear of the house and is used for many wedding ceremonies and events, if you decide to have tea in the tearoom on the lawn (an old converted folly) you can sit at a table, and  view the houses beauty as you sip on your tea! I had an apple & berry tea with lemon drizzle cake and sat at a little tiled table, greeted by a vase of beautiful wildflowers from their gardens.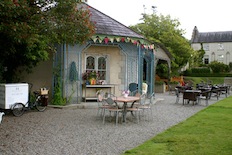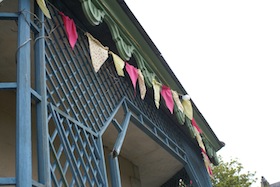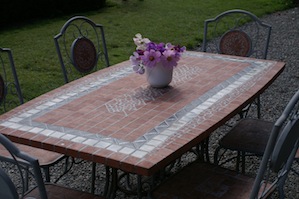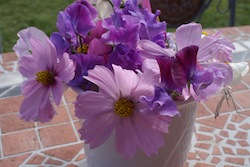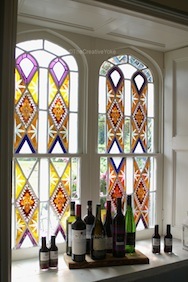 To me this is just heaven, I've never been anywhere like it, I used to think nothing could beat Ashford Castle, which supposedly has a connection to my own family, my paternal ancestors the De Burgo's built the original! But Killruddery cannot be beaten, traditional charm, stunning formal gardens, utterly breathtaking! I am definitely tempted to buy a membership and visit regularly for seasonal photo's and therapy!
---
If you'd like a little history lesson..
The Killruddery Estate dates back to 1534 when Sir William Brabazon acquired  ownership of St.Thomas' Abbey after helping with Henry VIII's dissolution of the monastaries in his bid to break from the Catholic Church so he could marry Anne Boleyn and establish his own Church of England. Killruddery was part of the Abbey estate.  The Brazabon house was then destroyed in a fire during the Irish civil war of 1645. A new house was then built by the second Earl of Meath on the site of the previous house. It was only in the 1820's it was remodelled and extended in Tudor revival style by the tenth Earl, incorporating a courtyard, new chimneys, domed ceilings and a clock tower.
During the 1950's, sadly, part of the house was demolished.
Currently, Killruddery house is home to the Fifteenth Earl & Countess of Meath
---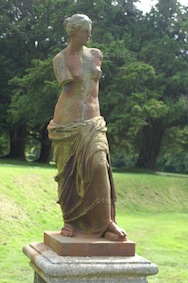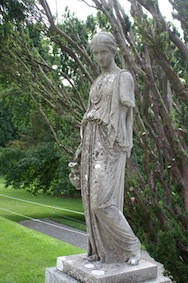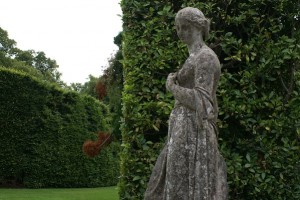 I simply adore the classic statues that are dotted throughout the formal gardens of the estate, most of which were commissioned in Italy, including the gates!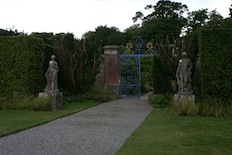 Day's Out!
If you do visit, be sure to spend a while in the gift shop, delicious jams and honey made on the estate, gorgeous souvenir mugs and gorgeous candles are also available.
With a pre-planned calendar of events each season, from April to October, there's always something to see and do:
Saturdays: The Farmer's Market takes place in the Stables of Killruddery, with a very tasteful host of artisans from Cheesemongers to candles, pies and breads to jewellery  Including my Godmother who is a ceramic artist with dishes and jewellery made in porcelain, inspired by nature.
________
Thursday, August 20, 2015  at  7:30pm: 'The Musketeers' The Sylvan Theatre (Doors open at 6:30)
Enjoy an open air performance by a cast of seventeen actors, this is a guaranteed fun evening and the audience are encouraged to bring a little picnic and a bottle of wine, together with some friends and a pashmina to keep warm..
________
Sunday, August 30, 2015, 2pm
Last of the Summer Fling
A traditional day out for the family with Egg & Spoon Races, Wheelbarrow Races.
Bring a Picnic and a blanket or enjoy some delights at the Tearooms.
________
There is also a campfire style jam making afternoon which I must attend!
Some more events can be found here.
Entry Fees:
Adults: €6.50 Concession: €5.50 Children under 12 €2 and children under 4 are free. (All children must be accompanied by an adult) Memberships: €80 per year for new members and €70 for renewals,  admits 3 adults plus the card holder and children under 12.
Opening Hours:
April – Weekends only, 9.30am – 6pm May to September – Daily 9.30am – 6pm October – Weekends only, 9.30am – 6pm –
For More Information, visit the Killruddery website here.
Save
Save