Winter Soups A Small Selection Of Delicious Favourites!
Delicious Soup Recipes To Get You Winter Ready.
"Soups You Madam!"
I don't know about you, but I don't deal with cold weather well. I love snow, the romance of it….the silence as it falls, coating everything in a crisp clean blanket of white, everything feels new and fresh, everything is quiet….and then after a few hours, it's brown sludge, kids have rolled the prettiness into deformed snowmen and cars have worn a brown, mucky trail into the roads…..and then then there's the ice as it thaw's and refreezes, people Bambi stepping on the footpaths, cars screeching into spins and everything comes to a halt…getting to work is an adventure-Wait, did I describe snow as romantic? Scrap that! Let's get a reality check!
It's the cold, I hate, the standing at bus stop's and you feel your very core has frozen solid…. You cannot imagine yourself being warm and toasty again, succumbing to the temperatures and being found perched on abus stop bench the next morning like Jack Torrance in The Shining with snot icicles down your face. Yeahhh, it's not for me, give me a 32 degree heatwave, sun lounger and an iced Mojito in my hand, toes in awarm pool….  If not that then a nice roaring, crackling fire…..comfy socks, a fluffy robe and to perch myself in an oversized armchair with a mug of hot chocolate or a toddie!
Anyhow..
I'm feeling rather 'fluffy' since Christmas, bloated tummy….and the late night's working…..   where I say to Hubby as he picks me up " Tesco Indian?"…you just don't feel like getting stuck into dinner after a long day….. and the idea of an authentic takeaway that you slap in the oven for 30 minutes is rather inviting! So, on my day off yesterday, I walked down to my local clean eating supermarket and restaurant 'The Happy Pear' and perused the shelves….. Wheat is killing me and I'm convinced it's not the wheat itself but the Roundup that the farmers spray on it before it's cut ( it supposedly releases more seeds that way for a more abundant crop the following harvest, so they poison us in an effort to get an extra buck) …. I'm not convinced by the growing numbers of "coeliac's" and people allergic to wheat….I am convinced that this is what's causing it. It's not an urban legend, it's a fact and the guy in the Happy Pear agreed with me about the wheat cutting process. You're essentially eating weedkiller in your pasta and ham sandwich at lunchtime-lovely!
So anyway…. As I was saying, I carefully examined lots of their goodies and came home with organic Marygold
stock, I always cook with the Swiss Veg one, split pea's, tahini,organic chickpea's, toasted coconut flakes…. And chocolate made with Isomaltulose which is easier for your body to process than regular sugar (the same kind of healthy sugar in honey) Dr.McCoy's coconut bars (also a business from Greystones, which is booming)…. So I came home, all positive about the healthy soups I was going to make and decided that I'm going to make lots of yummy soups in advance and freeze them…so on those nights where I'm freezing, tired and craving sugar….I reach for one of them instead of lasagne and chips… and the 'fluffiness' will become more 'silkiness' if you catch my drift… I'm
also getting my 2litres water down as I'm severely dehydrated from the heaters at work… The heating at home and the copious amounts of coffee I'm drinking….I'm losing my sparkle, if I ever had one..There's also the fact that we're still saving to buy a house and I have spent a scary amount in the past on latte's and lunches…. The Vanilla Pod Eatery near where I work does incredible soup to go every day for €3 with bread, and most days I do bring a lunch….but on extra cold days or pay day, I still find myself going in for a soup and Americano…then my eyes wander to the desserts display….one French Macaron won't hurt…right? I am definitely making more of an effort to bring my own though!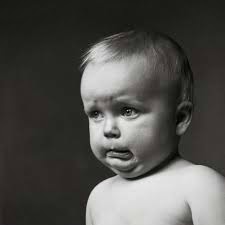 I know I talk about soup a lot…but it's the best thing ever! Last night, I planned on making a courgette, potato and mint soup but could imagine the grimace on my husbands face, so I'll save that for my day off next week.. I made a split pea and ham soup, made famous by 'that' scene in The Exorcist movie- yep, it was Campbells Split Pea soup that they used!  It was gorgeous though, thick, warming, smokey and pleasantly salty from the ham/panchetta..  So I'm
going to share my hearty soup recipes with you for when you're feeling the same as me….you'll have something cozy (other than our men) to cuddle up with..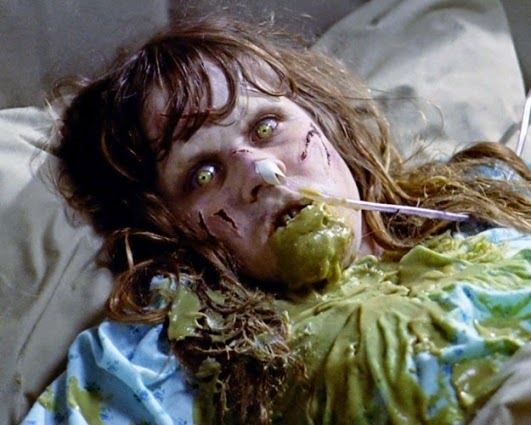 Yeah….. that was Pea Soup- yes really!
I will say though, when making soup, it's ultra important that you use the best stock you can find, if you have home made, good on you, that's the best…if not, Marigold (Used my most chef's, you can get it in health food stores)  or Kallo low sodium. Personally, I can't abide Knorr, it's incredibly artificial and salty and often have to add another one or two to get some flavour….. I think there is MSG in it too) My mum and Hubby call me "Queen of Soup's" but between you and I…..it's just the stock I use!
---
Split Pea & Ham
Barley & Courgette
Curried Butternut Squash
Courgette, Potato & Mint
---
Split Pea & Ham
What You'll Need
3 medium onions,
4 cloves of Garlic
3 sticks of celery
2 carrots
Good quality or low sodium stock like Marigold.
500g Dried Split Pea's
1small packet of Italian Panchetta ( you can use gammon or bacon if you like)
1tsp Oregano
1tsp parsley
Black pepper
Wash and chop vegetables and put a little olive oil in a saucepan..
Fry onions until soft and transparent, add a pinch of salt so they don't brown. I usually pile them up in a thick pile so they sweat together rather than sautee.
Add celery and panchetta and fry until panchetta is cooked.
Add  your chopped garlic and  peas and if you're using marigold, 2 tablesooons, regular stock cubes,1 vegetable cube and put plenty of boiling water in, about a pint and a half, you may need to add more as the pea's cook. I never give water measurements for soup because everyone likes their consistency different, I love it nice and liquid, hubby likes it so thick, it's like mashed potato….. So I tell him to make stew if he wants it like that.. We normally go in between, not too thick and not too thin….rather like myself 😉
Cook until the peas are soft and using a regular blender wand blender, blend untilsmooth, taste to see if it needs more seasoning. I like to fill a ramekin and let Ryan try it and see what he thinks is needed, we call this "rules" portions.
It's great served with crusty bread and a smear of butter, keeps really well in the freezer but you may need more water when you reheat it.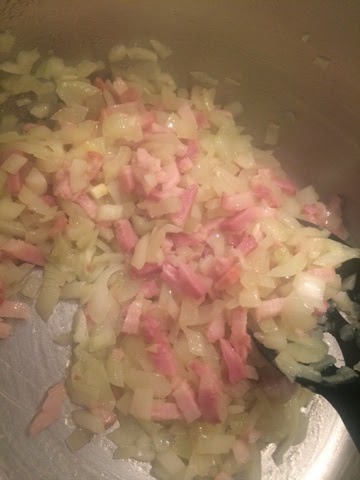 ---
Barley & Courgette
What You'll Need:
2 large onions,
4 cloves of garlic
2 cans chopped tomatoes
1tbsp basil
1tsp oregano
1cup barley (pre-cooked and rinsed)
2courgettes
Vegetable/chicken stock
Black pepper to taste
Peel and chop onions, garlic and then cut courgette into small cubes, you can peel it it you hate the skin (the nutrient rich bit)
Precook barley if you haven't already, in water and a pinch of salt, then rinse the starch off, set aside.
Fry onions until transparent but not brown and add garlic, courgette and cook for another three minutes on medium-low heat,  add tomatoes, stock and seasoning and allow to simmer for 40 minutes.
Gorgeous served with a load of parmesan cheese and perfect lunch to bring to work in a food flask, hearty and comforting!
(Photo on the way)
---
Click here for Curried Butternut Squash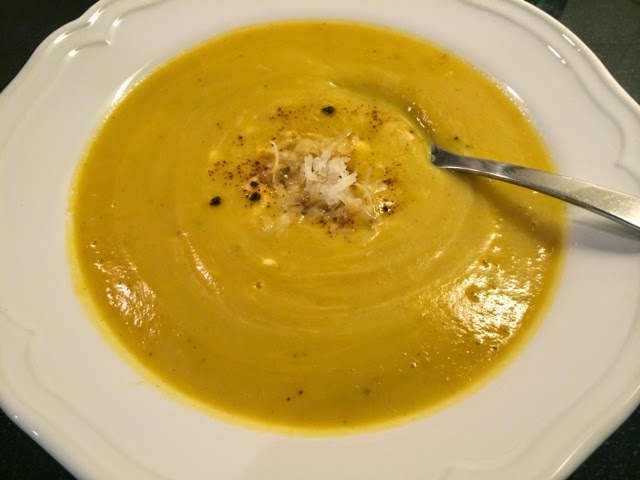 ---
Courgette, Potato &  Mint
What You'll Need:
2 large Courgettes
2 floury potatoes like Rooster or Maris Piper's
2 large onions,
4 cloves of Garlic
a good handful of fresh mint
1/2 tsp thyme
1tbsp butter
good quality vegetable stock
salt & pepper
Peel and chop garlic and onions, peel potatoes and chop into cubes, the same with the courgette, wash mint and set aside.
In a little olive oil and butter, fry the onions until transparent, add courgette , garlic, potato & thyme, fry for another three minutes and then add the stock,  cover the vegetables in the stock and about a pint more water (it'll reduce as it cooks so you will need to add more, especially with the starch in the potatoes. Add mint, cover and simmer for about 40 minutes.
Add some cream if you wish and serve with some crusty bread