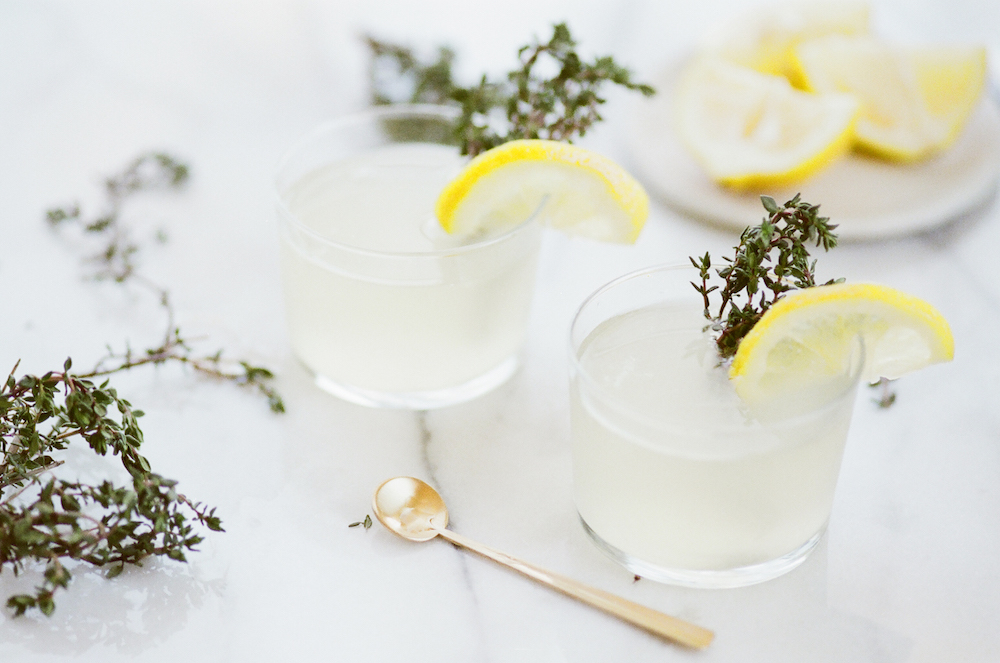 Gin Garnishing: What To Add To Your Gin To Make It Pop
I don't know about you guys, but I LOVE gin! Gin's definitely having a resurgence after the waning popularity of the humble Cosmopolitan or Mojito- don't get me wrong! I LOVE a GOOD Mojito on a hot Summer afternoon but now there's that delicious bulbous glass that we're seeing everywhere, filled to the top with ice, delicious garnishes and a refreshing sup of gin.

There are so many different types of gin on the market at the moment that it's hard to know what to put with them, take Hendrick's for example, I'm always impressed when a bar serves cucumber with Hendricks, because their Gin is infused with rose & cucumber, so naturally, it's the best thing to put with it. Gunpowder Gin from Co. Leitrim is infused with Gunpowder tea, you normally put lemon or citrus fruit in tea so that's the most logical garnish.
Here's some winning combinations to try, next time you're having a gin at home:
Pink Lady Apples & Rose Petals
Basil & Grapefruit
Blackberry & Cinnamon
Lemon & Sage
Star Anise & Blueberry
Chilli, Lime & Coriander
Rose & Cucumber
Mint & Strawberry
Fresh Lavender & Lime
Burnt Orange
Cape Gooseberries
Peach & Blackberry
I did some experimenting over my couple of weeks off.. The lavender and lime was gorgeous but fresh lavender, not dried is best, washed and slammed between the palms of your hands to release the oils with lime. I like to rum some lime around the rim of the glass so you get the full on fragrance. Dried lavender doesn't work for this, it's just not good. If you stick with my advice, it's a nice gentle perfume especially with a few juniper berries added into the mix.
Lemon and thyme was really refreshing too but Thyme is a little too piney for me, it was almost like drinking with Christmas tree in the glass, my husband however, loved it! Different tastes eh?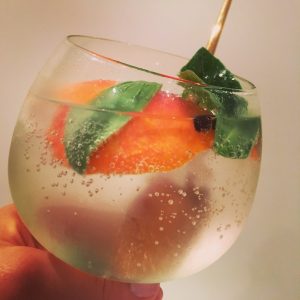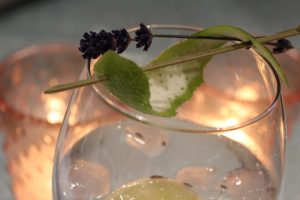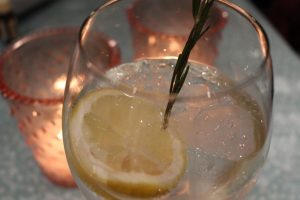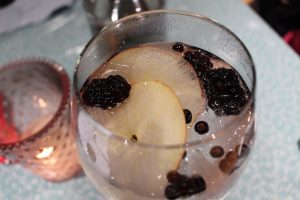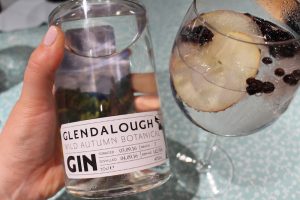 My absolute favourite was a bottle of Glendalough Autumnal Gin. On a recent trip into Dublin City, I popped into my favourite spirits store, The Celtic Whiskey Shop on Dawson Street, this place is an emporium of spirits, every gin and whiskey you could possibly imagine and if you're not sure which one to get… they have tiny dram bottles for about €3 each. However, I managed to get my hands on a Glendalough Wild Autumn Gin, oh good lord, it's divine! I garnished it with sliced pink lady apple, juniper berries and plump ripe blackberries. Superb flavours of hand foraged heather, crab apple, damson, dinnamon.. the list is huge but it is incredible!!
---
I've three favourite gins at the moment:
Gunpowder Gin from Drumshambo, Co. Leitrim.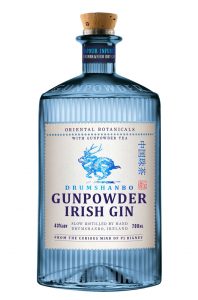 Glendalough Gin, Co. Wicklow, hand foraged botanics, berries and fruit from the Wicklow hills & comes in four flavours, Winter, Spring, Summer & Autumn. Each season, only 3000 litres are produced, it's definitely quite unique and worth getting your hands on. As mentioned above, I've just tried the Autumn but I'd really like to get my hands on a Summer one that has Elderflower in it.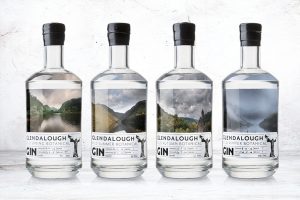 Boyle Gin from Aldi. This one is rather juicy, considering the price tag of €24, it was recently ranked one of the tip gins in the world.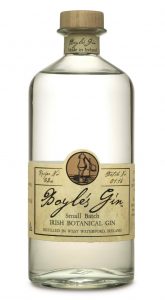 Okay…there's four… Hendrick's, a stunning gin that speaks for itself….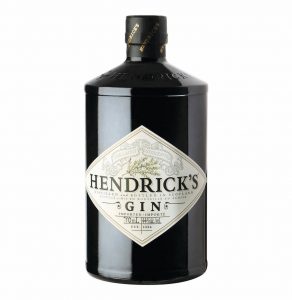 What are these Gin Bitters that everyone's talking about??
Okay so you may have seen barmen drop little drops from an eye dropper or you may have seen little bottles of what look like tinctures in your nearest upscale off license. These are Agostura Bitters and originally made for cures for ailments such as hiccups or digestive problems. Nowadays, coming in a huge variety of flavours from bitter apple and rhubarb to ginger and citrus fruits, bitters are used to add to the depth of flavour and aromatics of the gin, some of them even add a slight colour. If you're having a cocktail party, get some bitters if you really want to impress them.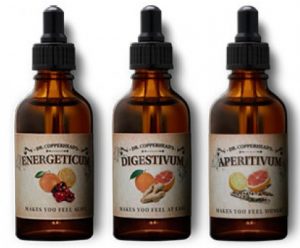 And what's that big bulbous gin glass called?
Those large gin glasses that are appearing everywhere… if you were asked in a table quiz what they were called, could you get it? Okay you could get away with a "gin glass" but the proper name is a 'Spanish Balloon Glass'
There are some great books out there with cocktails like this one from The Kilkenny Shop to help you along your journey. Or if you want to try some excellent gin cocktails, head for Chambers bar in Marcels on Merrion Row in Dublin… now they make a killer cocktail, read about the mastercalss I took with them here