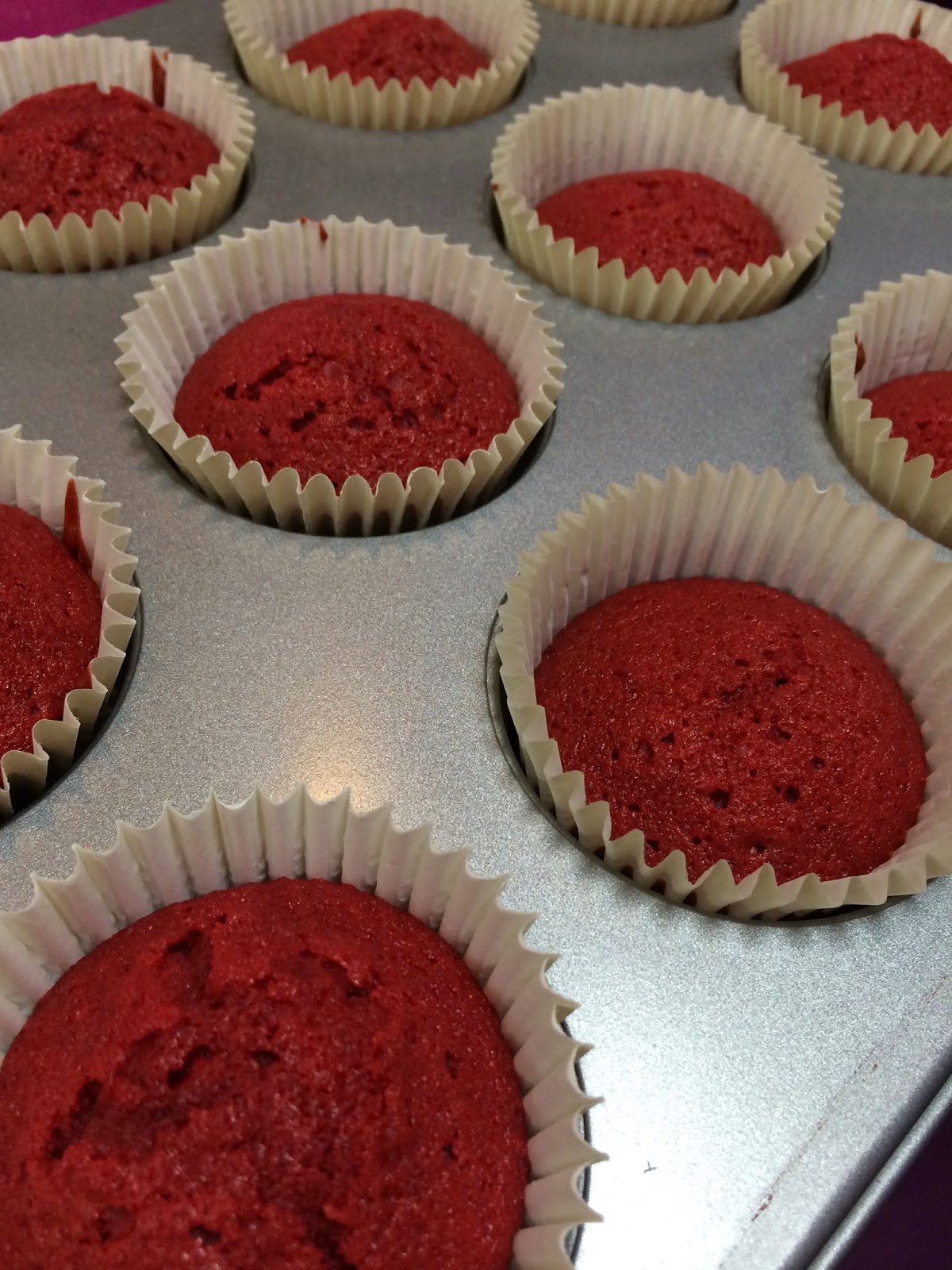 I can usually take or leave cake, but my weakness is chocolate! Mention Red Velvet cake to me and my ears prick up! There's something so enticing about that red velvety moist sponge and the bitterness in the cream cheese frosting… It's a heavenly combination..no heavy decoration required, just self indulgence! A recipe that originates from the deep south United States and has been loved by many!
A lot of recipe books will tell you to use up to an ounce or even two of liquid food colouring, this won't do, not only does it turn into the colour of an old Ox Blood Doc Martin boot but tastes foul! I made them once with liquid colour for the daughter of a close friend on her birthday, seemingly quiet little guest at the party.This little girl ate one of the red velvet cupcakes and proceeded to run laps of the tennis court next door, she was so hyped on this red liquid colour! My preference is Sugar Flair 'Extra Red', it doesn't turn a bloody shade of brown but stays red, and when I say red, I mean 'Santa Claus Red'…and people don't get silly hyper on it either!
Another thing is that cocoa has a natural red in it and the chemical reaction from the baking soda and vinegar with the cocoa, bring out the natural red, in addition to the colouring.
I don't use butter but sunflower oil and buttermilk which keeps a stunning moist texture, it's delicious, just be careful not to overbake it.
Follow this recipe and you won't go wrong! It makes a lot, but don't worry, they disappear very quick!
Creative Yoke's Red Velvet Cake:
2.5 cups of Plain Flour
1.5 cups of Caster Sugar
2. tsp Bicarbonate of Soda
1.5 Tbsp Cocoa Powder
1tsp Salt
2 Large Eggs
1.5 Cups of Vegetable Oil
1 Cup of Buttermlk
1 tsp Sugar Flair Extra Red
1tsp white Vinegar
1 tsp Vanilla Extract (don't use essence, it's horrid)
4 Cups of Icing Sugar
6oz Butter
8oz of Cream cheese
 First start off by preheating the oven to 170˚C
 In a large bowl, sieve the flour and sugar, set aside.
 In a small bowl, combine the cocoa, vinegar, colouring and soda, it'll fizz up but that's what you want, the chemical reaction which develops the red in the cocoa and get rid of all lumps then set aside also. If you have a mixer like a Chef or Kitchen Aid, beat your eggs with the oil and vanilla ( a bowl and spatula is fine) add the buttermilk and your red paste, beat until it's all combined and you've a nice red mix, add the flour, slowly mixing and being careful not to over beat or you'll get little cupcake rocks! This is where people tell me they go wrong be careful not to develop the gluten in the flour.
Bake for about 10 minutes until a wooden skewer comes out clean, the under-cooking to overcooking takes place within a couple of minutes so keep your eyes on them.
Allow to cool before you frost them.
For the cream cheese frosting
Combine all of your mixture and combine on a very slow speed, when it's all joined together, turn it up full speed and beat until fluffy and holds a shape, I always say you can't beat buttercream too much.
For the classic red crumb topping
Break up one of your cupcakes by hand, crumble and scatter on a baking tray and bake for bout 5 minutes to slightly dry out and then strew onto your frosting.
I do hope you'll enjoy making them and please, let me know how you get on! This frosting recipe can be used for carrot cake too, add some lemon and lime zest.
Enjoy!
Save
Save
Save
Save
Save
Save