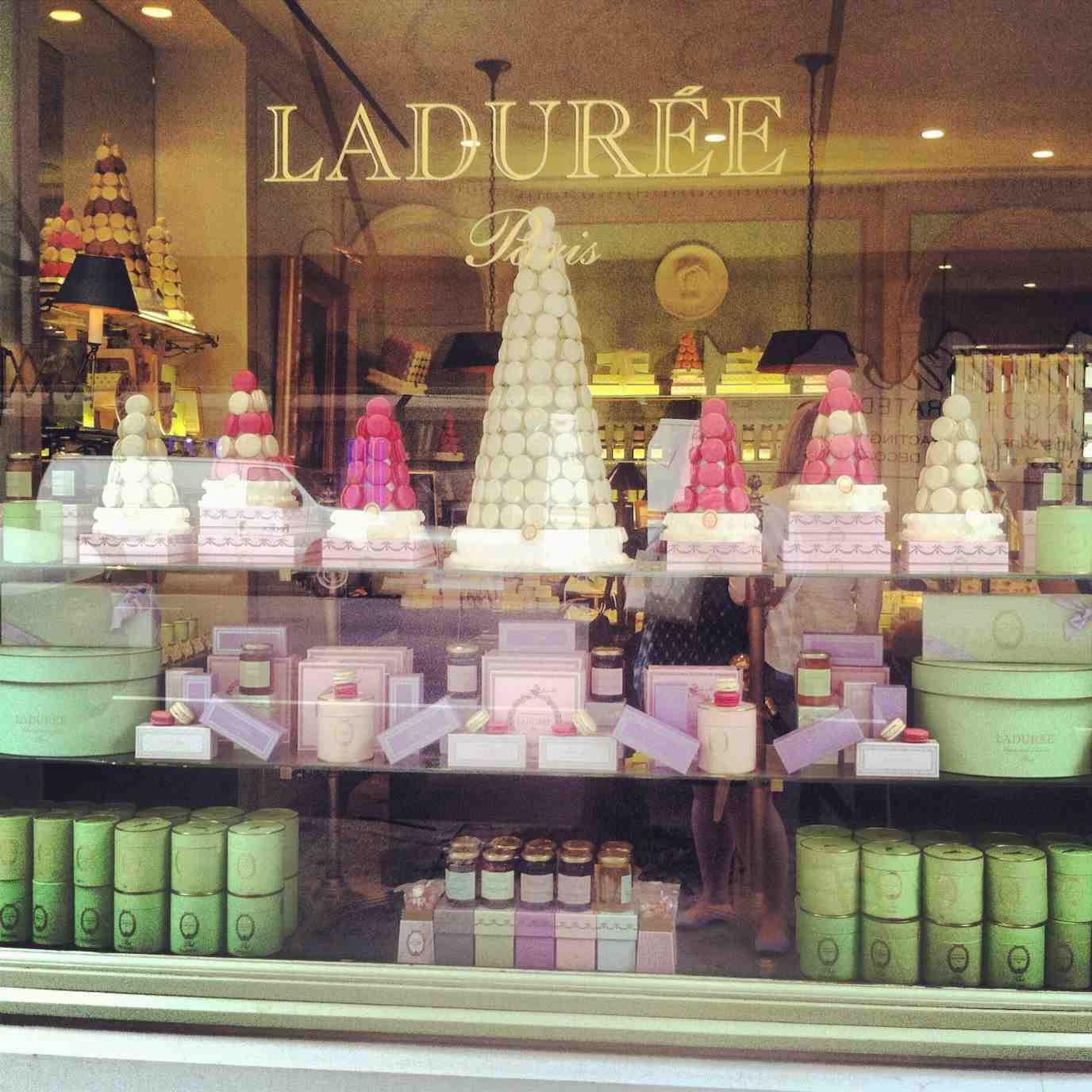 French Baking….can just anyone master it? My attempts at patisserie favourites.
I'm often asked by people at work, by readers…about Choux pastry, to do an entry on making profiteroles and eclairs (same recipe)…it's not that I've been putting it off, but I think they can be so overdone, the mainstream way, cream and chocolate… I guess I've been thinking about making it more exciting… any Christmas party or wedding I've been to and my Graduation ball when I was at secondary (high) school….Profiteroles have always been on the menu and they can be so boring! Way too much cream, no creme patissiere, tasteless and just…boring!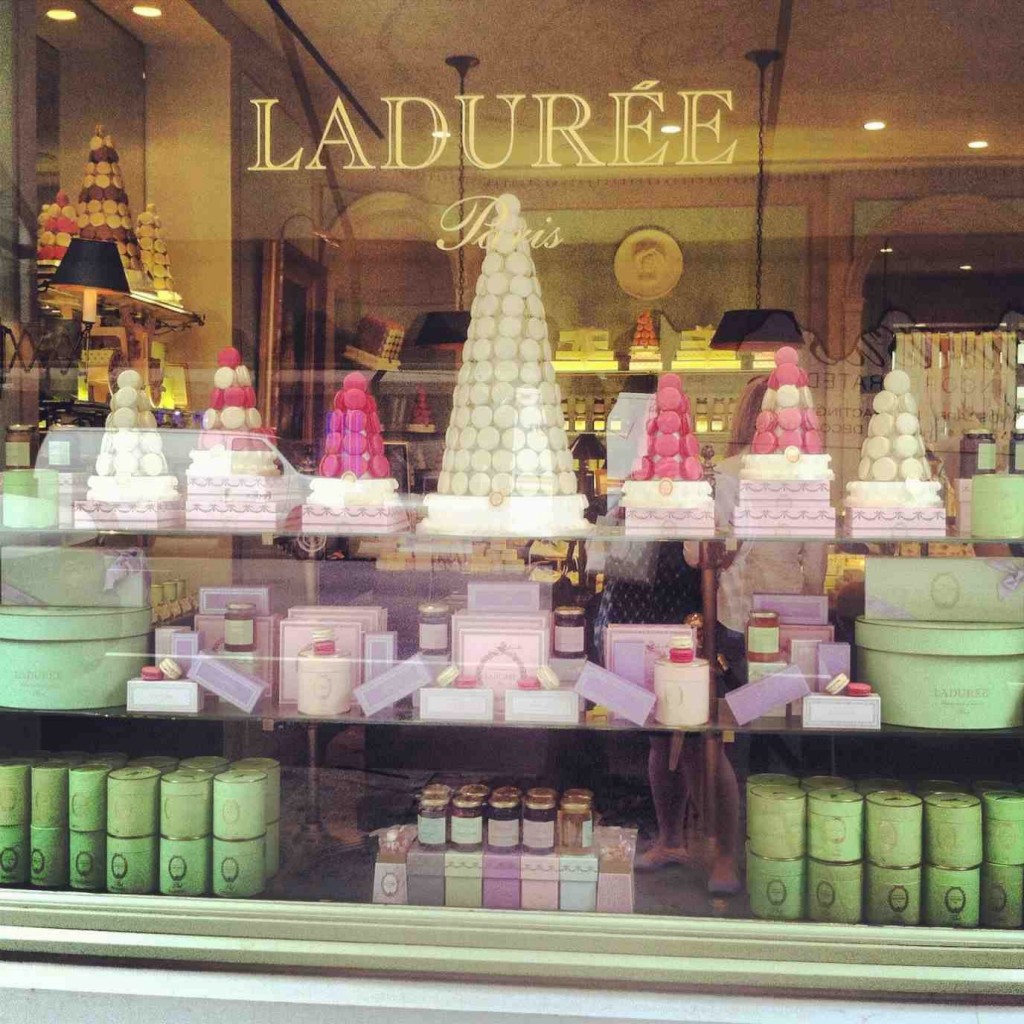 Image Credit :Lavidalaura
If you've visited my Instagram account, you might have noticed that I describe myself as a bit of a Francophile, I can't get enough of everything and anything French, the lifestyle, the culture, the couture (unfortunately not blessed with a body or bank account for that….but having a retired
fashion designer and costumier as a Mum has it's perks), their interiors style, the music, but the food… OH MY..the food! I recall my first trip to France, I was 11, my first love affair with french food was crepe's and quiche, that was the south of France…I hadn't discovered Paris, that was to come. I had just gotten over the shock of the waiter at our hotel, lifting the cloche in front of me at dinner, to reveal a whole steamed fish, eyes and skin in place, just a slice of lemon to cover it's modesty. Being an Irish kid where the most adventurous thing for the average kid in the early 1990's was squid or pate, sushi and the likes weren't heard of, so so sit down to a set dinner and find this thing looking up at you, eyes staring at you in lifeless terror…..nope, I wasn't having it, I lost my rag and almost screamed in the restaurant! Traumatized…I learned what "pommes frites" (chips) meant and used it!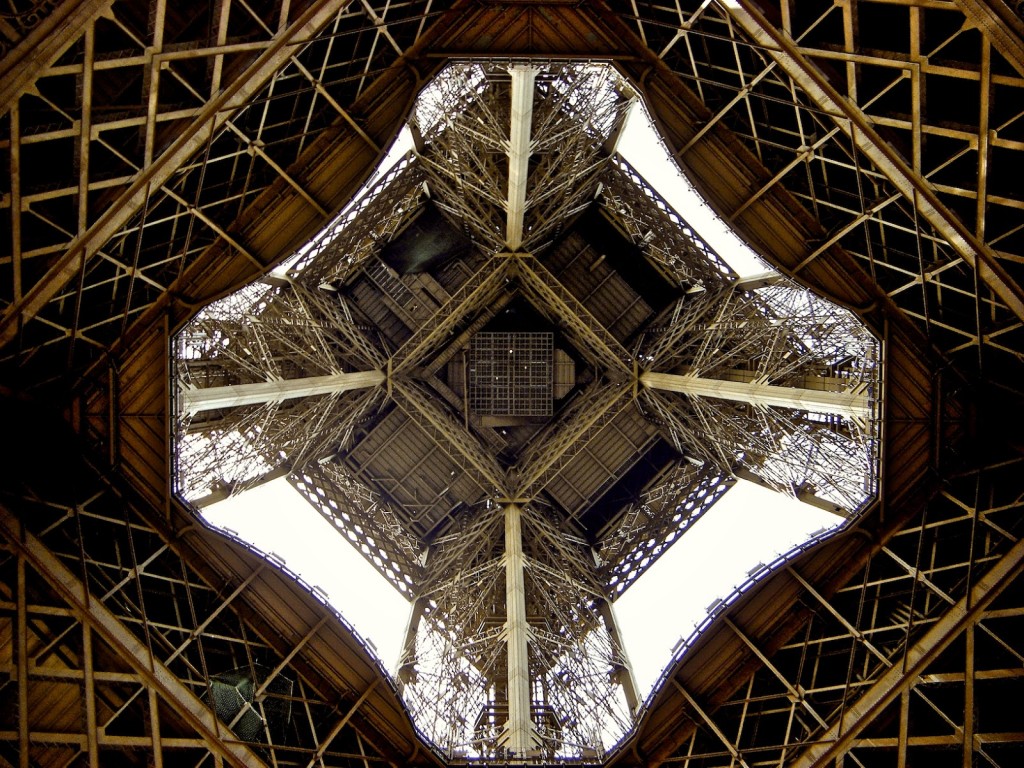 How could you not fall over,looking up at this!?
My first trip to Paris, came when I was about 13, my Stepdad sent Mum & I for a fortnight after
Christmas as a "girlie holiday Christmas Present"…I think that's where my obsession started, discovering Patisseries…cheese shops and the art of picnic's by the Seine, they had shops especially for little picnics, you'd go in, pick up a baguette, cutlery, little pots of cheese, little pots of  vegetables ….. cold cuts, and you'd go find a bench and eat! I remember us looking for the Eiffel Tower, I was studying German in school, Mum had studied Latin- not that she remembered any,  neither of us had a word of French. Looking for the tower, we'd ask locals where the "Eiffel Tower" was in our South Dublin accent's… blank faces stared at us as I held my palms together, making a shape of the tower, like a royal moron….. to which they'd giggle and spit out arrogantly "AHH! TOUR EIFFEL" (toor eeh-fell), come on, they're not that much different?! Do they pretend not to know unless you try and
make an attempt at a French accent or wording? We found the "Tour Eiffel" alright…..and made another fool of myself by falling over, flat on my face (Just like Carrie Bradshaw in Dior) after staring up through the tower in amazement, mouth so open, I must have unbalanced myself and keeled right over, walking around with mucky knees all day, My Mum couldn't stand up from laughing…
So as I walked around old-Par-ee all day with FILTHY knee's…the most fashionable city where women are so prim, groomed and primed….. I was looked down on like a slug….so I thought it was time I ate cake! Cake to drown my mortification… cake to cheer me up…. cake to sooth my soul…boy where we in for a treat.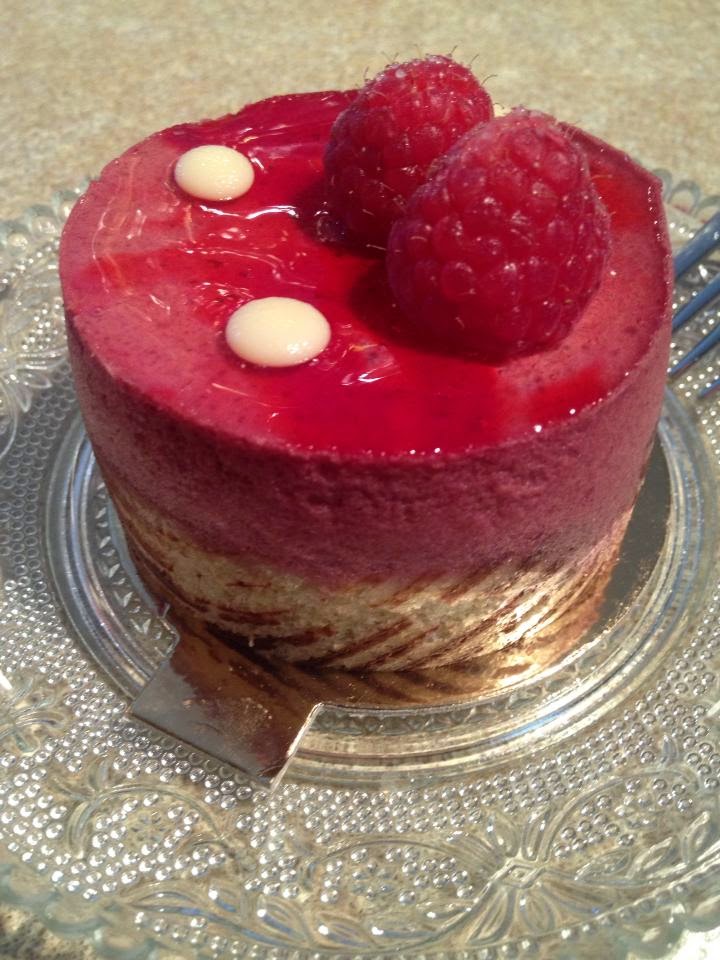 A treat from Petit Delice, Galway, where you get the best Croque Monsieur (in Ireland) and little pastries.
In St.Germain there was a patisserie which today still stands out in my mind, polished glass doors, marble floors and counters, pink boxes everywhere,  rows and rows of Macaron's, Religeuses, eclairs,
torte's, Mille Feuille's, Mont Blanc's and Madeleine's…… enough to make you weep with frustration…what to choose?!  I also learned that if you ask for a regular "coffee", you automatically get Espresso… I was definitely getting an education! I think that's where my love of pretty desserts came from, making, not eating! To make something so ornamental,  such a work of art that eating it is like a reward to yourself, a little private moment of pleasure, a trophy!
Years on, Laduree is like going to church, we have one in Dublin for about 5 years now, a concession in a department store, every now and then, I treat myself to a pretty box of Macaron's and a hot chocolate, standing at that marble altar of sugar, I confess my sins to the assistant and
name them one by one "ROSE… CHOCOLATE… COFFEE….. RASPBERRY…. PASSIONFRUIT…. APPLE…. BLACKCURRANT", my 6 signature Macaron flavours…..and yes, I eat them all! Completely and utterly unapologetic, savoring each one like a jewel on my tongue!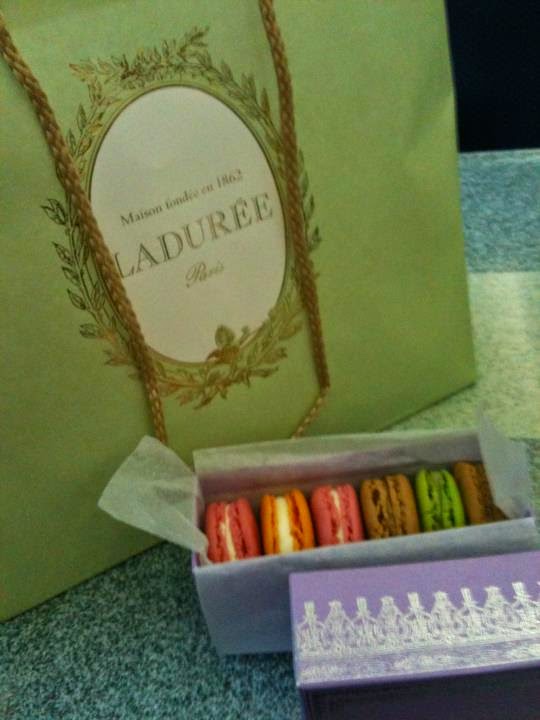 On visiting Laduree in London on a trip with Ryan, I sat in for tea, Marie Antoinette Rose tea with a framboise & Lychee giant macaron, inside fresh raspberries, lychee and cream, and all topped with a beautiful rose petal, worthy of a monarch, it instantly took me back to that scene in Sex & The City, the second last episode, American Girl in Paris, where Carrie is sitting in (what I believe was) Laduree, feeding pastries to a dog, and she's dressed so pretty, like a doll! I felt like Carrie- but instead of a dog, my Mr.Big, my husband, Ryan and… I was not pretty like Carrie… the photo my hubby took is horrendous, whatever godforsaken angle he took it from, made me look like Sloth from The Goonies, yes the strange looking guy in the basement of the restaurant!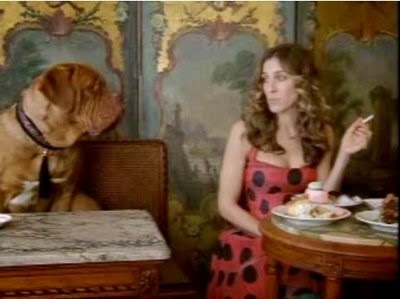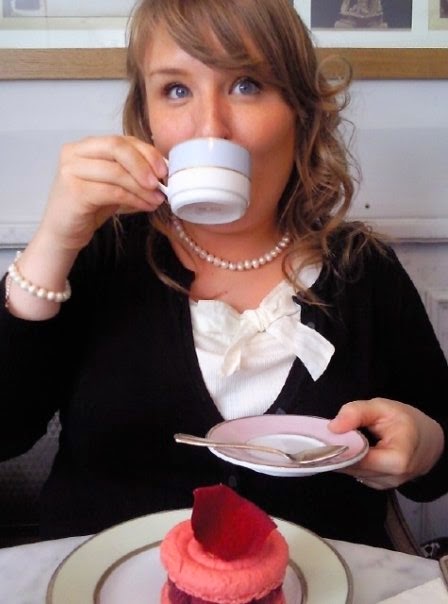 I look just like Sloth from The Goonies!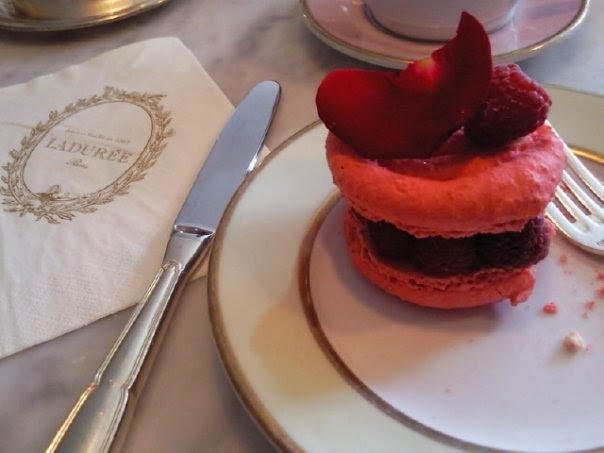 My treat at laduree, Harrod's
If you've seen Sophia Coppola's Marie Antoinette, with Kirsten Dunst, you might secretly confess a mild obsession too… the gowns, the story….. and then there's the pastries again, I SEE A PATTERN FORMING HERE….. It's not about France, this Francophelia is food based, desserts, champagne
and sugar….'Francosweetia' maybe?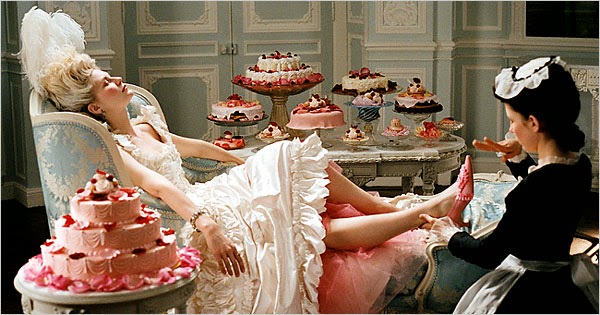 Kirsten Dunst as Marie Antoinette
A couple of weeks on, after starting this  blog entry….I made Choux pastry….gorgeous eclairs with a hint of rose cream, I also made an attempt at Religieuse.  These little suckers are NOT as easy as they look, I thought to myself "How hard can it be?" it's a giant profiterole and a regular profiterole on top of each other, a little Creme Pat' inside and covered in flavoured icing…. it sucked! I'm a dab hand at the old profiterole, but try making a large one, if you bake it too much, it burns, too little and 3 minutes out of the oven and it's a Yorkshire pudding.. flat as a pancake, soggy as a baby's bum at 7am! I did have a mix of half and half …. getting the icing consistency just right is key too.. too thick and it sits like buttercream and too runny and it looks like a barbie has cried all over the pastry… I filled them with Creme Pat' but  the piping of it to make a sort of crown detail was insane! It doesn't look right. I will make them again though in the summer, they won't beat me! I will make them to be worthy of Carrie Bradshaw herself!
They did however taste INCREDIBLE! Ryan had 2, one after the other and I just ate the profiteroles as I iced them with glossy chocolate goo!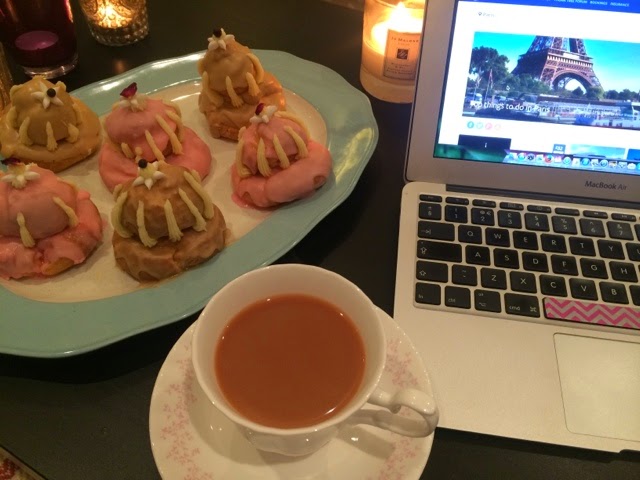 Coffee and Rose Religieuses, yes, not pretty but tasted so so good, filled with creme pat'!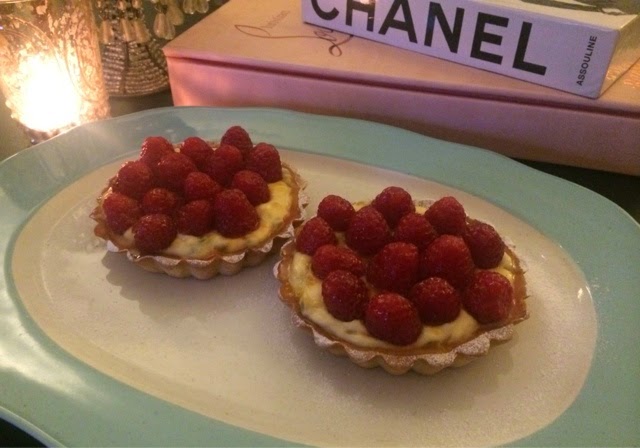 My delicious fruit tartlets, shortcrust pastry, creme pat', fresh raspberries and apricot glaze.
Lastly, Les Macaron, the thorn in my side,  complete hit or miss every time you make them, well, everytime I make them! First time I made them, was in 2008, they were spectacular! I made, coffee, rose and pistachio…. made them again a year later, disaster….. then third time lucky, what is the key to making them perfect!? Lastnight, on my day off, I decided to make them, after investing in two different silicone Macaron trays with little circles to contain the batter to help keep a uniform size… I think I cracked the key to perfect macarons!  I've always known that you NEVER make meringues on a damp day, nor do you make them in a damp environment. My apartment is incredibly humid, I mean, we empty the dehumidifier at least twice a day. So I ran the dehumidifier in the kitchen for an hour before and went to get my ingredients in the supermarket.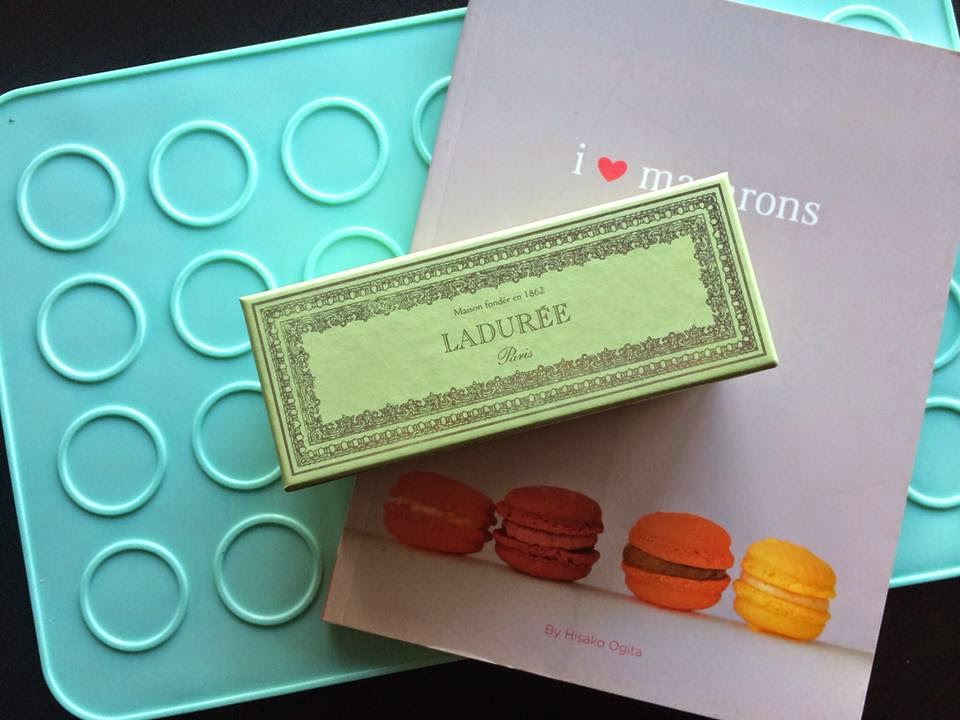 Armed with tools and determined to succeed
The first tip I'll give you is that you should use liquid (not gel) food colouring and add it to the eggs before you add the almonds, otherwise you beat it too much and it deflates and goes runny again, resulting in very runny batter and flat uneven macarons.  I, unfortunately only have gel colours, and learned that mistake lastnight, that and the humidity didn't help…. but they still tasted great.
According to the gods at Laduree, you mix icing sugar and ground almonds together and pass them through a sieve to make a light airy powder which is then added to meringue peaks made with granulated sugar. If you make pistachio, substitute half the almond with ground pistachio and add green colouring. I'm not giving up though, I'm giving them another shot this weekend!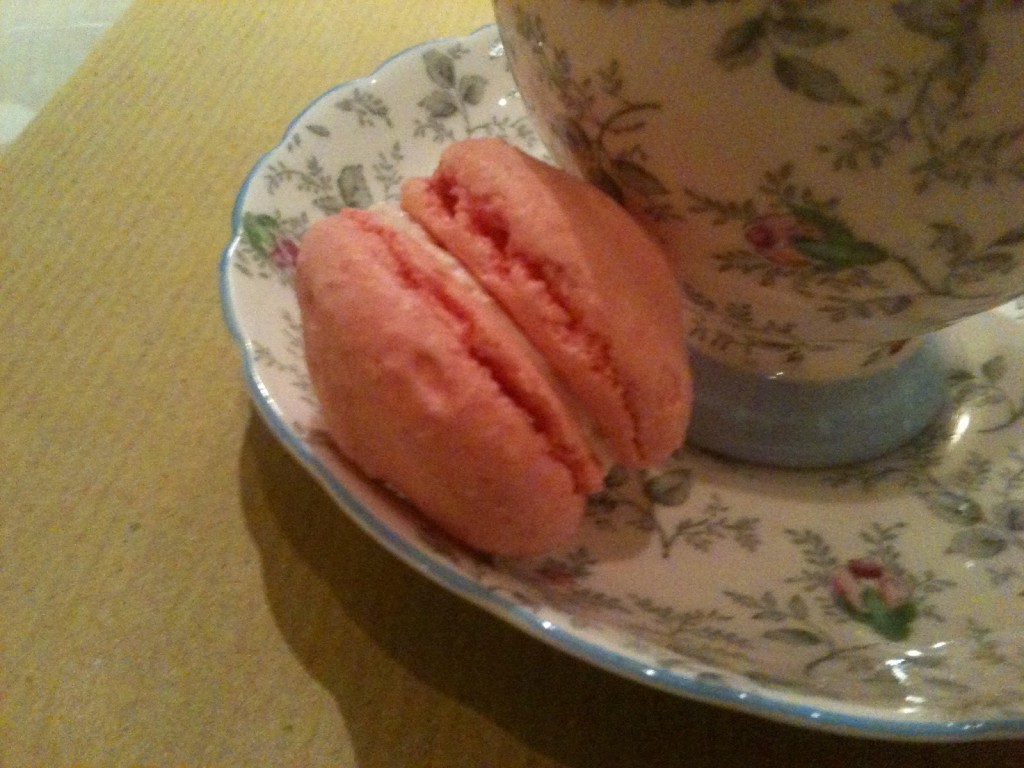 My second time making them..
Nope….I didn't make these- I WISH, these are one of my personal rewards from Laduree!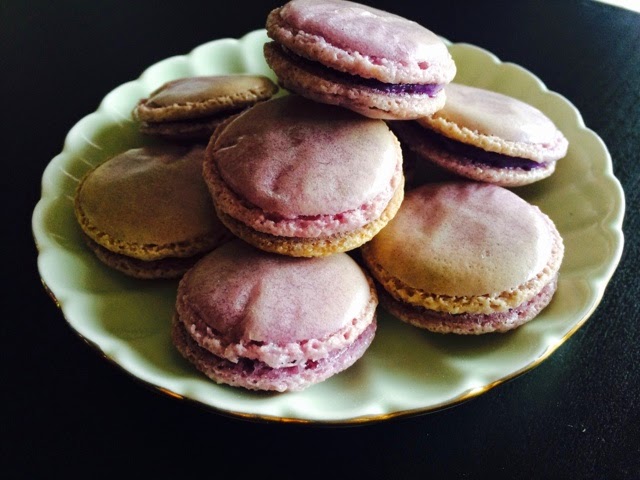 Yesterday's Macaron's, 'Vintage Rose', purple with a dusting of 'Antique gold' gold lustre dust.
However, my conclusion is that no, not anyone can master this stuff, there's a reason these French pastry Chef's spend decades perfecting their art and no matter many times I look at Pinterest or how many recipe books I pillage, I will never be up to their standard… perhaps in my head…
However, by all means, style it up yourself, make them how you want and it doesn't matter if they look like a Picasso painting and a bit like a dog's dinner….the thing is that it tastes good and you made it!