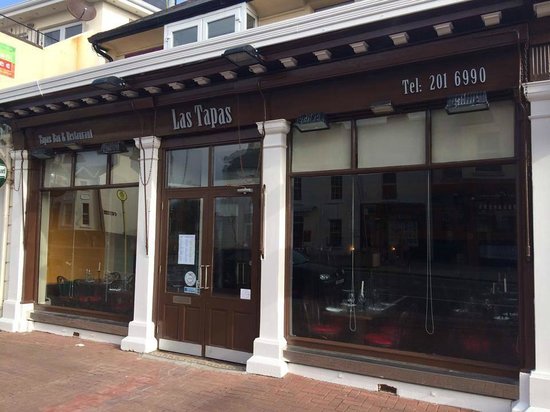 Review: Las Tapas, Greystones
With the rise of the Celtic Tiger, the boom in the Irish economy over a decade ago, we saw a surge of new restaurants, offering a wide range of international fare, from sushi bars to dining in total darkness, one of the most popular being Tapas!
Tapas originate in Spain, a very continental way to enjoy your wine, with several small dishes of savoury hot or cold food, the average size of a tapas dish is the size of the top of a glass of wine- tapas actually means lid! Tapas dishes used to come complimentary like peanuts but they took off in a big way! The way to enjoy tapas is that everyone at the table orders up to 4 items on the menu per person and everyone shares and takes what they like from all the dishes! Common tapas dishes would include little meat balls or 'patatas bravas' which are essentially little fried cubes of potato, usually smothered in a tomato sauce..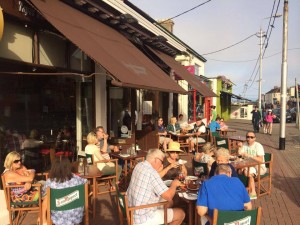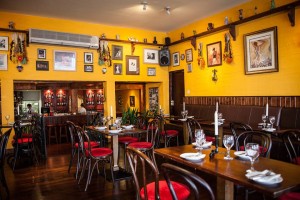 I've always noticed Las Tapa's in Greystones and loving Tapa's, I've tried and failed several times to get Ryan in there but he looks at the menu, sneers and says "noooo!" each time, personally I think it's because he didn't understand the concept. You see, my husband LOVES a big mammy dinner, something your mum would plonk in front of you on a Sunday afternoon, mashed potato the size of mountain ranges, gravy, roast meat of some kind…but don't get me wrong!! Ryan is a foodie too, just a very FUSSY one, he's also very skeptical about seafood and it's freshness, he worships seafood but will seldom order it due to his skepticism… He worked on fishing boats when he was 18, a century ago so he knows the process well.  😉
One afternoon when I was off, my brother & sister in law came to visit me in Greystones and took me out for lunch for a catch up, they were both off and thought, why not? Jonathon & Mia LOVE their tapa's and guess where we went!? HAHA! Oh I loved it! We sat in the sun, one of the last hot days of the Summer, shared some banter with the waiter and watched my nephew tear into a platter of calamari! It was great! As you have read in past posts, I cannot eat seafood, so,  seeing Jonathon in raptures over their calamari and cod I begged him to tell Ryan what he was missing…and he did, it went over his head. The menu is extensive divided into seafood, beef, chicken, vegetables, salads, nibblies & Paella's (pie-yay-yah)  a traditional fried rice dish. There is something for everyone!
We all arranged to meet up again, they asked if we could visit Las Tapas again because they were nuts about it and Ryan was forced to come too, it wasn't easy, I tell you! He was quiet on approach and complained under his breath that it smelled like sweat (it's actually what Chorizo smells like when it's being cooked) so I told him to quit whining and suck it in! 🙂
The staff are so lovely, always checking if you are ok, so you're never waiting long to order anything, I ordered a house red, the menu didn't seem to have wine by the glass on it, but it was extensive, hence I asked for a glass of the house selection, you are asked if you'd like light or full- impressive, I chose full and whatever it was, it perfectly complimented my choice of food! The atmosphere is gorgeous, basque music playing and candles everywhere, dimly lit and romantic, it was really busy, even on a Sunday night, and we were there early!!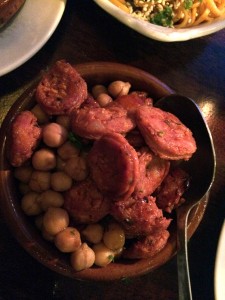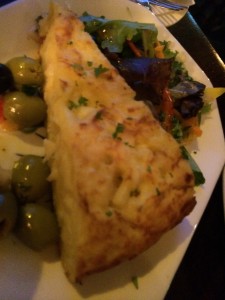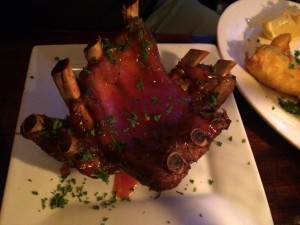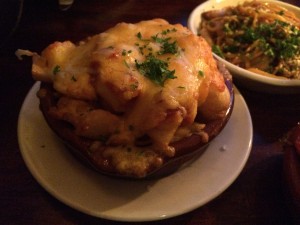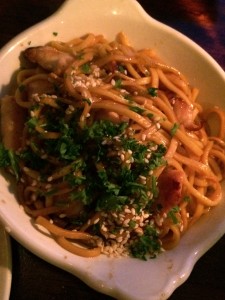 We got to order our meals, I got patatas bravas con queso, (with cheese) a chicken stir fry with noodles and chorizo with chickpeas, Ryan got Ribs, Cod, patatas bravas and Jonathan & Mia ordered a host of seafood from shrimp to calamari, some other fish I couldn't recognise and a Spanish Omelette, you should have seen Ryans face, he actually LOVED it! I was so smug, delighted with myself! His ribs were juicy and tender and his cod was light, fluffy and fresh, even on a Sunday!
I loved the stir fry, tender chicken on a bed of noodles, toasted sesame, I didn't share it because it was gone in two minutes, my Chorizo was delicious but could have been cooked a little more, it was a little too chewy but delicious none the less! It would be lovely to get a small complimentary bread basket to soak up all the delicious pools of oil on the bottom of all the dishes but bread is extra, not a deal breaker but it would be nice. I also LOVED the slow cooked basque style beef stew, we didn't have that lastnight but I had it previous, the beef is so tender it falls apart and has a wonderful flavour!
He wants to go back again during the week 🙂 (SCORE!!). Anyway..for 4 of us to have drinks, loads of food, we were all stuffed by the way, it worked out at €86, I think that's amazing to fully feed 4 people with a serious amount of seafood.
I urge you, to take a trip to lovely Greystones, not only is it my adopted hometown but it's gorgeous all year round, some Canadian's last week, described it to me as being like Nova Scotia, some say it's like East Hampton in the US, personally, I think it's like a nicer version of Cornwall in the UK, everyone sees it differently but one thing we do have that everyone agrees on is a cracking selection of restaurants and food outlets! Whether you live on the East Coast or doing some exploring, you need to come down and try Las Tapas! You'll leave with a smile on your face, a full belly and a little merry from the wine, just as it should be! Tell them The Creative Yoke sent you 😉
Should you not want to venture down to our Greystones, there's also a Las Tapas in Cabinteely!
I should also mention that Las Tapas also received a Trip Advisor award of Excellence this year too!-Well done guys, much deserved!