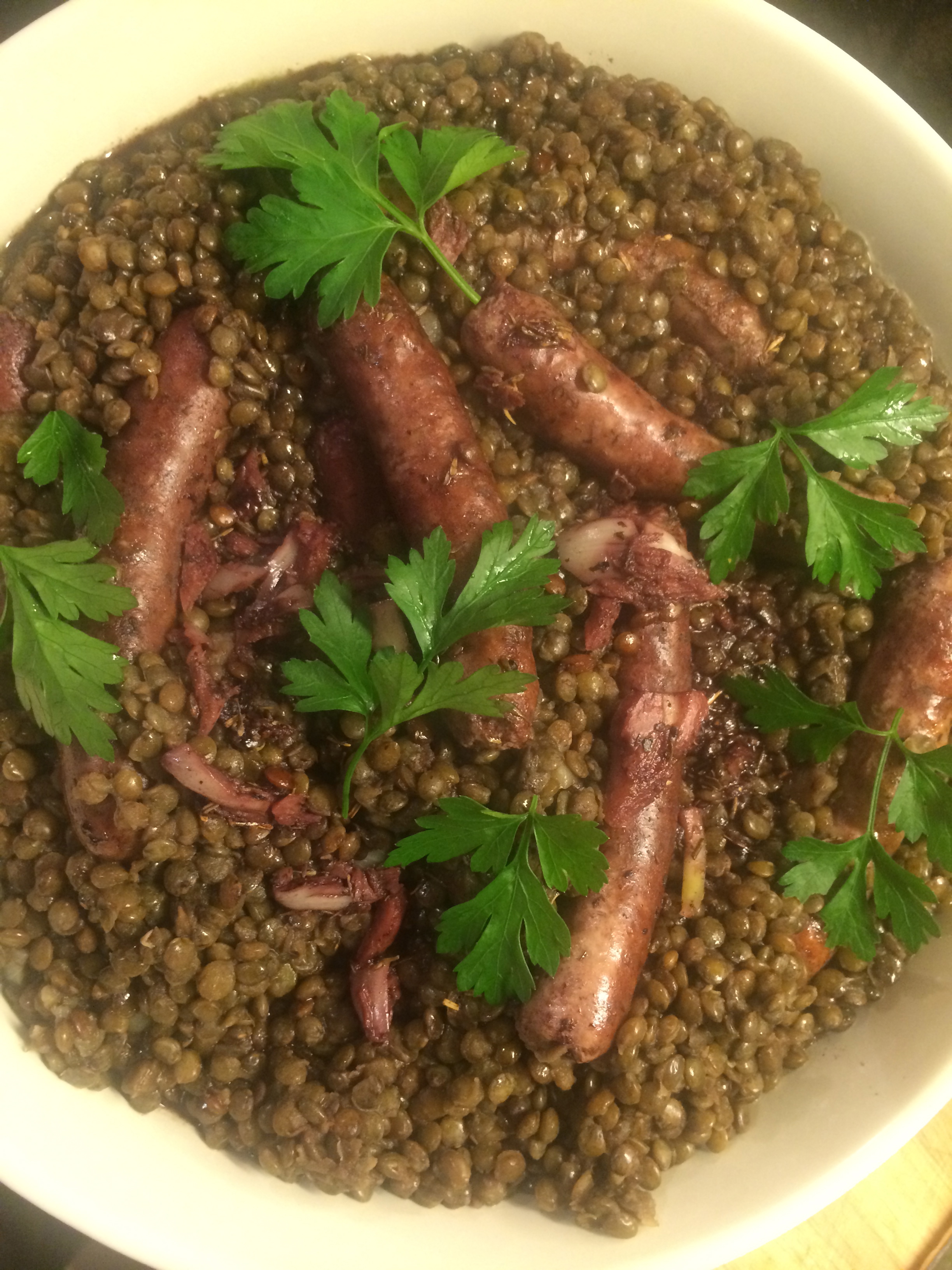 Gourmet Sausages & Puy Lentils Recipe
Delicious French Puy Lentils with Sausages
 I love dishes that make you feel really healthy, lots of lentils (especially Puy Lentils) and pulses, the best of everything! My chicken broth soup will always be number one though on the healthy food list, it's packed with protein, and collagen, yes, collagen, which helps reduce the appearance of wrinkles and helps year with an inflamed gut. If you're not supposed to eat gluten but do, the gelatin in the soup coats your intestinal tract and soothes them, it's also miraculous for colds and flu! But we're not talking about that broth now cause I've something that is a little more exciting, with the weekend approaching!
The Butlers Pantry is the object of my obsession, lately! They're much more than a bakery, with delicious moist indulgent cakes and organic breads and artisan foods, they also cater for parties! Glasses, cutlery, wine, food and even staff, all taken care of! The Butlers Pantry is a way of life! Anyway, I've lately discovered their Pork & Leek sausages, made exclusively for The Butlers Pantry by McLoughlin's craft butchers, they're gorgeous! These sausages are not only gorgeous on mashed potato with gravy but I made a dish with them last week, Vegetarians, look away now! 🙂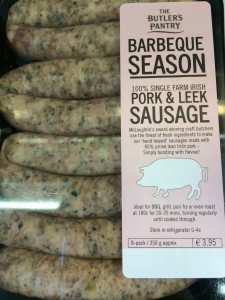 Puy Lentils with Leek sausages and Chianti! Nigella Lawson made a similar one on Nigella Bites years ago with Italian sausages but I found it rather tasteless, I find the addition of Marigold Swiss Vegetable Stock to the lentils during cooking, gives it a hearty flavour, if you wanted to be really naughty, you could cook up some panchetta or chorizo and add it too, but I think you have enough with the sausage.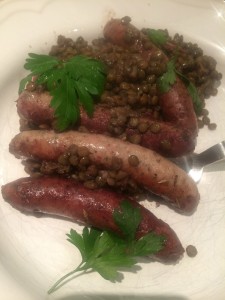 You will need:
300g (dry weight) Puy Lentils
2 large onions
4 cloves of garlic
1/2 glass of a good Chianti (and half a glass of water)
1 pack (about 350g) of The Butlers Pantry Pork & Leek sausages
2 tbsp Marigold vegetable stock.
Provencal Herb Seasoning
Black pepper
In a large saucepan, fry onions on medium heat until  soft and transparent,  I usually cover them with a lid to sweat and then add 2 finely chopped cloves of garlic, the lentils and stock, and adding water until it's at least an inch over the top of the lentils. Allow to boil and cover and simmer for about 35 minutes.
In a frying pan, fry the sausages, and and pour in the water and wine, add a teaspoon of Provencal herb seasoning, 2 cloves of garlic, finely chopped  and a little pepper and allow to reduce until the liquid reduces by half.
When the lentils are cooked and most of the liquid has dried up, pour the sausages and wine reduction into the lentils, garnish with parsley or a little cheese. I recommend you serve it with the same wine Chianti that's in the dish and any left overs make a lovely cold salad for lunch the next day!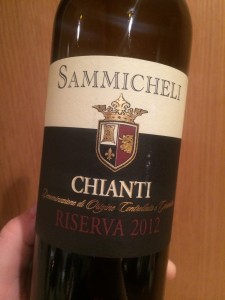 If you don't live in Dublin and can't access The Butlers Pantry, try and find a nice gourmet herb sausage at your local craft butchers,