Valentine's Day & Gorgeous Gifts To Hint For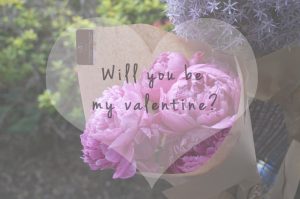 Some may cringe when I say that I'm a romantic, that I believe in Valentine's day.. Some may say that "If you're a real romantic, you shouldn't need Valentine's day".. I think it's lovely to have a day where you just celebrate 'LOVE', it needn't be romantic love but celebrate the love of your family, your pet, do kind deeds and just do generally lovely things.. are you with me?
This year, we're planning a night away in the venue of our wedding, Carton House in Maynooth, dinner and a nights stay followed by time together, enjoying the spa facilities and afternoon tea. From there, we'll go to The Shelbourne, where Ryan will enjoy a hot towel shave and, you got it….Afternoon Tea. We haven't splashed out in a long long time so it's worth it.
I've been searching the internet for months and found the ideal dresses for Valentines day, The Pretty Dress Company from the UK offers vintage style dresses that are budget friendly and exquisitely cut, extremely flattering dresses with beautiful fabrics even with a stretch! I'm even considering wearing one of their dresses to this year's Dublin Horse Show.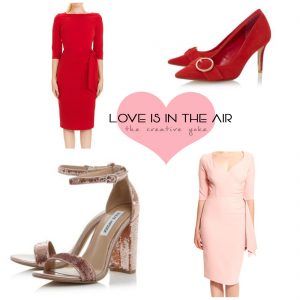 I love dressing up for Valentines day, I soak in an aromatherapy bubble bath the night before until my skin is gleaming, give myself a mani/pedi, the Chanel body lotion is used, hair deeply conditioned and set in rollers, I love to be polished.. I bought a dress for Christmas from The Pretty Dress Company before Christmas and I must say, they are true to size, all designed and made in the UK too. I bought the black Adrienne dress, a stretchy black, slightly ribbed fabric, ruching on the tummy too so it's extremely forgiving and can be machine washed too!! The dresses are sent by courier and normally arrive within three days.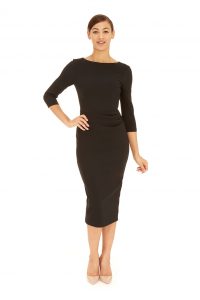 I miss when shoes were incredibly beautiful, around the time Sex & The City was airing, shoes were like works of art, unlike now, they're all like bricks and astronaut shoes with enormous block heels or porn star shoes. Dune have managed to maintain the art of beautiful shoes, shoes that you could match with a piece of couture with stunning handbags to match, the shoes above are my favourites, especially the Steve Madden sandals,with a dress like these, the hemline is much lower, true to that 1950's style and although a court shoe is lovely, I feel that sandals like these will lengthen the leg and you can show off your pedicure too. If I wear court shoes, I love to wear backseamed tights or stockings, a more authentic look and really finish it off- don't forget the pretty underwear!
---
…and as for the valentines day hints…
A Trip To The Amalfi..?
If you want to create a mood, we all know that candles are the way to go.. Max Benjamin have come out with the most beautiful collection of candles and diffusers inspired by one of the world's most beautiful, colourful and fragrant coastlines. From Sorrento to Positano, over to beautiful Capri on a boat and then further south to Amalfi. An aroma journey of local fresh citrus fruits, plunging cliffs with wild flowers and showers of fresh romantic sea air! I indulged in a couple of the scent cards which can be used in your handbag, wardrobe, underwear drawer or car. You can purchase the collection from Kilkenny Shop's nationwide.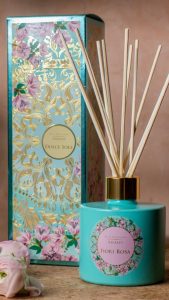 Fiori Rosa
Fiori Rosa has top notes of grapefruit, bergamot and tangerine, a heart of rosemary and jasmine, with a base of vetiver and musk.

Dolce Sole
Dolce Sole has top notes of grapefruit, bergamotand tangerine, a heart of rosemary and jasmine, with a base of vetiver and musk.

Acqua Viva
Acqua Viva contains top notes of mandarin, orange, lemon and cassis.  Middle notes are cardamom and pepper with base notes of musk, amber and cedarwood.
A Charming Affair?
If you've been following my social media platforms, you'll have noticed that I'm a huge fan of ALEX AND ANI and it's available in Ireland through The Kilkenny Shop. I never before showed interest in charm bracelets, the heavy klunkiness of them never appealed to me, until I discovered these. An eco conscious company, using all recycled materials, down to their packaging, the materials named Raphaelian Gold/Silver named after the founder of the company, Carolyn Raphaelian. They are indredibly light, you wouldn't even know you were wearing them if it weren't for the rewarding little jingle of the talismans that dandle from the stackable bangles.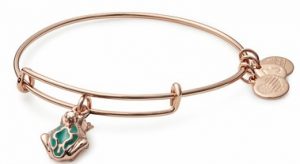 You create your own positive energy with your own customised collection of charms/talismans, for example the Frog Prince (pictured left) which  symbolises someone coming into your life at the right time for the right reasons. This is one of the 2017 Valentines range available in Kilkenny Shops all over the country or online.
My personal collection includes the Hand of Fatima, The Compass, The Butterfly and the June birthstone.
Wear Your Heart On Your Sleeve…?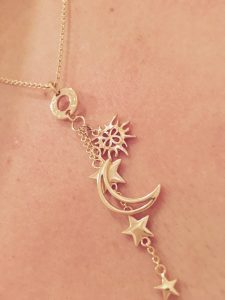 I've always had a softspot for Newbridge Silverware, we've used their silverware and cutlery in our house since my Nana's time. When Ireland's sweetheart Amy Huberman and Newbridge joined up to create the Amy collection, I got really excited! I'm not one to wear yellow gold but this was an exception. It's positively radiant with guilded beauty, how fitting for a little sunshine pendant to gleam in the sun on your neck..? Better still, a gleaming heart to signify a burning love? I wear the NL060 Charm necklace (pictured right). I love it and I love how it's got a drawstring feature, like most Newbridge pendant's have now, so you can adjust it to suit any neckline or neck size. Earrings in studs or drops also available.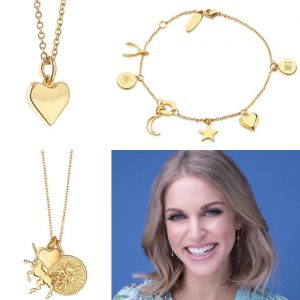 Keeping It Natural..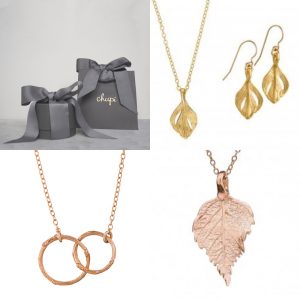 Okay, keeping  some of the best for last… If you're Irish, you'll have heard of Chupi or seen her divine Instagram account.
Chupi is a multi-award winning jewellery brand founded by former Topshop designer Chupi Sweetman. Irresistibly drawn to "wild and natural things" Chupi's aesthetic is influenced by the imperfect natural beauty of feathers, twigs and leaves complemented by the sparkliest of gemstones. Our signature piece is the I Can Fly Swan Feather Ring cast in solid sterling silver and plated in 18k gold from a delicate swan feather found along the banks of Dublin's Royal Canal. We create a delicate jewellery collection made for your inner magpie, with fans around the world from London to Tokyo. Each piece is designed, manufactured and finished in Ireland.
The gemstone rings make my heart positively pounds when I see them, glistening with such fury, they'd make Marie Antoinette blush. I tried some one at the Craft & Design fair at the RDS last December, far too small for me was the one on display but by god I want one!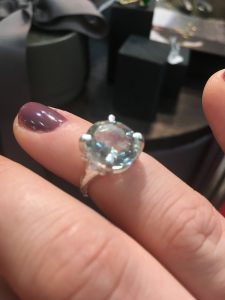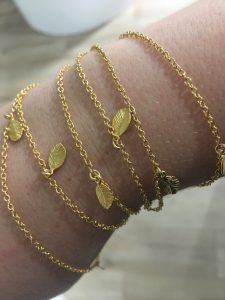 And then there's this…beauty..
This Guess bag stole my heart, the Tulip Clutch bag comes with a gold chain, so you can sling it over your shoulders when you want to dance with your love on Valentines night… it's pale gold metallic finish would go perfectly with your little red valentines dress, dustbag also included to keep it looking beautiful for longer. Priced at €89 from Kilkenny Shops nationwide. I can only hint, hint and hint for this.. Also comes in pale pink & black.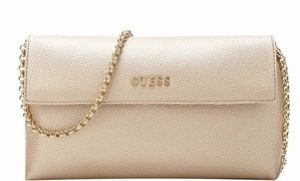 Better still, pop in to The Kilkenny Shop and grab one of their clever 'Hint Hint' cards, jot down what you're lusting after, give it to your significant other and if they return to buy it, you can win a prize!  Now that's direct!
Whatever you do, however you celebrate, have a gorgeous day!
Sarah
xx
Save
Save
Save