Hi guys, it's been a couple of weeks, sorry for the lack of posts but I have been all over the place, trust me! My husband recently turned 40 and myself 35, I was planning a big party for the two of us and it was a fantastic evening, it also happened to be the hottest day of the year and of course I made a chocolate cake- that was fun let me tell you(not)!
I took the week off work to try and get our apartment sorted, well, I told myself it would take two days but who was I kidding, I was bleaching voile curtains, shampooing the rugs, I was like a woman possessed.
Then there was the food, we only decided what to do the week of the party, a nice Summer tapas theme, complete with Spanish/ acoustic guitar playlist on Spotify, then I had to make the cake the day before, Ryan's favourite cake is Devil Food Cake, I had no idea how I was going to decorate it- that happened the day before -in the heat and then there was the balloon saga, we bought balloons and had them filled with helium for the buffet table… my hubby has tinnitus and so with the heat, the balloons were bursting in the car and that was…well…. horrendous, poor guy!
Anyhow, the party was a great Success, my friend and blogger buddy Norma from The House That Will came to stay for the weekend and I introduced her to one of my favourite spots, Killruddery house, we simply had a blast of a weekend and I got over the panic.
It's been a bit busy at work the last two weeks too so I'm just getting around to open my laptop again and get back to the blogging.
I've a blog post coming up over the next two days about the party so watch this space!
Sarah xx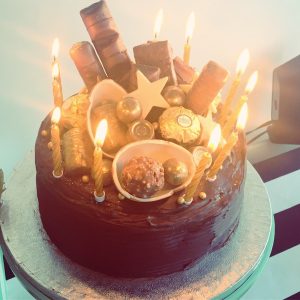 Save