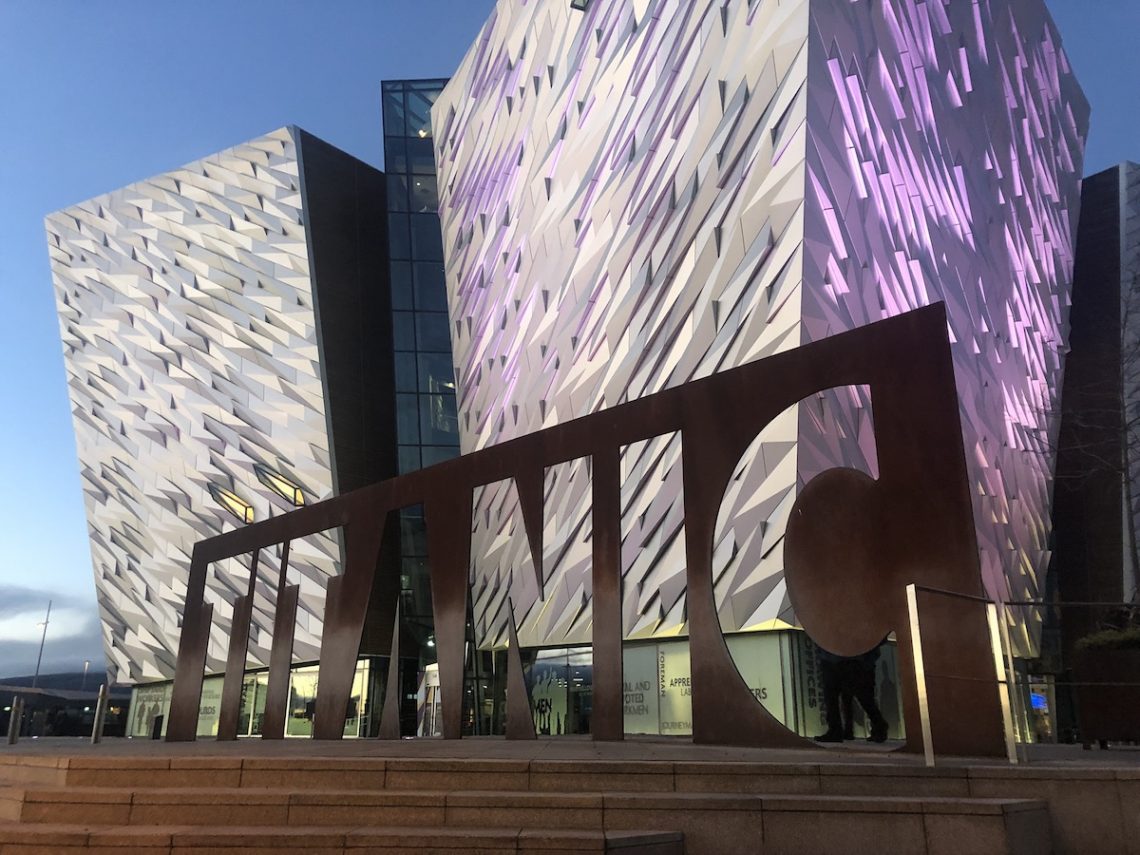 Beyond The Border: Two Days in Belfast
Belfast, the second largest city on our beautiful green island and home to much conflict over the centuries. I took a couple of days away to this fabulous city where you're guaranteed to have some fun!
Situated 165km from Dublin, it's just a two hour train ride on the Enterprise train which leaves you at Lanyon Station (formerly Belfast Central). The city centre is walking distance but if you show your train ticket to the driver, the bus into the heart of the city is free.
I went with my Mum as we haven't been away together in six years. We stayed at the Belfast Hampton by Hilton hotel on Hope Street which is not far from City Hall so you're right in the middle of it all. If you browse travel websites like Booking.com, you can get some really great deals, we got a twin room for two nights, totaling €150, breakfast included for both of us, that's about €35 a head per night! The Hampton is spotless and has obviously just been renovated, you can almost smell the newness, everything is lovely and crisp. It has to be said, the breakfast was my favourite part, you can make your own Belgian waffles…. yes, make your own and it's the coolest thing, you can then add chocolate, marshmallows or a range of sauces on top. I opted for maple and banana waffle and split it with my Mum. If waffles aren't your thing, there are are so many other options, no matter your preference!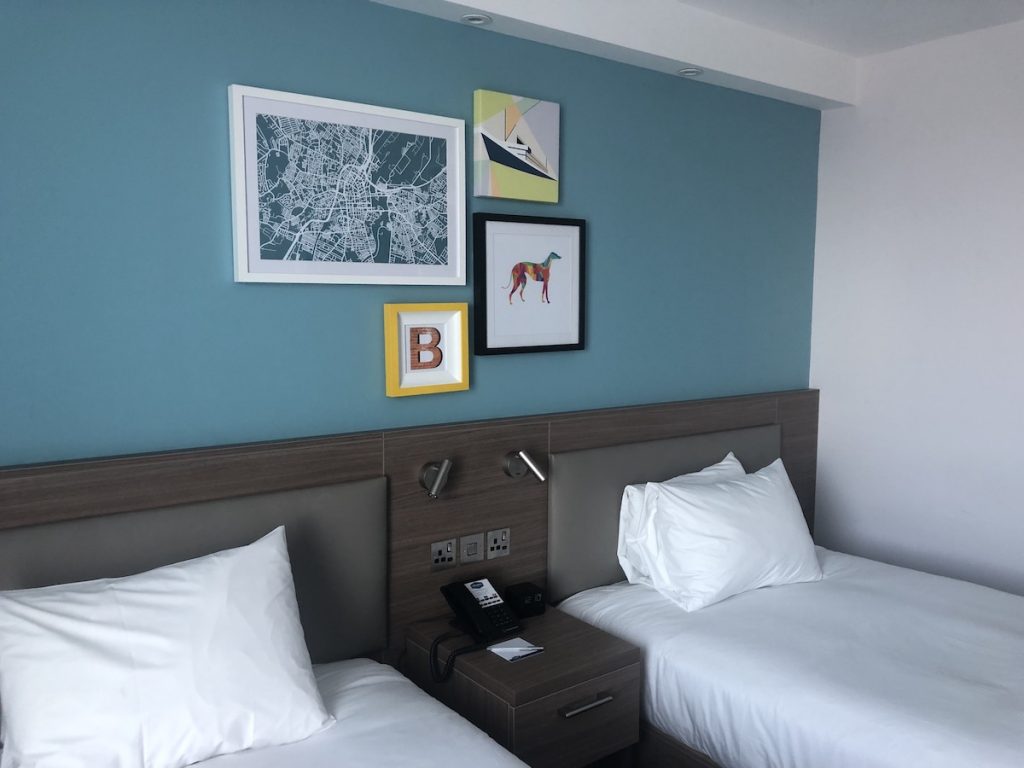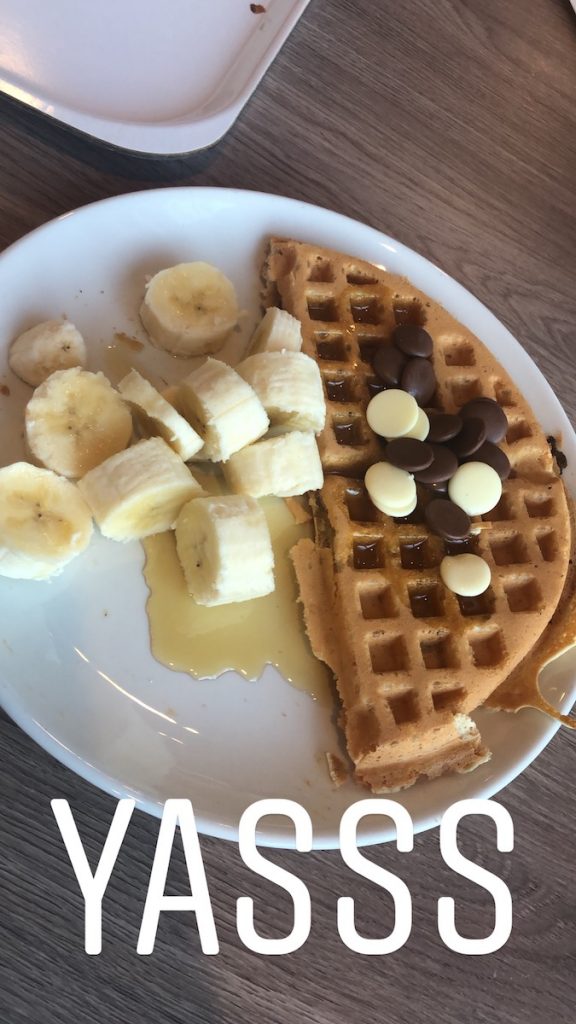 I'm one of the biggest Titanic nerds out there, I've dozens of books and watch every documentary that History Channel broadcast on the subject. The Titanic experience was my first port of call, in fact I booked it for an hour after our train arrived in. Hopping into a 'Value Cab' from our hotel I discovered that I have never experienced anything like Belfast cabbies, they are the NICEST Gentlemen you will ever come across, each one is bursting with passion and pride for their city and you get a mini tour with each trip, they're happy to give you advice and information if you need it. Our cabbie told us that if you keep your receipt and present it at the Titanic store, you'll get 15%off your transaction, which I did! When catching the Titanic exhibition, it is best to pre-book online, not only is it cheaper, but you'll save yourself the hassle of queues and if you book the standard tour it's as good and a lot cheaper than the 'White Star Premium Pass' which adds a guided tour and photo… I recommend just getting the Audio tour for £3.50pp, save the money for a pint later on.
The Titanic exhibition is incredible, you learn about everything from the Belfast's industries back in the day, Whiskey to rope and linen making, the anatomy of ships, a full history and rundown of Titanic disaster. My favourite part was a 3D audio visual tour of the ship, you stand in a little alcove of one of the galleries, screens on all three walls and added sound effects, you're taken from the engine rooms, right up through the grand staircase, up to the Bridge, beautiful 1912 string music in the background, similar to the music the passengers would have heard. it's so realistic that you feel unsteady on your feet, as if on a little cherry picker, reaching up from the bowels of the ship. Form there you're shown reconstructions of 1st, 2nd and 3rd class cabins…it's incredible. Without giving too much away, fast forward to the end where you sit in an auditorium to watch ROV footage from the discovery of the wreckage, you can't help but shed a tear, it leaves a mark on you.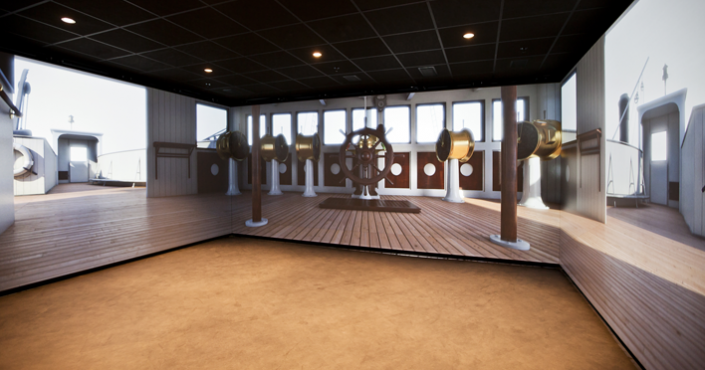 The gift shop is a great way to purchase a souvenir, I purchased some fudge in a beautiful Titanic tin and a replica of a third class coffee mug, only because the first class cup and saucer was a steep £30. With your ticket from the exhibition, you are entitled to step onboard the Nomadic, the last existing White Star Line vessel, rescued from scrap in France, it ferried passengers from Cherbourg out to the Titanic, including the famous 'Unsinkable' Molly Brown'.
After all the walking of the tour, you'll feel peckish. Cross over the road to the old Harland and Wolff HQ, which is now a hotel, the very drawing rooms where Titanic was designed by Thomas Andrews and his team is now a light filled lounge, cozy, even on the coldest of days, they offer a delicious menu from burgers & seafood & afternoon tea, we opted for delicious burgers, neither were skimpy with portions, lovely flame grilled flavour, presentation could have been better for such a hotel but hey..it was a burger and chips..
After dinner, we did some shopping in Victoria Square, the main shopping centre in the Belfast city centre, open until 9pm. Here you'll find everything from a cinema, department stores, restaurants and highstreet shops- If you come for the shopping, you'll be delighted to hear that everything is in really close proximity, you'll be surprised at how small the inner city actually is. Just don't miss a shake in Five Guys, INHALED mine! Don't worry, I didn't get a meal in there after my burger from earlier… my shake was desert!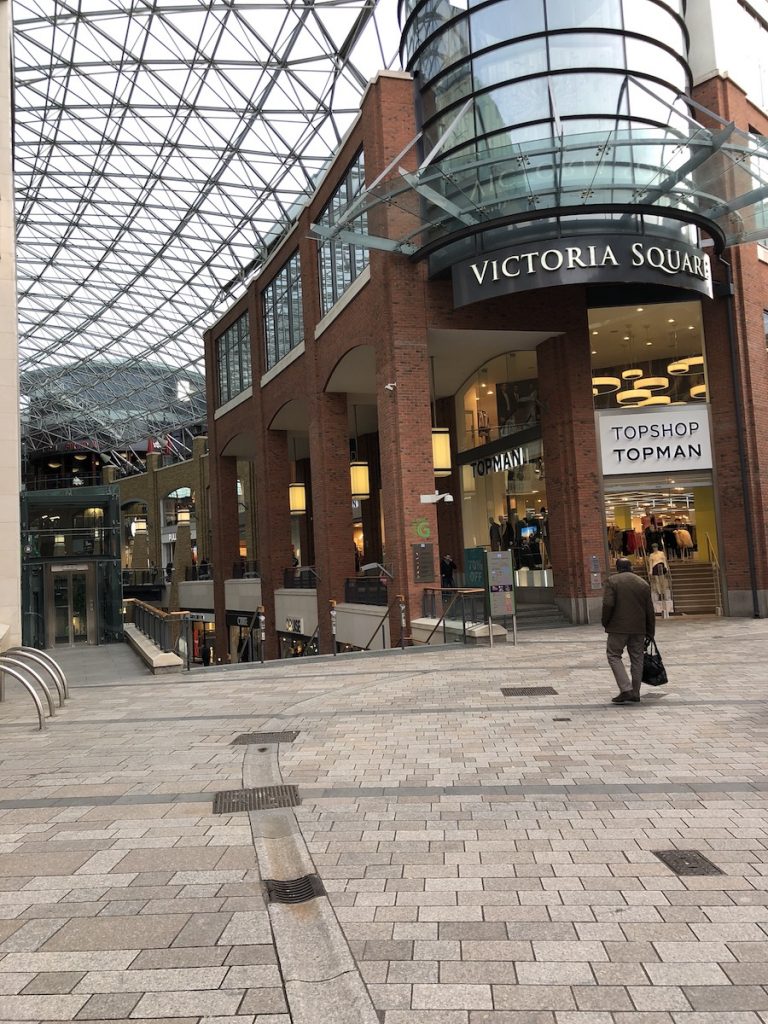 Shopping can take it's toll on you but should you want to go out for a few drinks to 'rehydrate', there are plenty of swish places to drink, if history is what you like, The Crown Saloon on great Victoria Street is one of the oldest pubs and still has it's original Victorian features, it's reputed to be haunted by a prostitute that fell down the stairs and broke her neck in the early 1900's- not spooky at all (as I look for the exit)..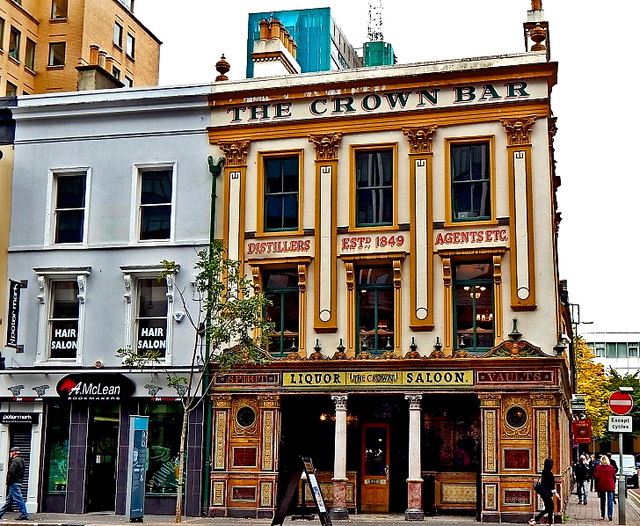 Day Two:
Black Cab Tour:
I wanted to take one for ages and it all worked out when the absolute gentleman of a cabbie, 'Sean' who drove us to our hotel on the first day, also gave tours and we arranged one for the next morning after breakfast. Sean met us after in our hotel lobby, treated us like family and took care of my Mum who has dicky knees, he made sure she was kept lovely and warm, escorting her out of the cab like she as a Queen…I just cannot recommend this gent high enough. You'll often get tours when you feel like you're being fed absolute rubbish for an extortionate fee but he knew his story, right back to the 1700's, we got all the facts. When we got to the 'Peace Wall' and the murals, I was saddened, I had no idea that they still had to lock big gates at night and a 24ft fence separated Protestant's and Catholic's every night.. I knew there was always tension, but not to that degree. Personally, I'm affronted by hatred and cruelty and was left with a little piece of my heart broken… Sean was fair and didn't take sides, utterly professional and respectful, his personal political opinions didn't come into it- just in case anyone is wondering. Please book this man for your tour if you go up, you will NOT be disappointed, he also goes out to the Giant's Causeway.. If you'd like to book Sean for a tour, give him a call on +44 (0)7510242214 or drop him an email on seanmcclarnon16@gmail.com
"Love Your Neighbour"

Remnants of the Infamous Bonfires

Peace Wall
Afternoon Tea at The Merchant Hotel:
I had something special planned for mum, later on that afternoon, Afternoon Tea at the extremely luxurious 5 red star Merchant Hotel. Formerly the Ulster Bank HQ, it's kept most of it's original features like a decadent brass and crystal chandelier that hangs from the glass domed ceiling in the Great Room, surrounded by golden cherubs and ornate stucco features, it's hard not to have your jaws wide open. It was like a celestial palace. Personally this shouldn't be missed, even if you don't stay at the hotel, get dressed up and attend their tea. You're surrounded by red velvet walls, a heated floor and deliciously opulent red velvet chairs, tea is presented in crisp crisp linen with silver plated teapots. It was divine and no description I could possibly give would give it justice. All I can say is that I am a seasoned Afternoon Tea taker and this was the best experience yet, you literally feel transported in time, the finest of the finest. If you can't finish it, they even present your leftovers in the most dainty little red handled box to take home for later.
The Powder Rooms are even Seductive

Bottoms Up!
Later that evening, we went to Fratelli's for dinner, on Great Victoria St, just a few feet from The Crown. Fratelli's is nothing fancy, delicious Pizza and pasta with ENORMOUS portions, quite casual, lovely upbeat staff and a kickin' cocktail menu. I will warn you, the personal pizzas are so big that heads turn at they approach you, so much so that you feel like a glutton, so I might suggest sharing a pizza and getting a starter.. I got through mine though…I was on a Keto diet all week, had lost a stone and was dying for a carbohydrate… I inhaled it!
When our last morning came and we packed to head for the train, a little heartbroken to be leaving this beautiful, fun loving city, I vowed to return soon and soon I will, I might even book The Merchant for a night or two… sure why not?