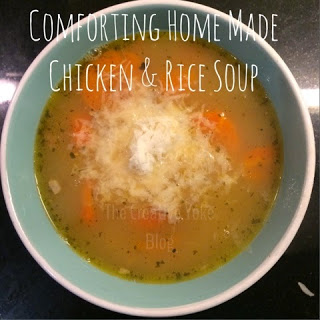 Warming Soups Which Wont Add Pounds
So last week I did the Dukan attack phase and lost about 9lb's in a week, it's usually more but our bodies work in weird ways.  I am trying to lose more now for Christmas and being really good, I even secretly have my husband on a diet and he doesn't know ;), no oil, cutting out sugar where possible,  low sodium, less starch (none for me) I started the week by rewarding myself and making a delicious comforting chicken soup from the roast chicken carcass the week before, I was only allowed breast meat and since Ryan wasn't here, I froze it. I love my chicken soup,  When I'm done with a roast dinner, I peel about 6 large carrots, 3 onions and some celery and put them in a stew pot with garlic, black pepper, thyme, parsley, sage and put the left over carcass with any cooking juices and full the pot with water, cover and boil for as long as you can. After about a couple of hours, you'll find it's reduced a lot, I usually refill it with boiling water, re-boil and simmer for three to four more hours. When time is up, I take the carrots out, set them aside, lift out the bulk of the meat and vegetables and sieve the soup into a clean saucepan, slice the carrots, put them back in the soup with about 1/2 cup of basmati rice (most china teacup's measure an American 'cup' measure) and pick out the nice meat, chopping and adding it to the sieved soup, I also add a good glug of cider vinegar, simply because I love the taste of it in this soup, really compliments the flavour. You can taste it at this point and if you find it's lacking in taste, I add a Knorr Chicken Stock Pot (this is because we've added more water, the rice sucks up a lot of it too remember). Bring it back to the boil and let the rice cook.  Serve with freshly grated Parmesan cheese on top.
You always feel so nourished after home made chicken stock soup, if you have someone with cold symptoms in the house, this is sure to help out!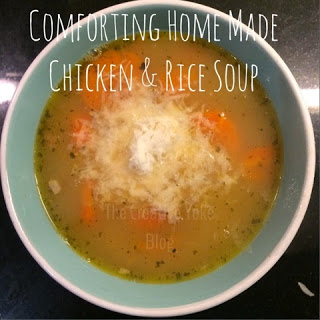 Other healthy meals included were braised steaks, like last weeks, I wanted my husband to try it, so he made some mashed potato to go with his and I made mashed carrot (with nutmeg and no butter)- see the healthy alternative? Another was baked chicken breasts, put some chicken breasts in a casserole dish with  some Passata (cooked sieved tomatoes, sold in a jar or carton) , whole garlic, Italian Seasoning, cover and bake at 190˚C for about 40 minutes until the sauce has reduced to nice thick consistency. You can sprinkle a *little* mozzarella on each chicken breast when it's done and re-cover to let it melt for 5 minutes, gorgeous! There's no oil, no fat, so healthy, so yummy with a rocket salad and balsamic vinegar….Ryan had a little spaghetti with his.
Lastnight I made the yummiest soup and decided to share it with you, if you love Mexican flavours, you'll love this…I sort of improvised as I went along but loosely based on my memory of Red Lobster Restaurant's Chicken Tortilla soup, one of my favourite restaurant's. I made it with minced Turkey which is again  lower fat than chicken.
If you've a big family to feed, this is nice and cheap, you'll get about 6 bowls from it, I used a small amount of low fat cheddar cheese, grated on top, most supermarkets stock 'Mexicana' cheese now, Supervalu definitely does… it's got Jalepeno's through it, quite spicy and delicious, but loaded in calories too… I got lean Turkey mince from Aldi for €2, about 500g.
So here goes: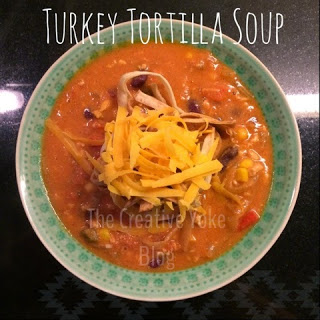 What you'll need:
Cooking Spray (like '1Cal')
1 large onion
3 fat cloves of garlic
500g ground turkey/turkey mince
1 packet of taco seasoning
a handful of frozen sweetcorn
1 400g tin kidney beans (washed & strained)
1 red pepper
1 green chilli
2 400g cans of chopped tomatoes
1 pint low sodium chicken stock
3 generous tablespoons of soured cream
2  flour tortillas
grated cheese
In a large soup/stew saucepan,  spray the base 2 or three times with cooking spray and cook your onions until transparent, you could cook half way, add a pinch of salt to stop them browning and cover, simmering until done. Add turkey and garlic, fry until cooked.
Chop pepper and chilli and add, cooking further, add seasoning mix and stock, bring to the boil, simmer for 20 minutes  on low heat.
After about 20 minutes, add the tomatoes, sweetcorn and kidney beans, sour cream and mix well until the soup becomes a creamy consistency. Serve with strands of baked tortilla and top with cheese.
For the soup taco's, turn the oven to 170˚C , tightly roll a flour tortilla into a cigarello type roll and slice thin slices, place on the baking sheet and bake until form and golden.