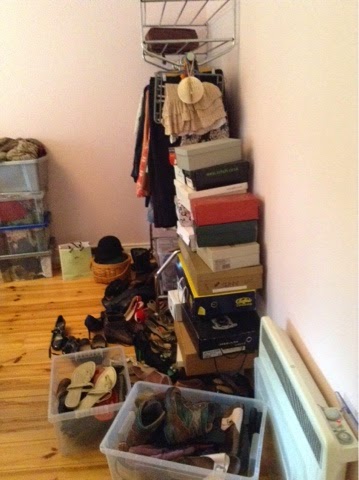 A Fun Day In Front Of The Camera: Closet Clearout on Xpose
I've had quite an interesting week! I was asked to represent Howards Storage World in Carrickmines on TV3's Xpose for their monthly 'Closet Clear-Out' with Lisa Fitzpatrick and Peter O'Riordan. I'd done it last month but behind the scenes, myself and Olive did all the graft and then it was filmed the next day, this time, we did all the graft, but I had to go and film the next day-SOLO!
I'm not a stranger to TV, Mum had me on BOSCO, Anything Goes, Scratch Saturday and a couple of drama's as a kid, as one of the storytime kids or as an extra. It was a sort of perk of her job at RTE. During my teen's when we moved to Galway, I regularly appeared as an extra on Irish language soap 'Ros na Run' (cringeworthy) I remember being a nurse on it once, even said a couple of words, but to a 17 year old…. it was like appearing in a big budget movie, you were going to be on national television!!! I have a face for radio unfortunately!
So back to Xpose, last month's closet clearout really got me excited, Teresa, a social worker from Drogheda was the ultimate fashionista, when I say she had a serious amount of clothes…I'm not joking! Teresa lives in a stunning apartment in an old convent, converted into apartments, but still keeping it's architectural features. She's got two small bedrooms and in her own room, had a vintage wardrobe and two runner rails PACKED with clothes, they were even in boxes and bags around the floor. After Lisa Fitzpatrick came and advised her how to dump what she didn't need and separate it all, it was moved into the second bedroom, she worked on it for a couple of weeks on her own before we arrived, giving her time to get to charity shops and have necessary time to mourn the loss of beloved unworn clothes (We all know how that feels!) We've all bought things in sales and last minute panic before going out somewhere and ended up not wearing it, or the classic scenario of "OH I'll lose a few pounds and it'll look great on me!", only the weight loss never happens and by the time it does, you wouldn't be caught dead in the outfit! Don't deny it, you're nodding your head as you read this, right?  If it doesn't fit you now-DON'T BUY IT! Put the money in a jar and save it for something you'd normally see and think "Oh, I wish I had the money for that!!"!
After Olive asked me do work on the show, we decided on some necessary products to tame her chaos, she had a beautiful antique cast iron bed frame, meaning LOADS of space underneath, a serious shoe collection with some amazing eye-popping Topshop and vintage shoes, so shoe storage was needed, something for her dressing table. The second biggest issue was her jewellery! This girl was well traveled and she had stunning ethnic jewellery and scarves as well as lots of vintage pieces and costume jewellery, the girl could stock Jenny Vander's vintage shop for a year and still have more to offer! So I thought of the Umbra Couture black dress, it's a black satin dress that comes on a wooden hanger, about a hundred little mesh pockets for jewellery so you can see it all, a little waistband with a steel bar inside it (to prevent sagging) so you can line up your rings and cocktail rings and then little hooks around the neckline for chunky necklaces, it's the same on both sides! Whoever designed it is a genius!! The beauty of the Couture Organizer it's security element, god forbid thieves burgle your house, the first thing they're going to look for is pricey electronics and jewellery….they'll look for jewellery boxes, drawers and safes (I'm not a thief but I imagine that's what they'd do!)  I'm not sure they'd flick through your long hanging wardrobe, unless they have a penchant for women's clothing (but then there's the Bling Ring that attacked celebrities wardrobes in LA).  It's absolute genius! Anyway, we wanted to hang the 'dress' on the wall but we didn't want to damage her wall for the sake of a TV show, so letting her make that decision, we hung it on her window with one of her stoles around the shoulders of it and one of her brooches in position, it was a feast for any magpies eye!
I also chose their Allure 7 drawer Acrylic jewellery unit, it's got rubber foam drawer liners so your jewellery doesn't roll about. Teresa had loads of vintage pearls and rhinestone brooches so we made them a focal point and I dressed her window area with the organizer, a stunning pair of shoes,  and this gorgeous crown decoration she had-the girl's got style!!!
Moving to her dressing table, we used Howards' Maxi Organizer, another one of the acrylic pieces that beauty bloggers go gaga for. Teresa also had a serious Dr.Hauschka and essential oil collection so it all slotted in there with her make up, leaving her drawers for hair and nail products, for which we used the RC drawer organisers (I L.O.V.E THESE. we also used a 'Stackables ' unit for before her bed, to hold her phone and iPod upright while charging, and looks pretty darn cute too, in blue leather and a polkadot lining, it really fitted in with her vintage style room!
It was such a fun day, I'm a trained Visual Merchandiser so doing projects like this and 'styling' bedrooms is a treat!! I like to bring out the candidate's personality in the room, using focal points to represent them, be it a pair of stunning shoes or books…. yes the candidates get anxious when they see you going through their wardrobes and cosmetic bags but honestly, I only see the job in hand, NOT judging the person. it's exciting!
Then a couple of weeks ago, I was asked to do it again, but alone, and be interviewed for Xpose, I almost had heart FAILURE, did I really have to go on air?! Ah!
This candidate was an inspirational lady, Ciara from Naul, Co.Dublin. The girl had lost 5 stone via weight watchers and has become somewhat of an athlete, only her addiction for running gear had taken over her wardrobe to the extent that her clothes were hanging outside the wardrobe and her sportsgear was dominating the wardrobe, medals hung from every handle, shelf and doorknob and teddybears dominated a whole wall. Ciara also had her clothes in black bags on the floor and on her dresser, about fifty makeup bottles, beautiful cosmetics and a whole drawer of sale makeup, never touched and in it's packaging…..the girl was a hoarder!! She knew it, that's the first step to getting help and in fairness, she did reach for it, she reached out to Xpose and they listened, I mean….there wasn't even room for her boyfriend in there!…..there were also rollerskates, not rollerblades…..SKATES, and the girl is 35!
I arrived at Ciara's house, a couple of weeks after the crew ransacked her clothes, I had my work cut out for me but first the tv cabinet had to go, she had hundreds of CD's and a hi-fi system with speakers as big as a Mini Cooper, the dust was an inch thick and it just dominated the room, I strongly suggested she mount her flatscreen tv on the wall, the SKY unit on a floating shelf and upoading those CD's onto a computer or iPod an investing in some bluetooth mini speakers what give huge sound.
Starting then with the wardrobe, I installed some ELFA easy gliders, they're so easy to screw in, they come with little woodscrews and just screw straight in to even laminated shelves.  for the taller shelves, I used an ELFA 4 runner Mini freestanding drawer unit and in these, I put all her running tshirts and leggings, the side of her wardrobe was for sportswear only and her workwear as well as dresses would all go into her main wardrobe with Howards KIS shoeboxes which are stackable and have little doors on the front so you can see and takeout your shoes! GENIUS!
The Teddies had gone and in their place, her books, some lovely Irish literature and fashion books, leaving us with the dresser. EVERYTHING came out of the drawers, stuff that was out of date ditched, those perfume bottles gone (perfume goes off after a year and begins to smell sour). The drawers were loaded with organisers and dividers and on top an Inter-Design modular stackable unit, no matter how little space you have, you can build this up into a tower, can see everything and it's all accessible, her makeup brushes were all loaded into a trio cup so they would let the air circulate them, after all of this you could actually breathe in her room!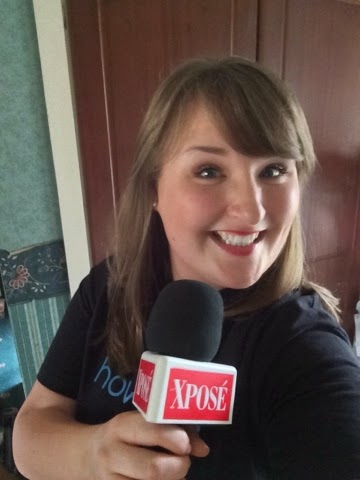 Yeah…the diet starts now!
We all had great fun filming, Peter arrived with a cameraman and Sinead, the researcher for the show (fabulous lady) aside from the camera gaining that extra 14lb's and revealing a barrel neck on yours truly….it was a sun experience! I'm definitely going back to the dieting and starting to go running, myself! I'm not going to look like that next month if I get to do it again!
All of the items listed were from Howards Storage World (which has since closed), you can find these items nice and cheaply at stores like Homestore & More and Muji..