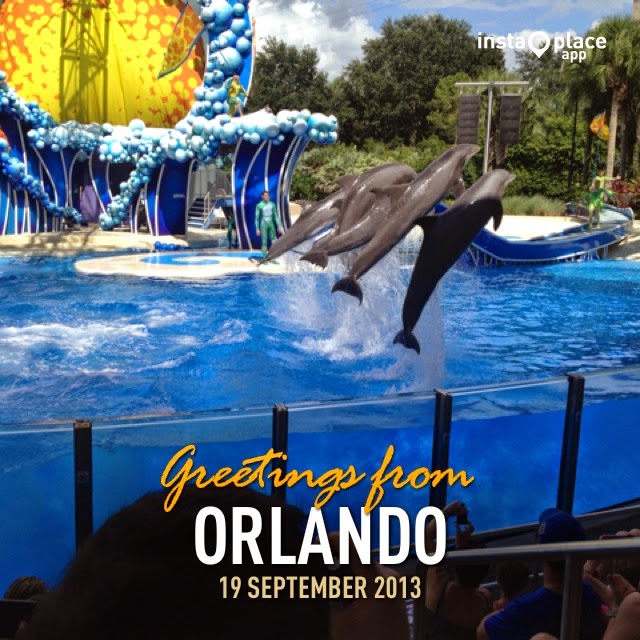 Orlando, what to see and how to get the best prices!
I write about the States a lot… I do, but you have to admit it is pretty awesome to visit! I've been going over to  my American Stepfather's place since I was twelve, and since then, racked up some serious air mileage. Mostly I'd travel to the tri-state area around New York, in Summer camp, we'd venture up to Rhode Island and Massachusetts for trips. I craved more, such a huge country and so many cultures, each corner of it has a COMPLETELY different culture. L.A was always my tunnel vision. I know I can make things happen when I set my mind to it and after graduating Secondary school (high school) I worked around the clock at a local hotel during the racing festival and throughout the summer, working every position they could give me, from nightclub glass collecting, to cloakroom, banquet bar and waiting tables, I even worked two job's that summer, by day the Hat shop, by night the hotel, home for a few hours sleep then back in…and you know what? I made it to LA that August, a two week  holiday and it was worth every hour of work I grafted!
I had never thought of Florida, I imagined that outside Disney World, it was just golf courses and senior citizens, so it never appealed to me..
Fast forward about twelve years, after getting married, I always read it was tradition that the husband to be that was to plan the honeymoon giving the wife a break after the wedding planning. Ryan looked at me in the eye one day and asked me "DO YOU TRUST ME!? I have a great idea for our honeymoon, can't tell you, but DO YOU TRUST ME?", considering he knows me better than myself I succumbed, I passed all responsibility to him to plan our honeymoon. We got married November 2010, but we decided to hang on and save again for an even better honeymoon and we already booked to go to New York to spend that Christmas with my Stepfather and Mum in Manhattan in the apartment so that would take a chunk out of our savings, the following January, we'd start saving again. The honeymoon was booked for September 2012 and I still didn't know what it was, but June of that year, I got really sick, a nasty sinus infection, eye infection, chest and throat infection and glandular fever to top it off, I think I worked myself too hard and it caught up on me. Ryan's a sucker when I'm ill, he'll do anything to make me feel better, bless him…so he let it out, told me we were going to Orlando. Don't get me wrong, I wasn't disappointed, it's a million miles from what I expected, sort of caught me off guard, thinking our honeymoon would be nothing but Mickey Mouse, screaming kids and roller coasters, my heart (I confess) dropped a little.
BOY WAS WAS I WRONG!!
Fast Forward again to September, I had great fun buying summer clothes on sale in September, the chuckle of delight when I bought the most gorgeous pair of white skinny jeans for €10 (which turned out to be the most hard working item in my Summer wardrobe to this day)…then the day came!
We got to the airport and Ryan had told me we were staying at a budget hotel for the night at the airport because our flight was early and we wanted to be really fresh and driving from Galway to Dublin airport was risky, one crash we might encounter could potentially ruin the whole thing if we missed the flight.. all the budget hotels in Dublin Airport are within walking distance to the terminal but when we got to the car park and onto a hotel courtesy bus, I was suspicious, we pulled up at the Crowne Plaza and he had booked a luxury executive suite, it was all planned! Our honeymoon had begun, Fluffy robes, superking bed, living room, a private lounge a couple of doors down the hall with unlimited bar and a romantic dinner, sadly, it all went so fast, and we had to get some sleep for the next day.
After what felt like an eternity on the plane, he had arrived! The humidity hits you the minute you step out into the Florida sunshine, we were so tired and relieved that a car was booked (by the car rental company) to collect us and take us to our villa, Peter, the owner of Car on the Drive was our driver. Car on the drive is owned by a wonderful British Ex-Pat, Peter and his wife who both run it together,  not only to they take exhausted customers to their hotels and villa's where their rental is awaiting them but they even have a 'coolbox' service for self catering accommodation holiday makers, they can arrange to have groceries awaiting you so you can have that cup of tea and a snack before bed and breakfast in the morning, just to get you started. We rented a Toyota 'full size' Camry and it was perfect! There's one thing you must do when in Florida and that is rent a car, this goes for everywhere in the US apart from Manhattan, Chicago, any big city really, LA too as there's a Metro, but in LA there's only so many places the Metro can take you, you need a car to get to Venice Beach, Santa Barbara and again theme parks.. I cannot recommend Peter enough!
Secondly, we stayed at Legacy Vacation Club on Palm Parkway, they have a chain of holiday clubs all over the state and the rest of the country, the second in Florida is the one in Kissimmee but if you don't have kids like us, the one on Palm Parkway is your best option, Kissimmee is perfect if you have kids, with pool clubs & activities. We had a self catering villa, ground floor, with a large kitchen, lounge and enormous en suite Superking bedroom, complete with hot tub, yep, you said it and "WELCOME TO AMERICA" where everything is super size! I must add, the air conditioning is to die for in these villa's too! Tiled floors and air con' left on while you're out is the nicest thing to come back to. Our view was on the gardens, a cute little fountain outside our window and manicured gardens. On our first night we just went to 7/11 for a few groceries, peter was kind enough to drive us there first , we devoured Kraft Mac & Cheese, had a beer and went to bed.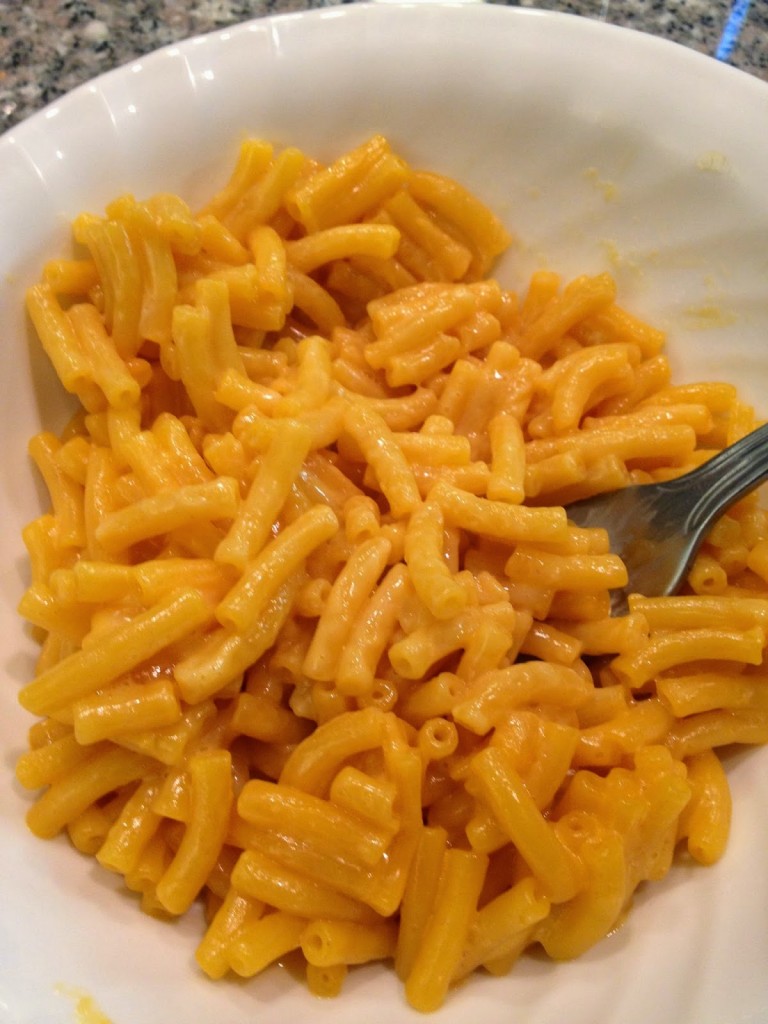 Dinner of Champions!
Ryan had a schedule printed out, he'd done his homework on what parks are the quietest on what days and being end of season, the kids were all back at school so it was much lighter, the lines were significantly shorter too- WAHEY!!!!!!
I have noticed, speaking to some American's over here in Ireland, as soon as you mention Florida, you get a "……oh….Florida" as if it's an embarrassment  to the country, HOW?! It's awesome!
You arrive at an amazingly managed car park (and be sure to record the number of your spot, there are thousands of cars there and you don't want to lose your car- write it down as you will forget with all the excitement, even take a photo of it! ), then hop on the travelators until you arrive at CityWalk, a street packed with cafe's, shops, clubs and restaurants, there's even a Bubba Gump Shrimp Co!!  At the end of City walk, there is a lake with the famous revolving Universal sign, a definite photo op'! Either side of the lake are the two parks.
Christmas in September!
Universal Resort consists of two parks Islands of Adventure and Universal Studios, the studio's are sort of dated but is undergoing a facelift, losing the Jaws ride and Back to the Future ride, but there is
an influx of new rides appearing every summer. The Minions is the first one to hit you it's worth doing, it's hilarious then there's The Hollywood Rip Ride Rockit-oh Christ!! A vertical climb, followed by a freefall as you listen to your favourite song on the control panel in front of you (I chose Evanescence-Bring Me Back To Life, finding it somewhat apt) I love the Simpsons ride too, you can then get a beer on Moe's tavern and have lunch in KrustyBurger a real novelty and the burgers are are pretty kick as. It's got it's fair share of crap attractions though like the Men in Black or the Disaster Movie, worst of all being E.T, we lined up for an hour, it's an hour of my life I will never get back, its been there since the early 80's and it's severely dated! On my last trip I discovered the Animal Actors show, sort of hidden in an arena beside the ET attraction, I got to meet the dog that played Marley in the movie 'Marley & Me'…being a serious dog lover, naturally it was the equivalent of meeting a Hollywood legend like I don't know….Meryl Streep or something, not that I'm comparing Meryl Streep to a Golden Retriever (although the hair colour is similar)!!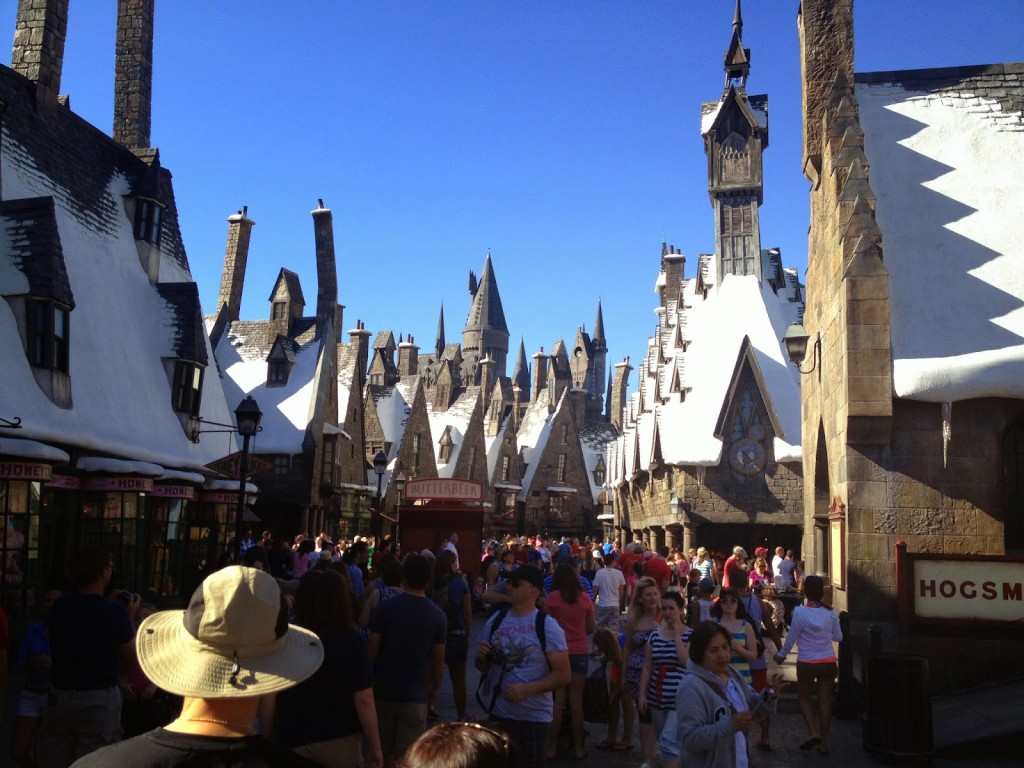 Harry Potter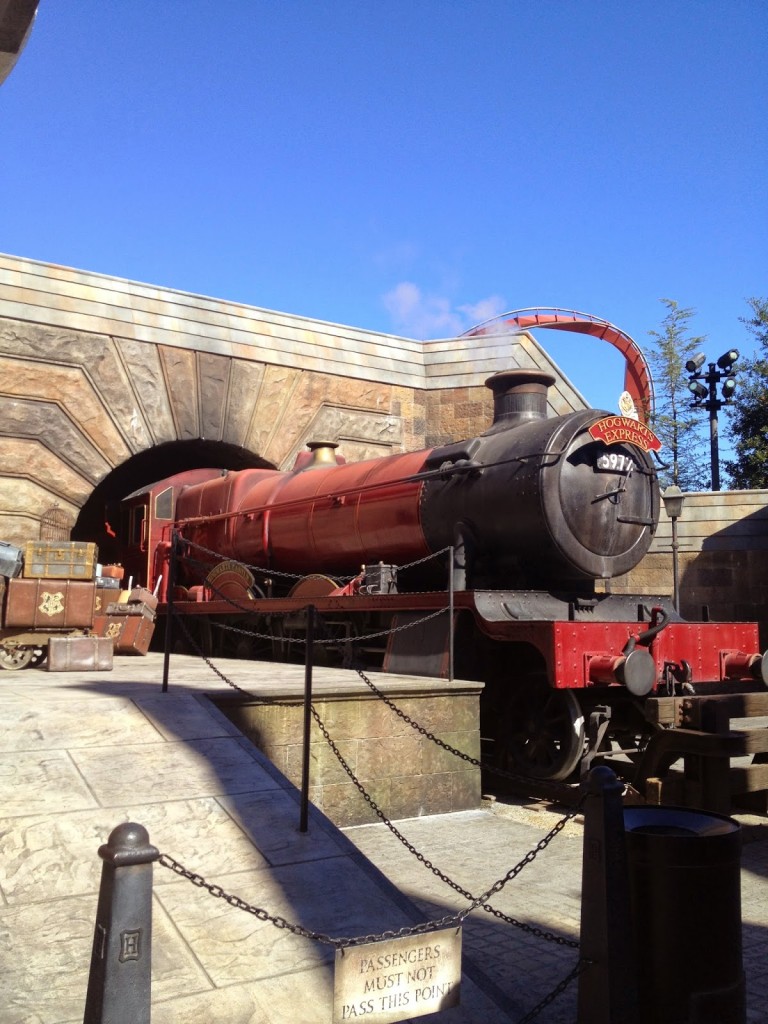 The Hogwarts Express-that actually works and brings you to Diagonal Alley.
Anyway, I personally think you need a day in each park, you wont see it all in one day and trust me, you need to see it all.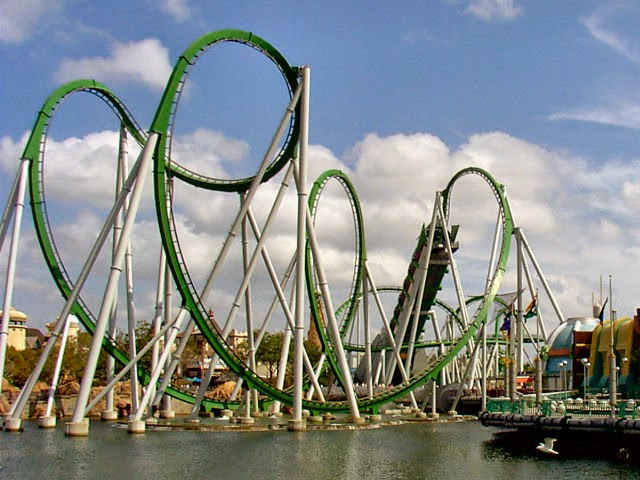 The Hulk
Being terrified of heights, Islands of Adventure was first and Ryan wanted me to do the most terrifying coaster on the first day so it would be done with (Ryan was here twice before, so he knows) The Hulk, it's officially the roughest coaster in the State and it's terrifying, a slow ascent into a tunnel where a siren goes off to a recorded voice "NO NO! SOMETHING'S WRONG!" and you're catapulted 100mph onto the ride! I looked at the operator before it started, a face of pure terror and he burst our laughing at me! You're looped, swooped and sprayed at while your face is pinned back to your seat, you can't move with the force!
I think I was trembling for a full hour after it!..
We did a series of rides but after being in Florida twice since then, The Hulk is now awesome to me, along with the Jurassic Park and Wizarding World of Harry Potter  (which has since been extended to include a Hogwart's Express working train which brings you to Diagonal Alley and Gringotts bank! You can have butterbeer and buy a wand from the wand shop, even have a demonstration by a Wizard or have a 'Glee' session with some singing Hogwarts students, it's all so realistic! The butterbeer is awesome though, I must admit, although booze free!
Also, if you go to Universal Islands of Adventure, you might want to bring a towel, most of the rides get you wet, sorry, SOAKED, especially the Popeye and Ripsaw Falls -Oh and Jurassic Park too where I was told by the attendant after asking if I was going to get soaked again "Princess, if you don't want to get wet, you better go to Disney", I tucked my tail between my legs and with my head down got on the "boat" to the Jurassic ride.  I was wearing white jeans and full makeup so by the time I came off the 'wet' rides, I was see through and a trail of mascara down my face, I even terrified a young child, the state of me, complete rookie mistake so I invested in BB cream and waterproof mascara. There are dry pod's though that for $5 will fan you dry, like a large step in hand dryer but the Florida sunshine does that anyway.
If you're going to splash out on lunch at the parks, it can be expensive, if you have kids, take advantage of a cooler bag and the local supermarket and take a packed lunch, a park hamburger and fries could set you back $15+ and multiply that by the amount of kids you have by the length of your stay. There are loads of picnic spots dotted around the park, most with wifi too so a Skype call to home can be exciting.
We chose the Jurassic Park restaurant, it's modeled like the one in the movie, excellent hamburgers though. you'll find turkey leg and churro carts all over the park, bring some bread, and make turkey sandwiches?
The best thing about Universal Studios is the Halloween Horrow nights that runs through Autumn,  it's a €50 supplement with your park tickets, go in as the park closes and go to the cordoned off area while they prep and turn it from fun vacation to terrifying Horror movie, it goes on until after midnight, sound effects and scary movie music, zombies lunging at you, following you, chasing you or soming up to breathe down your neck… then there's the 'haunted houses' based on horror movies like Silent Hill and Cabin in the Woods, it's a walk through a studio where things jump at you and you're in the dark! It's absolutely fantastic, You will need a recognized ID if you want a blood transfusion-sorry that's booze, not the real thing! Girls provocatively dressed as dead nurses wheel around IV stands filled with vials of "blood" / red vodka shot, they are however insanely serious with ID "Carding", in the US, if you're caught underage drinking, it's the person serving you who ends up in the slammer and they card every age group, it's just protecting themselves really, I can understand..
Get a taxi if you drink though!!!!
We recommend you leave the parks before dark as driving in a strange place can be sort of intimidating in the dark, it's really easy to lose your bearings and Sat' Nav' isn't always reliable
Seaworld was great fun, I know there's all that controversy about the whole 'Blackfish' documentary, but the countless rescues are never mentioned, seems it's some disgruntled ex employees. People fail to see that most of these whales are born in with Seaworld or rescued at a young age and aren't able to be released into the oceans. They have a lot of educational shows in the park, showing kids the importance of protecting sealife and not littering on beaches and showing the detrimental effect litter has on marine life.
I'm not into politics, I don't want to get into a debate about it so lets not discuss that anymore..
When you arrive at seaworld, you're faced with a row of information desks here you can inquire about mammal shows throughout the day like Blue Horizons (dolphin show) Shamu (whale's) and The Clyde & Seamore Show (sealion show), I recommend taking note of when these shows are on so you don't miss them, they're a highlight and stands often fill up 30 minutes in advance, so grab a snack and get in there. Between shows, take a stroll around the park and see the dolphin nursery, feed sharks and stingray, or hop on the viewing tower ride which gives amazing panoramic views of Orlando, definitely worth it!
Aside from the obvious, Seaworld offers a host of amusements and rollercoasters, two of which almost give me a heart attack, 'Manta' which is a face down, floorless 'coaster where you essentially hang from your back, I only did this on our second trip to Orlando, couldn't cope the first year and Ryan wouldn't do it on his own, it was on the top of his list…so being the loving wife that I am, I held my breath, had a mild silent panic attack and agreed to do it, just for him-THAT…is the definition of love, my friends!  After you brave the Manta, there's a great personal pizza place under the Manta ride, gorgeous deep pan pizza's and lemonade as you sit in the sun, watch people on the Manta and be hassled by Ibis birds, watching every mouthful and cheekily snatching scraps as they fall. After lunch, take a trip to the Antarctica ride, which puts you in baby penguin 'Puck's shoes as he hatches and grows and discover what a penguin's world is like, you step into this car which swirls and spins to an audio visual tour and all of a sudden, a wall ascends where you get off and you're magically in 'Antarctica' the penguin tank, hundreds of penguins going about their business, watch them be fed, descend some steps to watch them swim like torpedoes under the tank, I am obsessed with penguins, so I was pressed against the glass, jaw wide open in awe of these stunning creatures..
Once your lunch has digested, you might feel like rollercoasters again, the 'Kraken', highest coaster in the state of Florida, a slow ascension to begin and a pretty steep drop from the top, it's pretty violent too but it's actually awesome! One word of warning though, when going to parks with rides  like this and water, take shoes that tie on or have a clasp, most of the rides are floorless so there's the danger of losing shoes, secondly, take a small zipper bag and don't carry anything loose in your pockets, they will fly out. I had a small soft sunglasses bag with a zip and clasp so it clasped onto my belt and still went into my pocket. I also recommend a ziplock bag to put electronics in or use the lockers provided as such rides.
My most memorable days in Orlando are at Discovery Cove, opposite the entrance to Seaworld, it's one of the several parks owned by Seaworld. Essentially your own tropical island for a day, it's all inclusive, arrive into reception, a large Hawaiian style thatched building, register, have your photo taken and then you're given a lanyard with a photo ID (this is for the free bars inside 😉 and your packages booked are listed with your reservation number, grab a locker, a wetsuit and souvenir snorkel then go for some breakfast, a delicious buffet with everything you can imagine. After breakfast, grab a sun lounger or take a spin down the Windaway 'river', a chlorinated man made river with an artifical current, just grab a whacky noodle or a lifejacket and allow yourself to be carried along for several miles, you even go through an Aviary with tropical birds, peacocks a deer and there are even Marmoset's and a sloth!!
We had booked a dolphin swim and I couldn't wait until 1pm for my turn! We were told to meet with our 'pod' at the sand dollar cabin, you're given a briefing and then taken to the 'Dolphin Lagoon'  where you meet a team of photographers and instructors and you get to interact with and feed a dolphin some fish, learn hand signals to communicate with them followed by a swim with one of the dolphins, Astra & Diego were the two dolphins with our 'pod', I cannot describe how magical it was, and going back the following year was beyond a blessing.  Everything is photographed and you can buy a souvenir album or DVD afterwards. I cannot describe the dolphin swim experience, they feel like a rubber dinghy, but slightly warm, if you look at their eyes, it's like they cal look right into your heart, such beautiful, amazing creatures!
At the other side of the 'island' is where the tropical fish and sharks are, 'The Grand Reef', don't worry, the sharks are separated by a thick pane of glass so whilst you swim in the deep tank with stingray and tropical fish, you can use your snorkel to descend and see the sharks, feeling like you're underwater with them as magic carpet-like stingray float and dance around you….magic doesn't describe it! If you feel brave, you can book 'Seaventure' and walk the bottom of the reef with a diving helmet in a guided tour. I have sort of mild claustrophobia, I think I'd freak out!!
Lunch is then provided, a buffet with flame grilled food, dessert, the lot,  with a calypso band playing as you discuss your experiences. I can't recommend this highly enough, If you're going on your honeymoon, like we did, I recommend you book a cabana, it's a private gazebo for couples, a pair of sun loungers, a locker, warm towels and a refreshment fridge is provided with snacks throughout the day, a great way to lie and take in the relaxation!
I recommend you book this up to a year in advance as only a small amount of people are allowed in every day.
Walt Disney World
We did venture to Disney on this trip too, personally the Magic Kingdom wasn't for us, really, we did pay the heavy fee to get in to Disney and Epcott (about $90 each but I felt a little old for the Mickey Mouse thing, we did the Hall of Presidents, a sort of Automatron show, Pirates of the Carribbean and the Haunted Mansion, which I did love, we took a stroll around the streets, did a couple more rides, had some lunch, but decided to go to Epcott instead so we hopped on the monorail and headed straight to Epcott.
A ghostly horse at the haunted mansion.
Epcott, like Universal Studio's, is sort of stuck in the 80's when it was built, 1980's style spacey buildings greet you with bold colours and pebbledashed walls, you'd be forgiven for thinking you were on the set of back to the Future. I remember jumping with excitement when I saw that Michael Jackson's 3d Experience 'Captain EO' was still playing, it's fantastic!!!! The seating bumps and shudders with the actions on screen and you find yourself bopping along to 'We are here to save the world' as you do when any Michael Jackson songs come on. We wanted to do Soarin' but it was completely booked out for the day. We were gutted, you gotta get there early and book everything!
The highlight of the Epcott visit was the food festival, there is an avenue by the lake, at least a couple of miles long and you get to walk through different countries with lifesize reproductions of landmarks like St.Marks Sq in Venice, The Eiffel Tower in Paris (not so lifesize, maybe 1/3 of the real one)  and so on, there are little boutiques and cafe's and each 'country' has little gift stores and staff from those countries! There was indeed an Ireland but sadly it was just a cottage, across the street from 'England' a small cottage serving Irish food, a selection of Cheese on McCambridges bread and other foods from home. I delighted in a glass of some Champagne in 'Paris' and then we took some photo's around Italy ;).. talk about around the world in 80 minutes?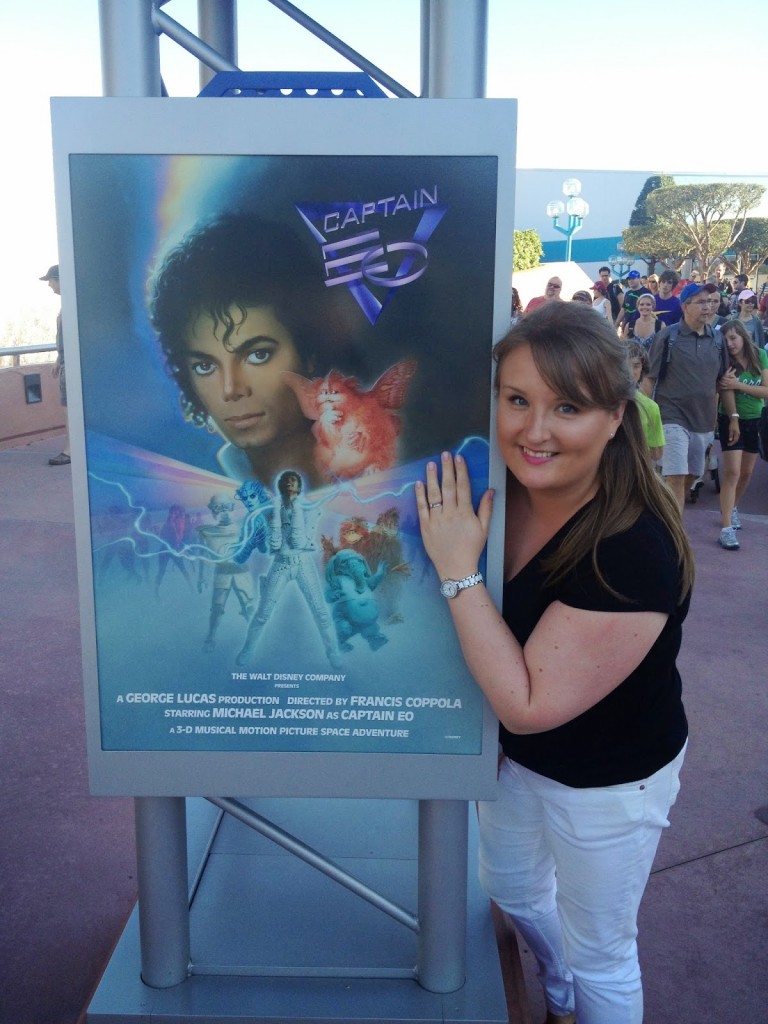 Me & MJ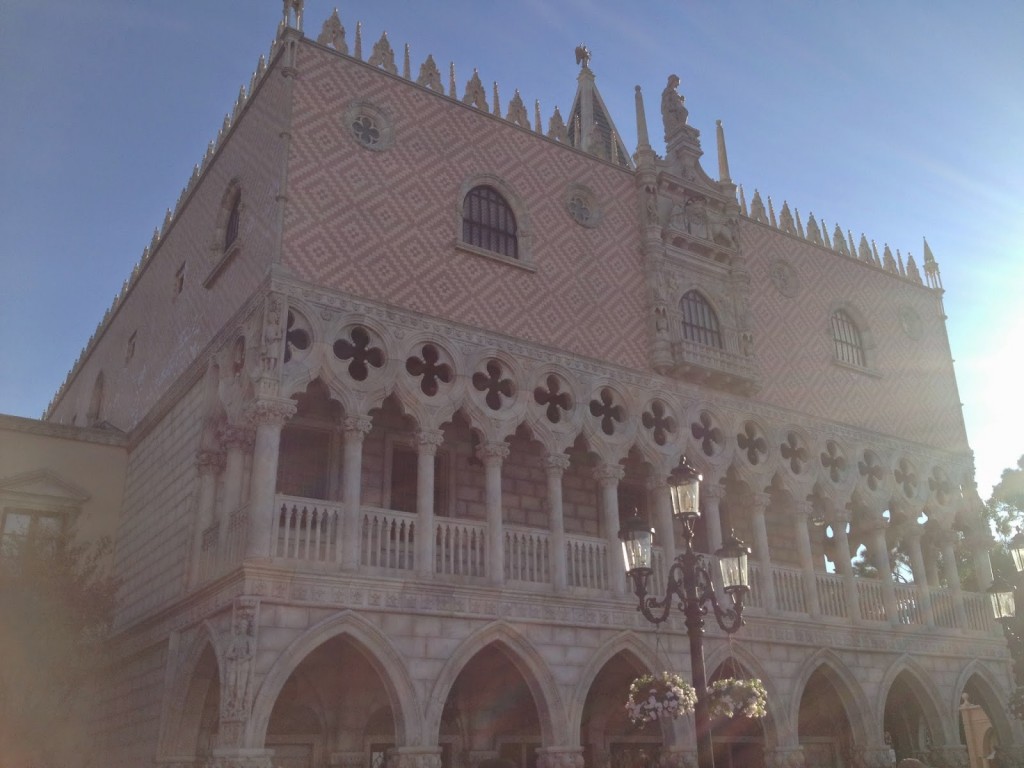 St.Marks 'Venice', Epcott 😉
We spend 10 days on Orlando but I recommend a couple of down days, stay by the pool, go to a bar or even the Florida Mall, it's got five  huge Department stores (Macy's, JC Penny, Nordstrom, Dillards and Sears) and then there's the hundreds of other stores from Victoria's Secret, V.S PINK, Sephora, Aeropostale, Old Navy, Banana Republic, MAC, loads more, it's amazing, one of my favourites is Charming Charlie, it's sort of like Monsoon/Accessorize but a quarter of the price!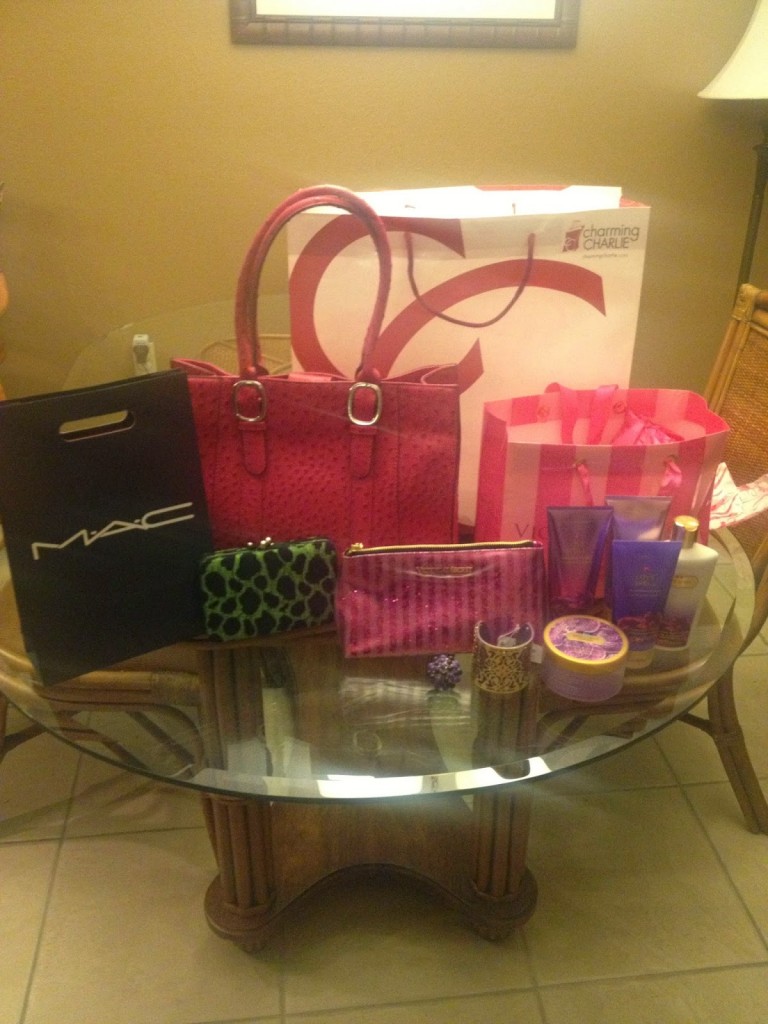 Mountains of stuff for under $100
One of many perpetually cheesy souvenir shops….perhaps might get these for my hubby!?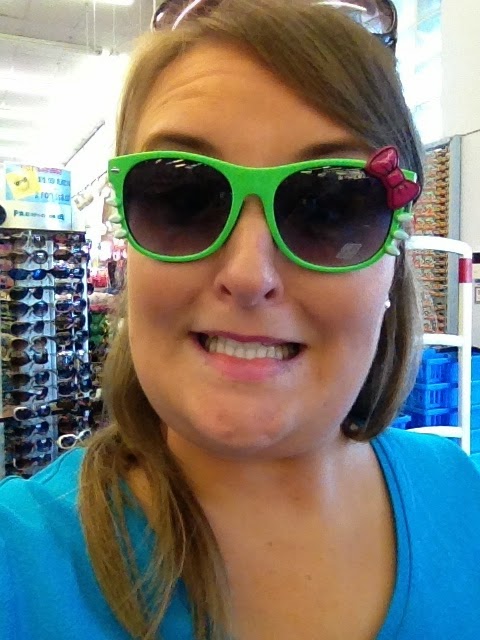 And these for me..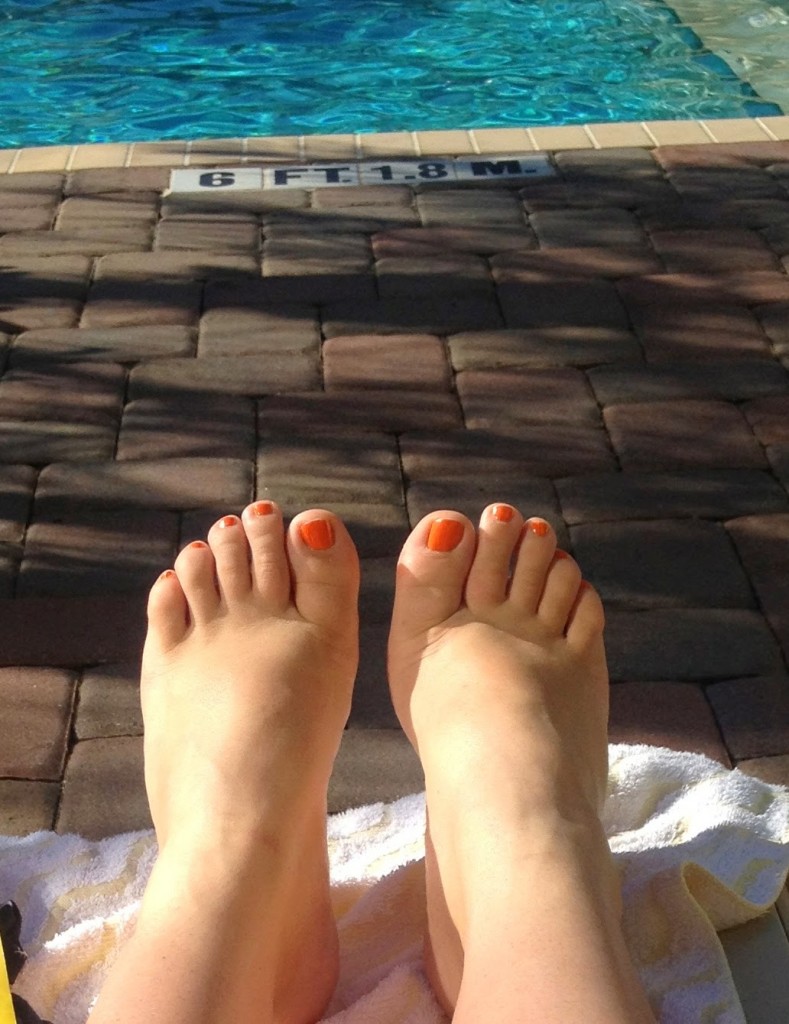 Downtime is always necessary!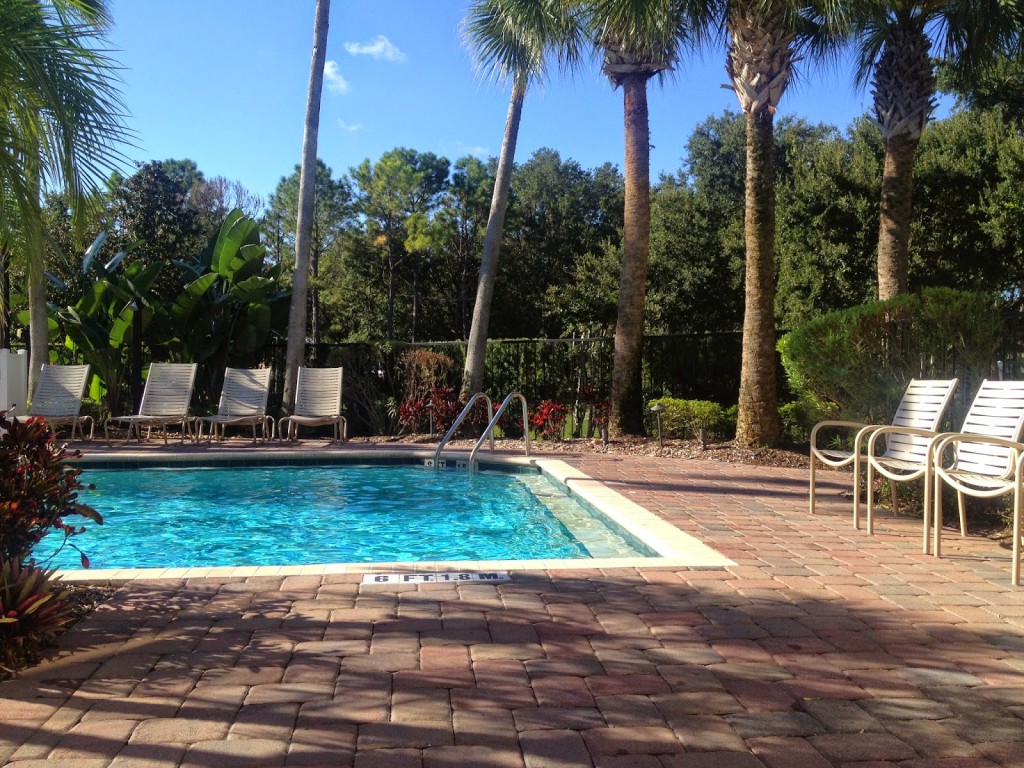 Ah yes!!
For dining, we were lucky to be around the corner from this sort of retail park on Kissimee Vineland road with nothing but restaurants, a TGI Fridays, Red Lobster, Chevy's, Denny's, Olive Garden, Burger King, McDonalds, and a host of other great places…even eh…..a supermarket that's carpeted, yeah I thought it was strange too but we liked it! On a couple of mornings we ventured down to IHOP for pancakes, just two of those suckers will fill you up, I normally go for  a smal over easy eggs, bacon, hash potato and sourdough toast, you're beyond stuffed after but won't need to eat until about 4pm.
Wholefoods Market, Turkey Lake Rd. I LOVE this place!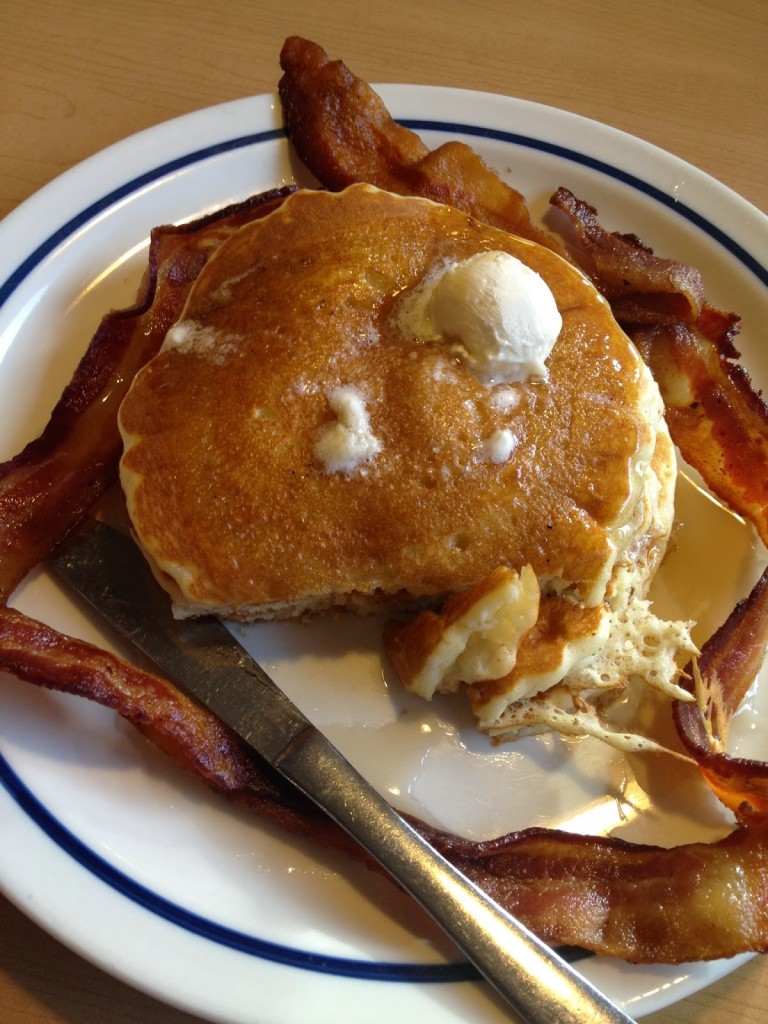 Pancakes with whipped butter
Now we move on to booking, Ryan is a member  on The Dibb forums, it's British but you find out about when the offers are and then book your park tickets on Floridatix.
One word of warning though, DO NOT buy your tickets off resellers which line the streets in Orlando, you'll more than likely get stung, most park tickets are passes which allow you come and go throughout the week and they scan your thumbprint and add it to the barcode on your ticket so it can't be resold, a lot of resellers con tourists by selling park tickets which are already assigned to previous people and you won't be able to get in…so be cautious and sensible and only buy from registered agents.
When you buy a weekly pass for Seaworld, you get access to Aquatica and Busch Gardens in Tampa on the same pass, this is where renting a car comes in handy. We're personally not into water parks with slides etc so we didn't bother with Aquatica, Busch Gardens was on the list but we never made it, on either trip, it's got rides and safari animals so I'm still itching to go.
Kennedy Space Centre is also a must for anyone in the family interested in Space, it's on the East coast at Cape Canaveral
I certainly have a soft spot for Orlando, we're talking about buying a timeshare over there eventually so we have a place to go when we want to, just allowing a management company take it over until we want to go stay and it'll pay for itself.
If you've any questions about Orlando, please send me a message :
And remember: Don't buy resold ticket's for the theme parks, you won't get in!