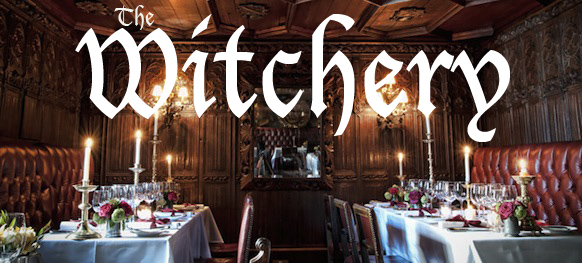 Review: The Witchery Restaurant, Edinburgh
As I mentioned, in a previous post, we were recently in Edinburgh, for my Husband's graduation ceremony.
I had heard of The Witchery about nine years ago, around the first time I went to Edinburgh, unfortunately, it was fully booked, the same for the second visit, six years ago. As this visit was for a special occasion, I booked almost six months in advance and was thrilled to tell Ryan that we were finally going to The Witchery for his graduation dinner.
Fast forward to October, The Witchery called me as I was at the Airport, waiting for my flight,  confirming the booking, I was so excited!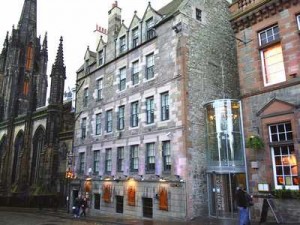 The witchery is pretty easy to find, it's on the Edinburgh Castle Hill, well signposted and down a close of it's own "Boswell Court".. I felt so grubby going in, Ryan's Graduation was before noon and the weather was miserable, rain and wind in between sunny periods and we killed time before dinner, walking around the shops, so I was windswept, cold and my hair had lost it's glossiness to the damp air.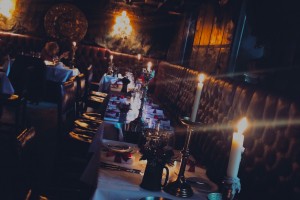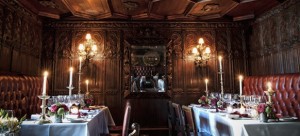 When you step inside, it's like stepping back in time, dimly lit  with wood paneled walls with a gothic feel, the reception looks like what was once a church pulpit and there are cast iron crowns, devil statues and lots of red soft furnishings, even down to the velvet ribbon, tied around our napkins. It's dark, sexy and romantic! I was driven crazy by the fact that there were other people stopping, watching you eating and taking photo's of you eating your dinner! It would be nice to have curtains drawn for patrons to eat in peace. At one point, a Japanese tourist stopped and literally watched me for a few minutes, took a photo of me and waved, it was intensely irritating!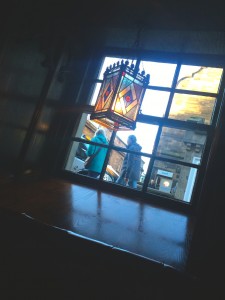 The most entertaining bit was the wine list, the manager at Super Miss Sue in Dublin told me that it was about 3″thick and to watch out for that! I did ask for the winelist, I wanted to order a bottle of Champagne to celebrate the occasion but alas, nobody was drinking, Ryan had a headache from all the excitement and the inlaws don't drink wine, sooooo I ordered lots of glasses pour mois! It was delicious, Billecart-Salmon Brut Réserve, packed a punch yet so refreshing!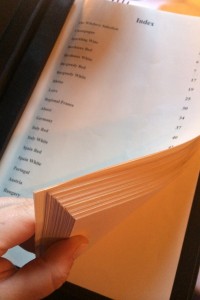 The dinner menu is very much revolved around seafood, I can't eat anything from the sea and by choice, I mainly go for the vegetarian options, I do love a good steak though! I ordered a pea and mint velouté with Isle of Mull miniature cheddar scones. I personally wasn't bowled over by this dish, it lacked flavour and I found it bland. The scones however were delicious. With the cold Edinburgh weather, I was dying for a soup, something warming and tasty.  Ordering again, I'd go with the poussin. Everyone else ordered the lobster bisque, described it as very good but "not the best" they've had.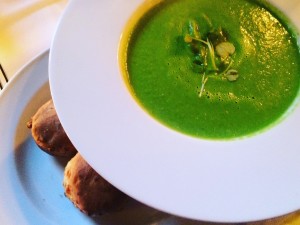 For main course, I ordered the mushroom risotto with asparagus and summer truffle with a side of baby carrots in chervil butter,the risotto was buttery, cooked to perfection and the mushrooms were silky and so flavoursome, I really enjoyed this, perfectly complimented by the Champagne. Ryan ordered Scallops with a side of portobello mushrooms which came in a miniature copper saucepan. the scallops went down a treat, presented beautifully in a scallop shell, a farm salad and buttered mash.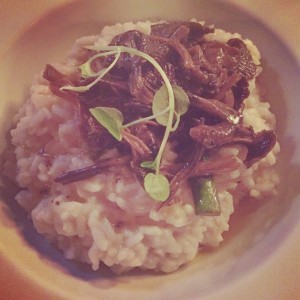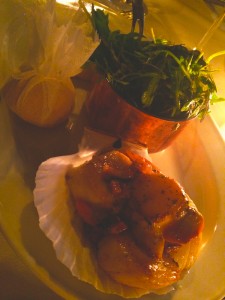 After a meal of such generous portions, there wasn't much room for dessert/pudding, weighing the pro's and con's we ordered anyway, con's being over full for the evening and pro's being it was The Witchery and a graduation dinner… my eyes were instantly drawn to the basil ice cream, the moment I saw that on the menu, I was very impressed, it's palate pleasing, and outside the box, so I ordered the 'Mango Vacherin', basil ice cream with key lime mousseline with mango and basil granola. Oh my word, absolutely delicious, the basil ice cream was so exciting, despite the idea, it was sweet and delicious, delicately placed on a bed of light granola, I honestly scraped the plate and took my proverbial had off to the pastry chef, the best dish of my meal-apart from my beloved Champagne of course! Ryan had a delicious coconut creme brulee, I was slightly jealous but I was delighted with my selection, i did have a taste and it was actually delightful!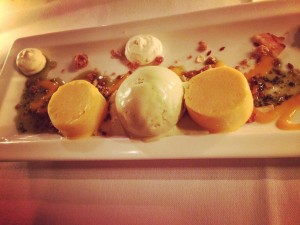 Overall, I wasn't over the moon with the experience,, I wasn't left with that lingering feeling, perhaps I build up my expectations too much as I did with the Ivy in London (and wasn't overly excited about that either) I do recommend the Witchery, but go with an open mind and be adventurous! It is slightly overpriced and I was disappointed to see Foie Gras on the menu, as an animal lover, I was under the impression that a lot of restaurants were starting to take that off their menu's. I did whimper a little when I saw it, but I had to overlook it as it was Ryan's day.