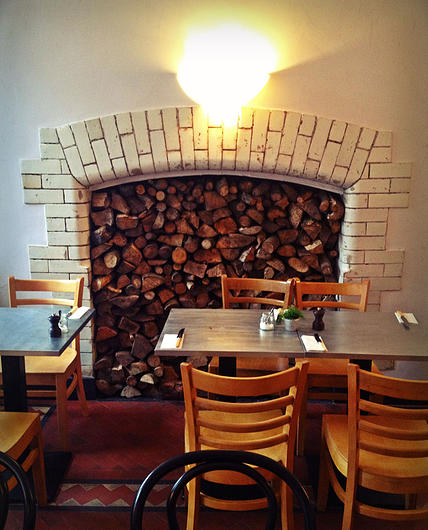 Hatch and Sons Brunch Review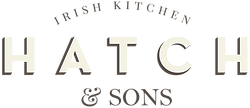 *Post-COVID, 2022, like many restaurants in Dublin, sadly Hatch ceased trade(and broke my heart, Peaches & Domini Kemp still run several restaurants around Dublin.)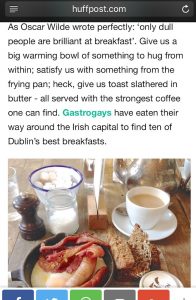 I had never heard of Hatch and Sons until it appeared in my Twitter feed last week, it was in the Huffington Post's Dublin's 10 Best Breakfasts.
I'm a real foodie and seeing as how we were heading into town the morning after the photo of that skillet caught my eye, I had to try it.  The breakfast featured was the double baked eggs with brown soda bread, bacon, sausage and baked tomato. Ugh, I couldn't get that image out of my head! It's available all day too!
We found Hatch and Sons, literally in the same building as The Little Museum, on the (St.Stephens) Green, just on the Corner of Dawson St, but steps down to what would have been in old days, the servants entrance of the old Georgian style townhouse.  Blue tables and chairs with a suave continental feel, dotted with intellectual types, meeting for brunch and we were greeted by a waiter, crisply dressed and escorted into the restaurant.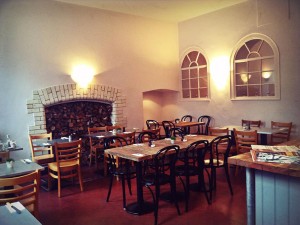 The Kitchen is always the heart of the home in almost every culture, especially Ireland, and the back door is always the front door when you're 'well in' with the family, Hatch and Sons have embraced that Irish culture in every sense of the word. You eat in what appears to be the kitchen, the 'best china' is taken out and the old battered but best silver comes out for the tea and you're embraced as family.  Of course, the food isn't cooked in front of you, the staff are busied around a kitchen island, polishing glasses, preparing tables and the island is filled with home made brown soda breads carrot cake-which looks amazing, and fluffy light scones, all that was missing was the Bean an Ti (Ban- an-Tee, Irish for woman of the house) I get the the theme of this place.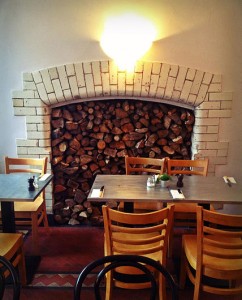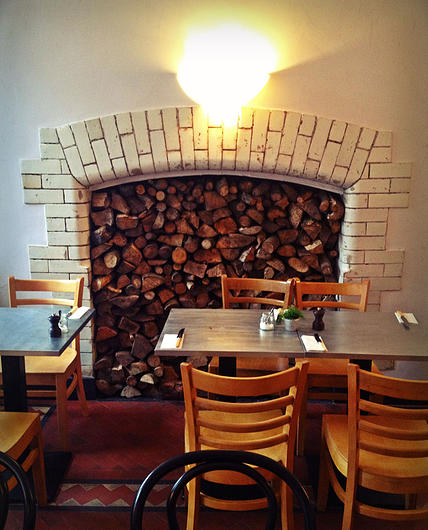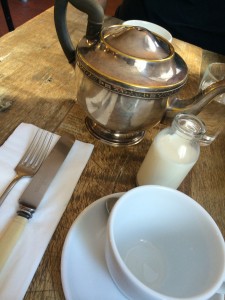 What I love is the rawness of the tableware, the bone handled knives, the salt and pepper in jars,  the battered old silver plated and coffee pots, it's so charming and slightly Hipster!!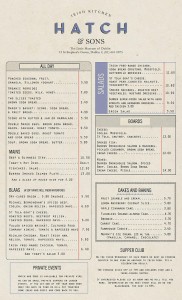 We chose the twice baked eggs with a sausage, bacon, baked tomato and soda bread which is served sizzling away in skillet, gorgeous, it keeps the food warm and I hate when food gets cold while you eat! It's a nice ample portion too.I don't make a habit of eating a full Irish but this was an exception, were on our "holidays" from work and needed a good feed before a day in town, to keep us going.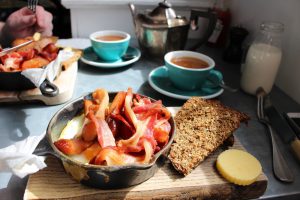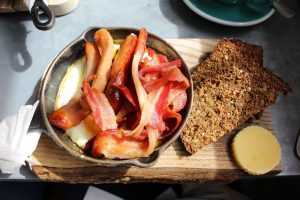 My favourite thing to do with a breakfast like this is to cut up the tomato and smother the bacon and sausage in it's juice while I enjoy my egg. Hatch & Son's soda bread was the perfect vehicle for my egg, moist, fluffy and wholesome, I'm raging I didn't buy a loaf to have at home with a nice blob of Bonne Mamam raspberry jam.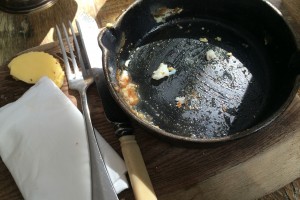 There's one downside to our breakfast… this is a bit of a debate with Dublin people.. The tea served at Hatch is Barry's, to me this isn't tea at all, I'm a Lyon's girl, Lyons brewed until it's almost porter, a tiny pinch of sugar and some milk. Barry's tea takes forever to brew and it's still weak, in Cork they love Barry's and that's fine but the beloved tea of the Dub's is Lyons Gold Blend, the tea of champions! 🙂
Having said that, there's nothing I can fault Hatch on – apart from the tea, the staff are delightful, food is so tasty and portions are definitely generous, I give this place a huge thumbs up! Definitely the place to go after a night out, guaranteed it'll cure any hangover!
Which do you prefer?