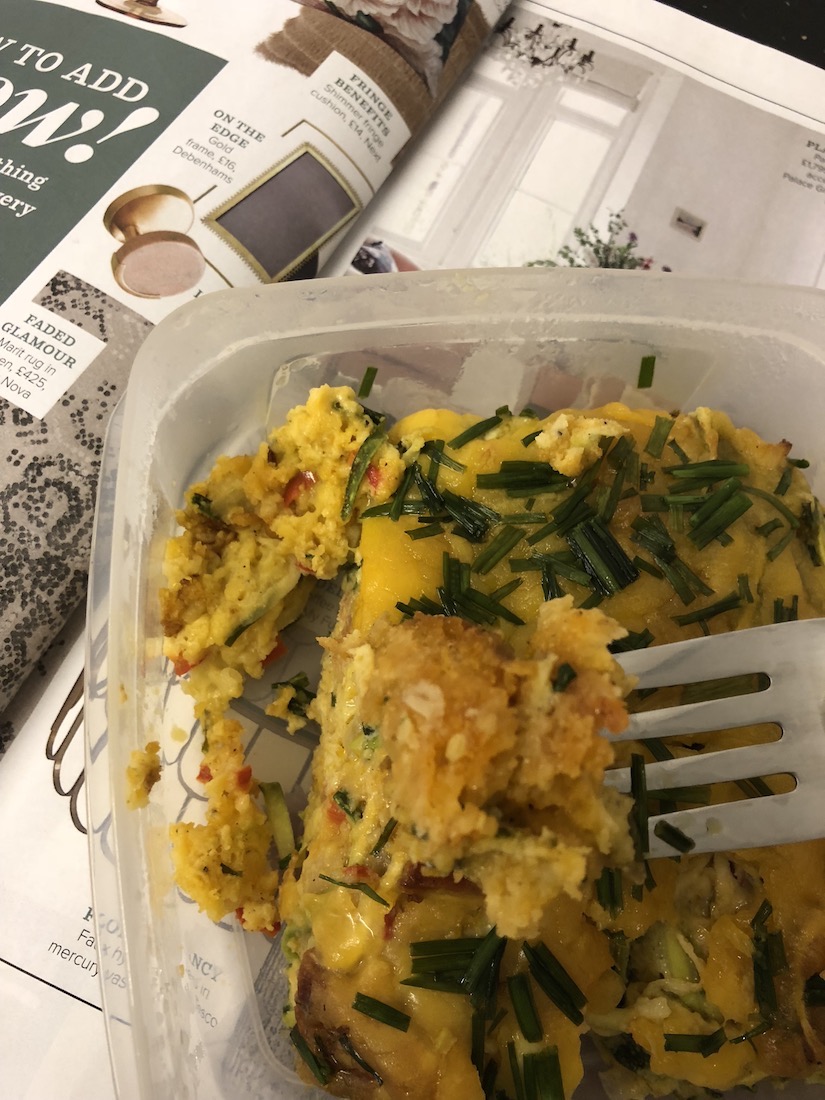 Recipe: Courgette Chorizo Savoury Traybake
I have this horrendous battle with diets and food, yes Ketogenic diets like Dukan work for me but I'm allergic to fish and I'm not a lover of meat. We're still staying with my Husband's Grandfather whilst waiting to move into the house, it's finished, we just need to snag. As all my kitchen belongings are in storage, I can't do my usual dishes, the kitchen supply of a 99 year old Gentleman is pretty limited.
The last two days, I've been feeling so unhealthy, we've been eating more convenient foods instead of cooking and it's killing me! I am starting to feel my tummy getting bigger and I HATE it! So I'm sticking to protein as much as possible and reducing my carbs.
I made this the other night and just kept adding stuff to it and it tasted DIVINE!! There's just a little flour in it but it's mainly protein. I used a julienne peeler to get strings out of the courgette and chopped everything up really small so it cooked quicker. Mr. Creative Yoke normally HATES courgettes but I'm slowly bringing him around, he likes Courgetti, now he ADORES this.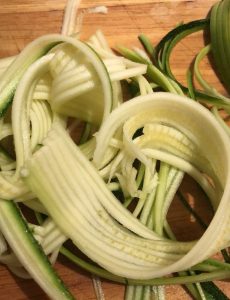 Give it a go, it's gorgeous with a nice fillet steak or some roast chicken.
What You'll Need
1 large onion, finely chopped
2 courgettes, skin on and finely diced or spiralized
3 small sweet peppers, de-seeded and finely chopped
6 eggs
225g Chorizo sausage, skinned and chopped into cubes
1 cup self raising flour
1 cup extra mature grated red cheddar cheese
50mls Olive Oil
A handfull of chives, chopped to small pieces
1 tsp cracked black pepper
1 oven dish  (Lasagne size is ideal)
Preheat oven to 180ºC
In a frying pan, dry fry Chorizo and onions, moving constantly as to not saute the onions, once they become soft and translucent, remove from heat and set aside.
In a large mixing bowl, combine the courgette, peppers, cheese, black pepper, flour and half of the chives, stir well to evenly distribute the flour. Add Chorizo and onion mix, stir again.
Oil and lightly flour oven dish.
Combine eggs and oil and lightly beat, then adding to the vegetable mix.
Add mix to oven dish and bake for 30 minutes, adding cheese and baking for a further 5 minutes.
Remove from the oven, sprinkle remaining chives on top and allow to set for 30 mins before serving.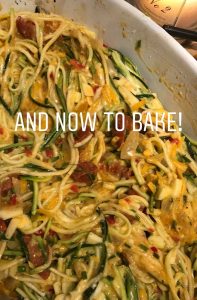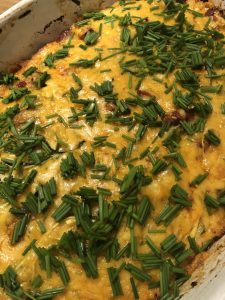 Alternatively, you could exchange the cheddar for Emmental and the chorizo for ham, adding a pinch of nutmeg. This will give more of a French quichey  taste. Cheddar always wins in my books!