Recipe: Trifle Towers! Delicious alternative to a classic..
 Classic Trifle Recipe
So we all love a dessert after the Sunday Roast, right? It has to be old school to take you back to your childhood of Jelly & Ice Cream or as my Mum calls them, a 'fourpenny wafer', basically a doorstep of ice cream, between two wafer's.. my favourite was always my Nana's Apple Tart or a trifle from Kylemore Bakery, nothing ever rivals it, they came in these tiny rectangular plastic tubs with a frilled edge, it would look like a postage stamp if you looked down on it, topped with this sort of…. thick whipped cream! If I was a good girl when Mum took me grocery shopping, kept my arms in the Trolley/Cart and didn't start conversations with randomers (I was 5) I could have one in the car on the way home! Well I'd lick that carton dry! I really miss that bakery..
Now, I know when you think trifle, you always think of Aunty Mary's Christmas trifle, so soaked in Sherry, you can't taste anything else and Nana would be off her face and laughing after consuming it, but there are so many modern options today…I'll give you two varieties..the first is my classic one, sherry is yummy in it but I would just use half an egg cup or half a shot of it..
What you'll need:
2 Packets of Trifle Sponges- Tesco's own brand is the best in my opinion as they're sugary and firm!
1 Jar of Raspberry Jam
1 Tub of Fresh Raspberries
1 slap of Raspberry Jelly (I use Chivers which makes about a pint?)
Custard (I use Bird's English Custard)
Whipped  (Chantilly) Cream-With a drop of Vanilla
Sprinkles/Flaked Chocolate/sliced almonds/pistachio's/mint leaves-whatever you like
Start by putting all your sponges, loosely broken in your food mixer with all the jam and give it a whiz until it's all a sort of paste, add sherry and give it another stir. Layer the sponge paste into the bottom of your trifle bowl and smooth flat with a rubber spatula, sprinkle some raspberries on top and place in the fridge while you make your jelly/Jell-O.
Pour your melted jelly onto the  paste and allow the jelly to set, make your custard and allow it to cool (pouring hot custard onto the jelly will melt the jelly and it will all mix and look awful..
When jelly is set, give the cooled custard a stir to remove any set lumps and pour it onto the jelly and top that with whipped cream, you don't have to use a piping bag  you can use a serving spoon to scoop it on and smooth it out or you can put the cream in a Ziploc bag and cut the corner off and pipe it that way. I'm a bit anal about my piping so I always use a star tip and a piping bag-but that's just me! Sprinkle your topping on it and refrigerate until you want to serve!
Option two! Mayor's Trifle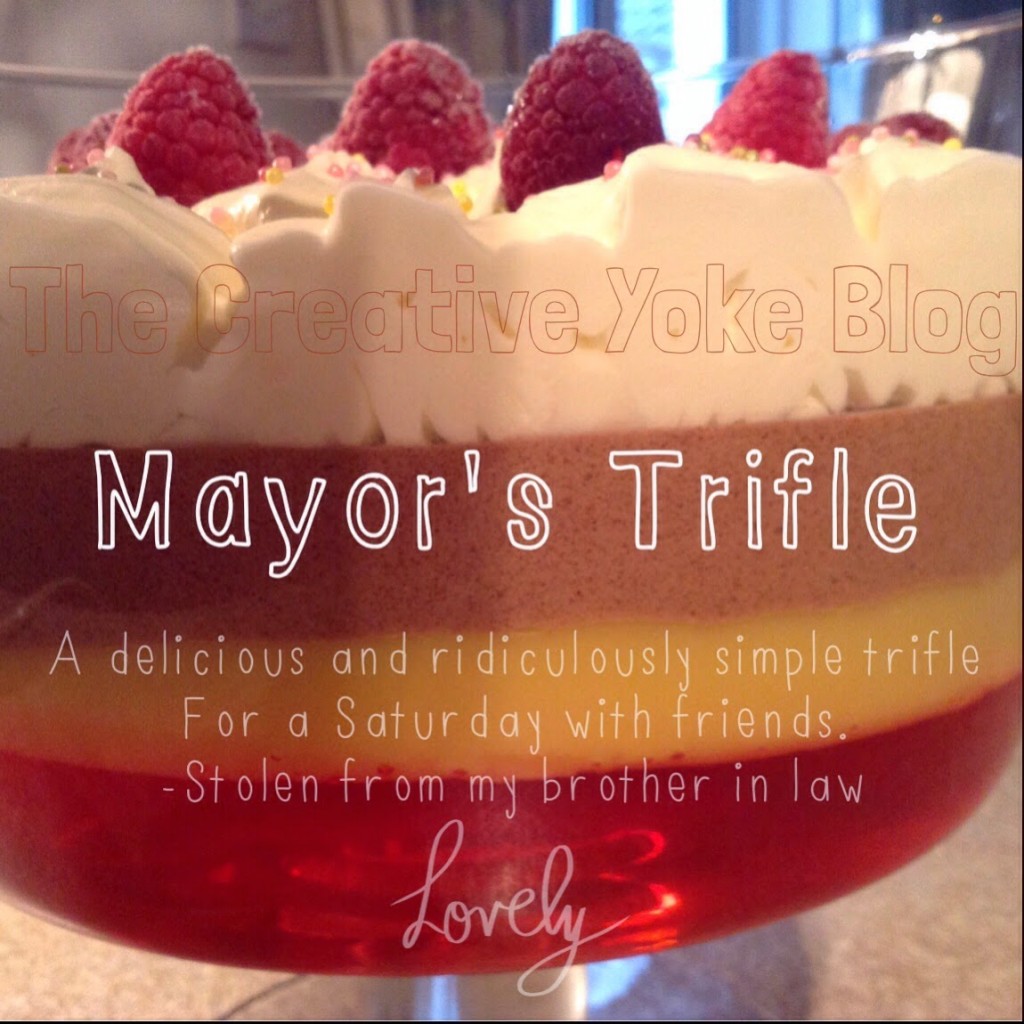 Whenever there's a family get together at the O'Neill HQ (Mother in Law's house) Jonathon, my Brother in Law makes his trifle and he's been dubbed the 'Mayor of Trifle Town', they haven't had my trifle yet because everyone has different trifle loves and hates, some of the family detest fruit in the trifle, other's detest sponge so Jonathon's is the happy medium but it's really really REALLY good, so I stole his recipe and made it last weekend when we had no sponges and I didn't want to use the little bit of Bonne Maman jam I had left but we had lashings of Angel Delight. People in other parts of the world reading this will wonder what Angel Delight is…(I've seen it in Walmart  in Orlando FL in the British foods isle)  it's a powder which you add milk to and after putting it in the fridge for 5 minutes, becomes this amazing mousse. Angel Delight comes in three flavours, Butterscotch, Chocolate and Strawberry.
So your option for Mayor's Trifle consists of Jelly, Custard (instructions as above) Angel Delight Butterscotch and topped with whipped cream…. you could put chocolate Angel Delight in there too-if you REALLY want to push the boat out!! You'll need a good long brisk walk after this to work it off but everyone will be happy!!